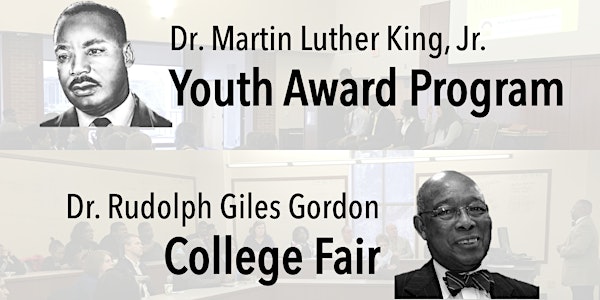 2018 MLK Youth Program & Rudolph Gordon Upstate College Fair
When and where
Location
Trone Student Center 3300 Poinsett Highway Greenville, SC 29613
Description
Dr. Martin Luther King, Jr. Youth Program & Rudolph Gordon College Fair
Winner Information
Congratulations Award Winner!!!

You have been selected by your school's teachers and administrators to receive the MLK Youth award. This letter is meant to provide you with some information about the College Fair and Youth Program.
On February 3, 2018, the Rudolph Gordon College Fair will start promptly at 9 AM and will be held at Trone Student Center (formerly the University Center) at Furman University, 3300 Point Highway, Greenville, SC 29613-9602. The Center is at the edge of Swan Lake (where the Furman Clocktower is located) and parking is available at the lakeside lot next to the center.

In case of bad weather, we will not reschedule this event, please check on our chapter website (www.gglapa.org) or our foundation website (www.alphagreenville.org) for any program changes.

All recipients must be ready to assemble by 9:20 am. We will need time to coordinate with the program, so please be prompt. Attire for the event is dress casual (Please, no jeans or sneakers). We will be taking a picture at the end of the Youth program.

The MLK Youth Awards will be given out at 11 AM following the College Fair on Saturday morning February 3, 2018. Light refreshments will be provided.
The College Fair will have two sessions, "What you need to know about Financial Aid?" and "What to expect in your First Year of College". Each session will last about 45 minutes. We strongly encourage you to attend the sessions. In addition to the sessions, several college representatives will be available to answer questions throughout the morning.
If you are not present, we will send your award to your High School Guidance Counselor's Office. Corrections to the awards (misspellings, etc.) can be requested through your school's Guidance Counselor's Office.

Again, congratulations on receiving this award and I hope to see you at the program and fair.
Sincerely,
Bobby Clark
MLK Youth Program Chair