Description
Are you ready to lead in excellence and experience the power of God like never before? Join Creflo Dollar for the 2018 Ministers and Leaders Conference. This is sure to be a life-changing experience that will equip you to go to the next level in your area of leadership.
Our 2018 Ministers and Leaders Conference will feature iWorship, a workshop centered on equipping ministries with the tools and insight to take their music departments to the next level. The workshop is open to ministries of all sizes and we encourage Pastors, worship leaders, and choir directors to attend. We are excited about sharing and imparting wisdom which will allow your ministries to continue making a mark that cannot be erased!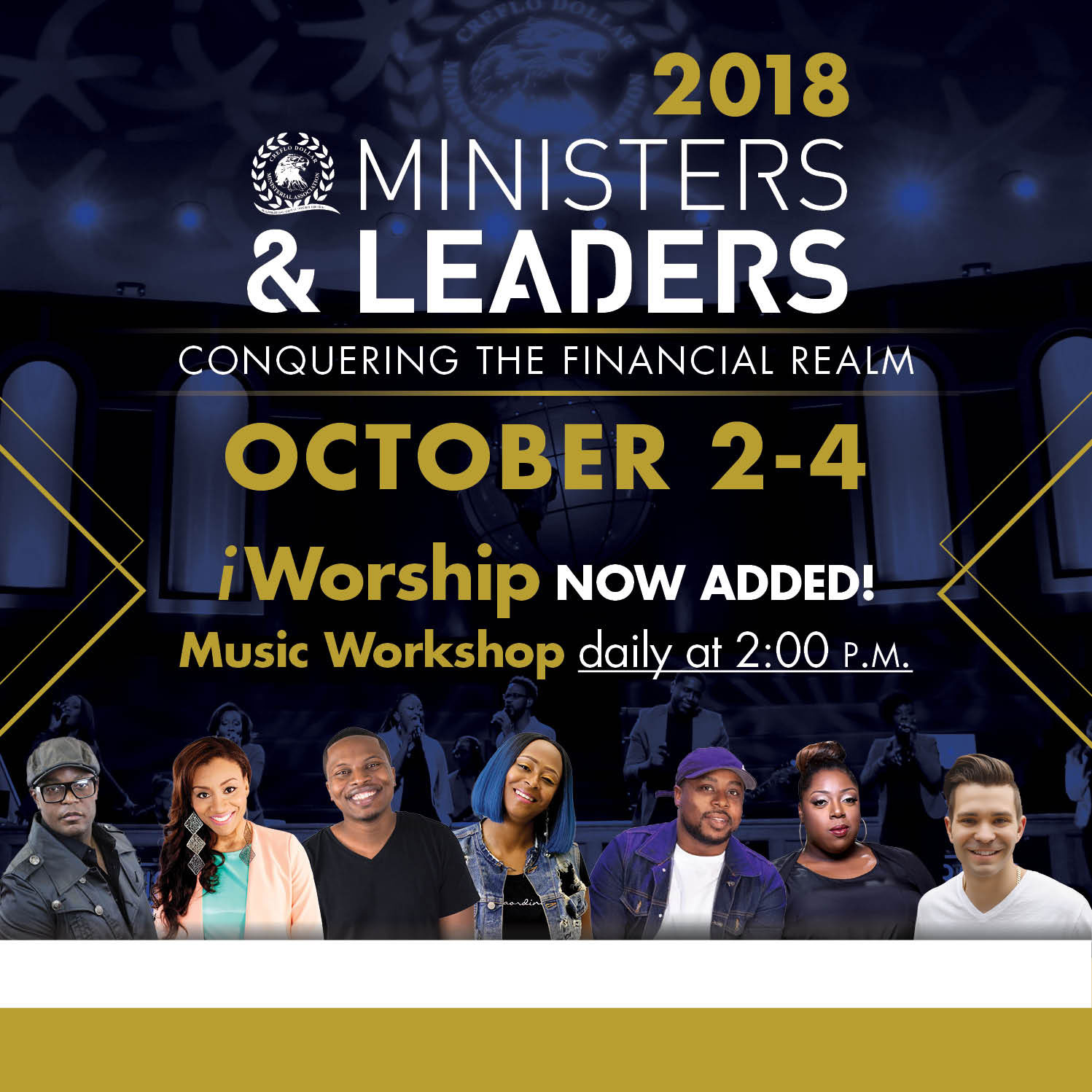 CONFERENCE SCHEDULE:
TIME TUESDAY, OCTOBER 2, 2018 WEDNESDAY, OCTOBER 3, 2018 THURSDAY OCTOBER 4, 2018 10 AM DEBORAH POWE TAFFI DOLLAR GLORIA WILLIAMS 11:30 AM RICK LAYTON STEVEN HUNTLEY MICHAEL SMITH 2:00 PM iWorship Workshop
iWorship iWorship Workshop 7 PM CREFLO DOLLAR CREFLO DOLLAR CREFLO DOLLAR
HOST HOTELS:
Fairfield Inn & Suites
by Marriott Atlanta Airport South
2020 Sullivan Road
Atlanta, GA 30337
770-994-3666
Cut Off Date 09/13/18
Hilton Garden Hotel
2301 Sullivan Road
College Park, GA 30337
404-766-0303
Cut Off Date 09/03/18
Embassy Suites Hotel – Atlanta Airport
4700 South Port Road
College Park, GA 30337
404-767-1988
Cut Off Date 09/10/18
Atlanta Airport Marriott Hotel
4711 Best Road
College Park, GA 30337
404-766-7900
Cut Off Date 09/04/18
Reservations must be made by cutoff date prior to the convention to insure discounted rates. Please mention "World Changers Church International" when booking your reservation.
FLIGHT DISCOUNTS
For information about how to secure discounts on flights, call 770-210-5846.
INTERNATIONAL ATTENDEES
Have questions about international travel? Dial: +1- 770-210-5700 (Monday through Friday) between the hours of 8 a.m. - 5 p.m. (EST).
PLEASE NOTE: Ticket refunds will not be issued.