2018 Mid-America College Art Association Conference
Description
Techne Expanding: New Tensions, Terrains and Tools
The 2018 Mid-America College Art Association Conference at the University of Nebraska-Lincoln, will explore wide-ranging interpretations of technology and its use and impact on the teaching, making, and performing art as well as the broader human experience. Recognizing that technology has art and craft at its root (techne) and isn't limited just to bigger, better, or faster tools and products, we will examine how we embrace or resist technology, how we celebrate or critique it, and consider its promise as well as its limits.
Educators, Artists, Makers, Performers, Designers, and Scholars across the full spectrum of disciplines will share their expertise and perspectives in the form of presentations, panels, and performances.
Location:
Join us on the campus of the University of Nebraska - Lincoln for our 2018 MACAA conference. Lodging will be available at the Hilton Embassy Suites (on campus). A conference hotel price has been negotiated, please indicate you are apart of the conference to secure the $149 conference hotel price.
Educators, Artists, Makers, Performers, Designers, and Scholars across the full spectrum of disciplines are invited to join as presenters, reviewers, discussants, volunteers or audience members.
Call for Papers
Regular Submission: October 1, 2017 - January 20, 2018
Extended Submission: January 22, 2018 - February 17, 2018
We are interested in the impact of technology on issues of privacy, gender, identity and the environment, its use in the teaching of art, its pervasiveness or invisibility, and how it affects ourselves, our bodies, our stories and our tools. Topics could include examinations of how technology affects our senses and our perceptions, its effects on storytelling and narrative, the potential and the limits of artificial intelligence, the relationship of technologies to hand labor and traditional tools and its use in collaborating as well as resisting or taking social action. We invite the consideration of any aspect of technology's promise, potential or pitfalls.

We hope for a broad, vibrant and thought-provoking look at technology. We hope to include designers, animators, game designers, and those working with virtual reality or computational, data-based work. We welcome and expect to have exhibitions and performances at multiple venues.

In addition, we are interested in proposals for workshops to be held on October 3, 2018, the day preceding the symposium.
Keynote Speaker — Behnaz Farahi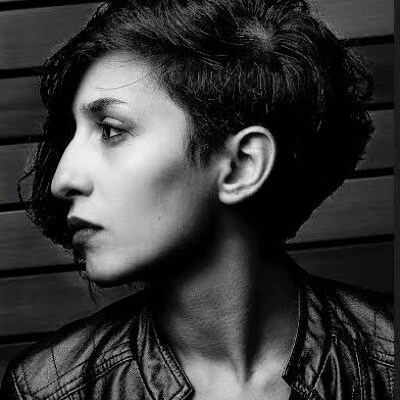 Behnaz Farahi is a creative designer and technologist working at the intersection of fashion, architecture and interaction design. Trained as an architect, she explores the potential of interactive environments and their relationship to the human body.
Behnaz Farahi is interested in exploring the potential of interactive environments and their relationship to the human body through the implementation of emerging technologies in contemporary art/architecture practice. Her goal is to enhance the relationship between human beings and the built environment by following design/motion principles inspired by natural systems. Application areas include architecture, fashion and interaction design. She also specializes in physical computing, sensor technologies, additive manufacturing and robotic technologies.
Her work has been exhibited internationally at Ars Electronica, Linz and Context Art Miami, and has been featured in several magazines and online websites including WIRED, BBC, CNN, The Guardian, Frame Magazine, and many more. Behnaz Farahi has won several awards including Innovation By Design Linda Tischler Award , World Technology Award (WTN) and is the recipient of the BASA and Madworkshop Grants and the Rock Hudson Fellowship.
Farahi has worked with leading firms such as Autodesk, Fuksas Studio, and 3DSystems / will-i-am. She has also collaborated with Professor Behrokh Khoshnevis on two NASA funded research projects developing a robotic fabrication technology to 3D print structures on the Moon and Mars. She has been an Artist in Residence at Autodesk Pier 9.
Currently she is an Annenberg Fellow and PhD candidate in Interdisciplinary Media Arts and Practice at the USC School of Cinematic Arts. She holds a Bachelor's and two Masters degrees in Architecture.
Keynote Speaker — Andy Cavatorta
Andy Cavatorta is a sculptor working with sound and robotics. His work integrates emerging technologies with traditional crafts to discover new ways to create meaning with sound. As a culture, we are exploring questions about meaning and emotion mediated by technology. But many of the questions date back to the origins of the pipe organ and automaton. At what point does that numinous ghost of feeling, beneath the level of words, enter the machine?
Historically, we have often reacted to new technologies by inventing false oppositions between the old and new, imagining that one will win and one will lose. This can be seen clearly in music since 1900. Recording vs. performance. Electric instruments vs. acoustic. Digital recording vs. Analog. Virtual experience vs. physical. What we've seen is that, in art and music, we use all of our accumulated tools.
While Andy's work is powered by software and robotic technologies, its focus is on experience and emotional narrative.

Conference Cost:
(June 10th) Early Bird Professor: $200
Conference Registration: $250
(June 10th) Early Bird Student Registration: $125
Student Conference registration: $150
Retired Professor/Adjunct/Lecturer: $125