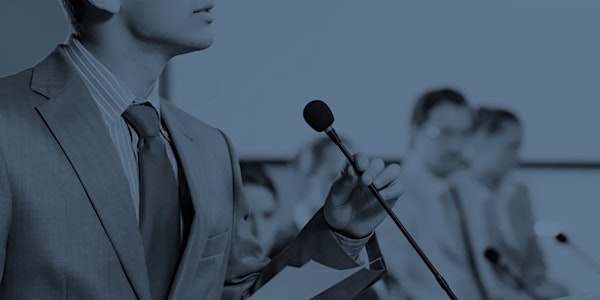 2018 Metro St. Louis Business Owners Summit
When and where
Location
Renaissance St. Louis Airport 9801 Natural Bridge Rd St. Louis, MO 63134
Refund Policy
Refunds up to 7 days before event
Description
Come see and learn from:
15 industry experts in business transitions

WATCH A LIVE DEBATE on transitioning ownership
Our 2018 Metro Business Owners Summit brings together different industry professionals and business owners for a day of unique learning focused on several types of business transitions.
Learn about each type from the perspective of business owners who have experienced them, and enjoy a rousing mock debate between cross-industry experts as they argue different views of how a hypothetical company should transition. The day will culminate with an inspiring keynote by John Dini, one of the nation's leading experts on business ownership and exit planning.
Don't miss this day of lively discussion and learning essential for any business owner, especially owners facing a transition.
7:30am–8:30am Registration & Continental Breakfast
8:30am–8:45am Opening Remarks - Jim Maher, Archford Consulting
8:45am–9:45am Opening Session - Scratching the Surface of the Value Acceleration
MethodologyTM
The Value Acceleration MethodologyTM is used by 800+ Certified Exit Planning Advisors across the world to help business owners grow, protect and harvest company value. The overall methodology will be explained then three of the elements will be covered: Business Valuation, Financial Planning for Business Owners, and Using Deal Structure to Maximize Returns. Speakers are Drew McLaughlin from UBS, Terry Lammers from Innovative Business Advisors, Lee Levinson from American Bank, and Marie Carlie from BDO.
9:45am–10:00am Break
10:00am-11:00am Breakout Session 1
Session 1a: Rewards and Challenges of Insider Transfers
Speaker: Kathleen Bilderback, Affinity Law Group
For many business owners, family member-employees or key executives appear to be natural successors to own and manage the business. However, insider transfers have their own unique challenges.
Join attorneys from Affinity Law Group, LLC as they discuss potential structures for intra-family transfers and management buyouts, payment arrangements that maximize the owner's financial security while minimizing the owner's risk and strategies to keep non-successor key employees in place for the next generation of owners.
Session 1b: Shaping Your Company's IP Protection, Cyber Security Practices, and Business Planning
Speakers: Mark Goldenberg, Chad Bringham and John McCracken, Goldenberg, Heller & Antognoli
Businesses must be intentional about securing their intangible assets, protecting against cyber extortion, and ensuring harmony among their estate planning documents and business succession strategies.
Let Goldenberg Heller's experienced attorneys provide you with up to date information on these important topics. Take away indispensable practical business and legal information you can use to reinforce your company's practices.
11:00am-11:15am Break
11:15am-12:15pm Breakout Session 2
Session 2a: Steve Got Hit By the Bus...Now What?
Speaker: Emily Ingalls, PhD., Psychological Associates
Whether you are growing your business, positioning it for sale, or transitioning to the next generation, having great leaders is crucial to your business' valuation and long term success. How do you identify and develop great people to lead your organization into the future?
Learn best practices and practical steps you can take to create a leadership succession plan, and make people a competitive advantage for your organization.
Session 2b: Are you prepared for the most sweeping tax law changes in 30 years?
Speakers: Luke Luckett, Anders
The 2017 Tax Cuts and Jobs Act is the most sweeping update to the U.S. tax code in more than 30 years. Designed to lower taxes on businesses and individuals, the bill includes many pro-growth features including reductions in tax rates, larger standard deduction, full expensing of assets for a limited time and qualified business income deduction for pass through entities. However, it also contains some pitfalls, including state and local deduction limitations, entertainment deduction elimination, limits on business interest deductibility and modification of the net operating loss deduction. In this brief break-out session, Luke Luckett with Anders CPAs + Advisors will hit the high points on the "gift" Congress gave us right before the holidays last year.
12:15pm-1:15pm Lunch
1:15-2:15pm Mock Debate
Moderator: Derek Weber, goBRANDgo!
External Transition team:
Allen Hauge, Vistage
Paul Klug, Polsinelli
Brent McClure, Anders
Internal Transition team:
Kathleen Bilderback, Affinity Law Group
Chad Brigham, Goldenberg, Heller & Antognoli
Michael Lissner, Acropolis Investment Management
2:15pm-3:15pm Keynote
Keynote by John Dini, author of Your Exit Map: Navigating the Boomer Bust.
Your Exit Map is a different look at exit planning. Ampleresources exist to tell you how to plan, but few tell you why. The Baby Boomers are the most entrepreneurial generation in history, and are two and a half times more likely to own a business than the generations before or following them. Your Exit Map illustrates how they came to be entrepreneurs, and the massive impact of both their numbers and their motivation. Filled with humor and nostalgia, lavishly illustrated and backed up by inarguable numbers, Your Exit Map will permanently change your perspective on the news and your business.
3:15pm-3:30pm Closing Remarks