Description
THE THIRD ANNUAL
LAW FIRM 500 CONFERENCE & AWARDS
OCT 18 - 20 2018 | The Westin Lake Las Vegas Resort & Spa
Learn how to consistently grow your firm by 50%, 100%, even 1000% at the most innovative educational experience and award ceremony in the legal industry.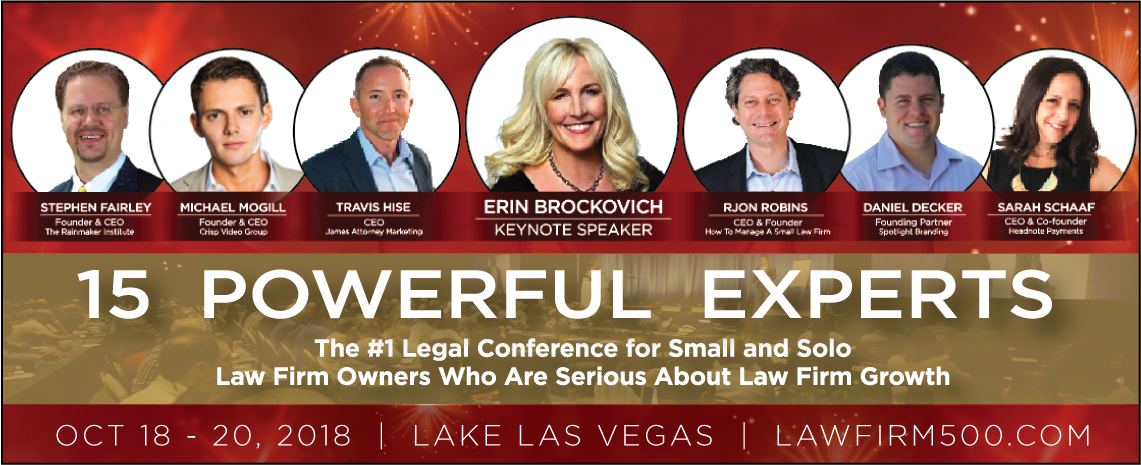 A legal conference unlike any other event in the industry, our goal is to inspire you with new perspectives, and give you the tools you need to execute through practical education.
For two and a half days join our community of successful law firm entrepreneurs, learn about their journey of growth and change building profitable practices. Immerse yourself in a schedule of sessions covering every facet of a thriving business. Experts from far and wide share experiences and action plans for marketing, management, client service, finance and more. Leave armed and ready to take on the world.
Space is limited, WE WILL SELL OUT. Don't miss your opportunity to learn from one of the greatest minds in business and reinvent the way you see yourself and your law business.
Save $200 and buy your FALL SPECIAL Law Firm 500 tickets BEFORE September 30, 2018.
To see Full Agenda | Speaker Bios | Venue Info | Sponsors
Visit https://lawfirm500.com/