Description
2018 La Cocina's San Francisco Street Food Festival
www.sfstreetfoodfest.com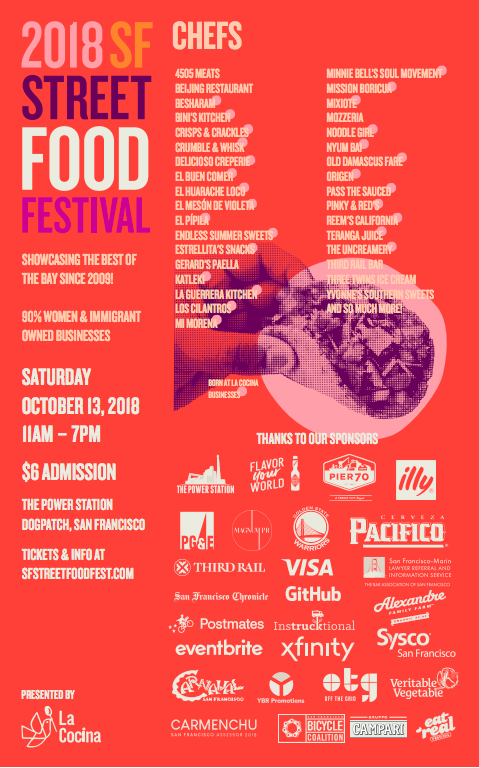 ---
ONE DAY FESTIVAL
SATURDAY | OCTOBER 13 | 2018
11:00 AM - 7:00 PM
POTRERO POWER STATION | 420 23RD STREET | SAN FRANCISCO, CA
---
TICKETS & ENTRY
$6 General Admission ticket
$35 GA ticket and t-shirt package
free for kids age 5 and under
tickets must be purchased in advance; door sales $10 while tickets last
---
VOLUNTEER
Sign up as to volunteer for La Cocina's Street Food Festival | here.

---
INQUIRIES

For media and sponsor opportunities | contact jessica@lacocinasf.org
For ticket or other event inquiries | contact events@lacocinasf.org
---
DIRECTIONS & PARKING
Directions if you are driving:
If you are taking public transportation, follow these directions:
Parking/Arrival to Festival Site:
Access into the Festival: The festival has closed 23rd Street, eastbound, beginning at Illinois to allow for your safe pedestrian access into the festival. Vehicles will not be granted access into 23rd Street.

Bike Parking: The festival will provide bike parking on 23rd Street and Illinois Street (at the entrance of the festival)

Drop Offs: With the exception of ADA access, taxis, cars or car services will not be allowed to drive into 23rd Street for drop off or for parking, please ask for drop off on 3rd Street

ADA: the festival will provide both parking and access for drop offs into 23rd Street, eastbound, to of any individual requiring proximal access to the event entrance. Please show your blue zone placard or license. Security will be at the entrance of 23rd Street, please proceed and let the guard know whether you are parking or being dropped off.

Parking: There is no available parking at the event site and no access into 23rd Street. You are responsible to find your own street parking in the neighborhood or refer to this link for nearby parking garages.