Description

Over the past decade, the number of women leaders in the technology industry has remained below 15 percent. This student-run conference highlights female tech professionals representing a wide range of specialties, from biotech to consulting to artificial intelligence. Join us on March 2nd at the Microsoft Technology Center in Times Square for a full day of talks, panels, and networking around the theme #MyPathToTech. We explore the diverse paths that women find into careers in tech, and how teams benefit from diverse backgrounds.
This event is organized by MBA candidates at Cornell Johnson Graduate School of Management and is open to current students, prospective students, and professionals in all fields.
Our Keynote Speaker is Tiffany Dufu, Chief Leadership Officer at Levo and author of Drop the Ball. We are featuring speakers and panelists from Amazon, Microsoft, Google, LinkedIn, Accenture, Bristol-Myers Squibb, Johnson & Johnson, IBM, and more. Our pitch competition, centered around increasing inclusion in tech, is awarding $4000 to one of our finalist teams and $6000 to a related non-profit that they sponsor.
The first 50 paid attendees will receive a copy of the book Drop the Ball, written by our keynote speaker, Tiffany Dufu.
---
The "Student with bus ticket" option available for Cornell students taking the bus from the Ithaca campus to New York City on March 2nd and returning the same day.
Already registered? Here's what you need to know:
Resume Book
If you're interested in submitting your resume to our sponsors, please upload it here.
Bus Transportation (Ithaca <-> NYC)
Both of our buses depart Ithaca at 4am Friday morning and they leave NYC at 6:20pm and 8:00pm.
If you registered a "Cornell Student with bus ticket," you will receive an email with the complete bus schedule and pickup / dropoff locations.
If you need transportation, we still have seats available on the buses. You can order them here for $15 one way when you use promo code vbvya.
Johnson Student and Alumni Reception After JWiT!
The Office of Diversity and Inclusion is hosting a post-JWiT mixer from 5-7pm for Johnson students and alumni. Separate registration is required, RSVP here.
Dress Code
The dress code is business casual.
Venue access
There is no need to print your ticket, but please bring photo ID with you to the event!
Agenda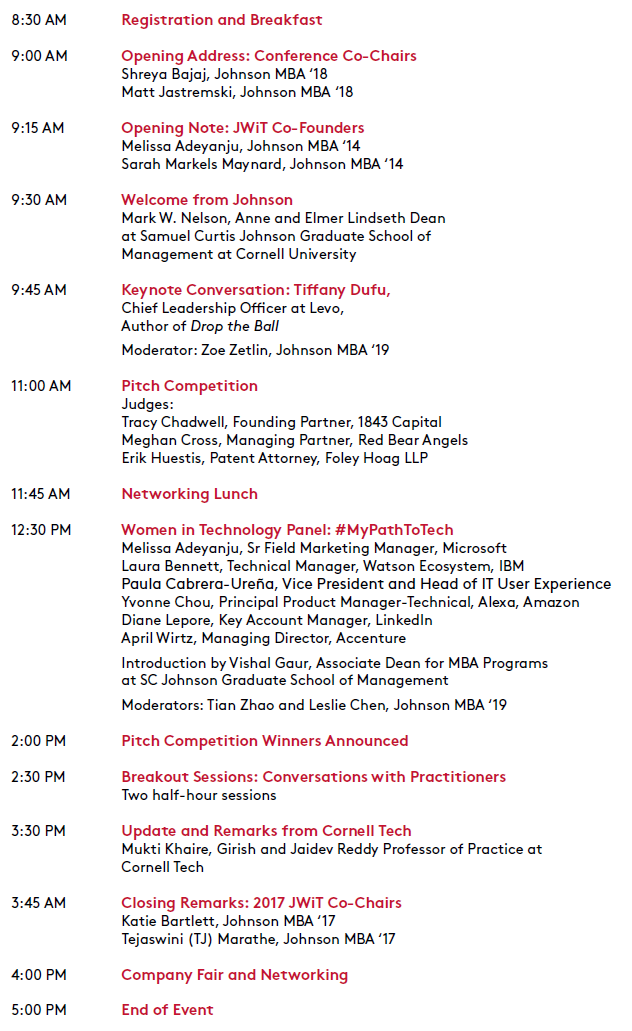 Please reach out if you have any questions!
The 2018 JWiT Board
jwit@cornell.edu