2018 Jewish Sports Hall of Fame Induction Ceremony & Banquet
Sales Have Ended
Ticket sales have ended
Reservations have ended for this event. However, there may be seating available at the venue. Please review the event information for locations, directions, etc. Or contact 408-242-3339 or gary@jshofnc.org
Sales Have Ended
Ticket sales have ended
Reservations have ended for this event. However, there may be seating available at the venue. Please review the event information for locations, directions, etc. Or contact 408-242-3339 or gary@jshofnc.org
Description

Legendary Sportscaster Chris Berman Heads Jewish Sports Hall of Fame Class of 2018
Enjoy an Eventful Evening of Sensational Sports Stars, Stories, Students, and Scholarships.
Celebrity Reception: Have your photo taken with a sports legend.

Silent Auction: Bid on a variety of unique items and sports memorabilia.

ONLINE AUCTION FEATURING ONE-OF-A-KIND EXPERIENCES TO EXQUISITE VACATIONS – SEE WHAT IT"S ALL ABOUT BELOW AND VISIT THE AUCTION SITE A.S.A.P. BECAUSE THE DEADLINE IS SEPT. 12: JSHOF-AUCTION

Savor a five-star dinner, libations, and a whole lot more!


6:00 PM — Cocktails, Hors D'oeuvres, SIlent Auction
7:00 PM — Induction Dinner & Awards Ceremony

On Sunday, September 16, at the Four Seasons Hotel in San Francisco, the Jewish Sports Hall of Fame of Northern California (JSHoF–NC) will present its 12th annual Induction Ceremony and Banquet of five admired honorees. Cocktails and the popular silent auction (including fine wines, sports memorabilia, and other unique items) begin at 6:00 pm. The Induction Ceremony and Banquet commences at 7:00 pm. Reserved seating for the event is available at bit.ly/jshof2018
This year's inductees include:
• Chris Berman – Celebrated, award-winning sportscaster and fan favorite for nearly 40 years
• Dick Gould – Unmatched Stanford Men's Tennis Coach from 1966-2004, currently Stanford University Director of Tennis
• Matt Levine – World-class former Executive Vice President of Marketing & Broadcasting for the San Jose Sharks (1990 – 2000). He's currently Managing Director of SourceUSA

• Marty Lurie – Veteran sportscaster currently on the air during the SF Giants season on KNBR 680 radio.
• Mike Silver – Super prolific sportswriter and television analyst for NFL Network and NFL.com. Mike previously worked for Sports Illustrated and Yahoo Sports, and other publications.
Along with these outstanding sports representatives, the organization also inducts high school student-athletes who are awarded scholarships on the basis of their athletic, academic and community service.
Your donation is tax-deductible to the fullest extent allowed by law and benefits our student scholarship fund and student athletic activities for Bay Area youth, as well as for our Sports Concussion Prevention Initiative. Visit the Northern California Jewish Sports Hall of Fame website for more information.

Short Profiles of the 2018 HOF Inductees
CHRIS BERMAN
If you don't know who Chris (a.k.a. Boomer and The Swami) Berman is, you're obviously not a sports fan. Berman is, without doubt, a legend in the sports world. He was one of the first ESPN SportsCenter anchors, beginning way "back, back, back" in 1979. No wonder he's collected accolades for an incredible career, having won almost every award a seasoned broadcaster can.
No stranger to Northern California, the Connecticut native embarked on a lifetime love affair with the SF Giants while watching the team challenge the NY Yankees in the 1962 World Series. He even planted a plot of turf from the outfields of both AT&T Park and Candlestick in his backyard!
• Berman's first Super Bowl (XVI) broadcast in 1982 was also the San Francisco 49ers' first Super Bowl win. They beat the Bengals 26 – 21 and Berman went on to cover 33 more Super Bowls.
• On October 17, 1989, Berman did double-duty covering both the Bay Bridge World Series between the Oakland A's and the San Francisco Giants, AND the 6.9 magnitude Loma Prieta earthquake.
• In September 1999, Berman's boyhood favorites honored him when he threw out the ceremonial first pitch at one of the last SF Giants games played in Candlestick Park.
• On September 10, 2012, Berman tackled NFL play-by-play for the first time in his career calling the San Diego Chargers – Oakland Raiders game.
• A year later, on December 23, 2013, Berman broadcasted the final 49ers game at Candlestick Park.
• One of Berman's favorite musical groups is the Bay Area's Huey Lewis and the News. He's such a big fan, he's sung with the group more than a dozen times.
MARTY LURIE
After a successful, but demanding career as a criminal defense lawyer, Marty tried his last case and closed his practice in 1995. His lifelong love of baseball led to his next career.
Marty's new calling gained momentum when he was offered the opportunity to host a pre-game show on the Oakland Athletics radio network. That move lasted a decade, until 2010 when he took his current role as the weekend pre- and post-game radio host on KNBR radio, the flagship station for the SF Giants. Throughout the years, Marty has attracted and cultivated a devoted community of fans that reaches across the country and around the world.
You can catch Marty broadcasting live from the patio of the Public House restaurant every Saturday and Sunday starting about four hours before first pitch. He'll also be on the air for about three hours after the game taking phone calls from across the Giants' fan base. If you love baseball, you'll love listening to Marty Lurie.
DICK GOULD
For 38 years (1966-2004) Dick Gould was the head coach of the Men's tennis team at Stanford. Along the way, he became the winningest coach in Stanford's history as well as a tennis legend. A few of his many coaching accomplishments include leading Stanford to 17 NCAA Team Championships, 10 NCAA singles championships, and 7 NCAA doubles championships.
Currently the John L. Hinds Director of Tennis at Stanford, Gould has been repeatedly recognized for his achievements and dedication to the sport, including as an honorary member of the US Professional Tennis Association. Gould also serves on the Campaign Committee for the Golden Gate Park Tennis Center renovation project.
MATT LEVINE
Future San Jose Sharks CEO Art Savage approached Levine in 1989 to assist in developing the business and marketing plans – including a team name, colors, and uniforms – for the yet-to-be-announced expansion team. Levine had only 90 days to develop a presentation for the National Hockey League's Board of Governors that would convince them to grant the Bay Area a team.
"We had some wild names," Levine said of the creative process that led to the naming of the Sharks. "Things that played off the Golden Gate, things that played off Silicon Valley. There was even a submission to name the team the Cansecos."
Levine also had a hand in choosing the club's color scheme – teal and black – after interviewing executives at Bloomingdale's, L.L. Bean and J. Crew. Levine said one of his main goals was to create a team identity that children and adults alike could relate to.
MIKE SILVER
Silver, a sportswriter and columnist from San Francisco, graduated from UC–Berkeley in 1988. He launched his career working for the Santa Rosa Press Democrat covering the San Francisco 49ers and Golden State Warriors from 1990 to 1994. He also covered the 49ers for the Sacramento Union and served as a correspondent for Pro Football Weekly and The Sporting News.
In 1994, he began working at Sports Illustrated, eventually becoming the publication's senior writer. As the magazine's lead NFL writer, he authored stories for Super Bowls XXIX through XLI and personal profiles of famous sports figures. He has also written articles for Rolling Stone and GQ.
At the beginning of the 2007 NFL season, Silver began writing for Yahoo! Sports, leaving in August 2013 to become a reporter/columnist for NFL.com and analyst for NFL Network programs.


---
GET READY FOR SOME AUCTION ACTION!
Our induction honorees are winners! And you can be, too. Bid now at the JSHoF-AUCTION
The 2018 Jewish Sports Hall of Fame of Northern California Induction Ceremony and Banquet will be an experience you'll never forget. Enjoy an eventful evening of sensational sports stars, stories, students, scholarships, sensational food & wine, and an incredible auction loaded with incomparable adventures.

You're invited to bid on packages ranging from one-of-a-kind experiences to exquisite vacation packages. Bid online for unique items in these categories:
Cruises
Sports
Music
Travel
Once in a Lifetime
Adventure Experiences
And Much, Much More!
Our items are open for pre-bidding and will close at our silent auction on September 16, 2018. You have until midnight September 12, 2018 to place your maximum bid online, so you can still be a winner even if you are not able to attend the event.
Click here to see all of the amazing auction items available!
Bid now to boost our fundraising efforts that help present scholarships to high school student-athletes, as well as for our Concussion Outreach Initiative provided by UCSF's "PlaySafe Program" in the San Francisco Unified School's District's sports programs.


---
MORE INFO ABOUT THE JSHoF INDUCTION CEREMONY AND BANQUET
JSHoF INDUCTION PRESENTERS:
Mike Fleiss, Paul Goldstein, Ken Korach, Steve Silver, Bill Sutton, Tad Taube, and John Tortora
MASTER OF CEREMONIES:
Damon Bruce
PANEL HOST:
Andy Dolich
The Jewish Sports Hall of Fame of Northern California was established in 2006 to pay tribute to Northern California's professional sports figures, award scholarships to student-athletes, and honor members of the community who have provided support, mentoring, and assistance for Jewish and non-Jewish youth participating in sports.
The Jewish Sports Hall of Fame of Northern California is a 501(c)(3) nonprofit, all-volunteer organization. There is no paid staff or administrative costs. All revenue is derived from sponsors, donations, event revenue, and charitable grants. The organization relies completely on members and volunteers for the time they devote to the events they present.

MORE ABOUT OUR INDUCTEES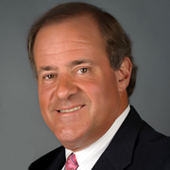 CHRIS BERMAN
For almost four decades, Chris Berman, nicknamed Boomer, has become one of America's most respected, popular, and in many ways, most beloved sportscasters of his era. A legend in the industry, Berman has also been recognized by the Pro Football Hall of Fame, his peers and countless other organizations for his exceptional contributions to sports broadcasting. With his trademark combination of genuine enthusiasm, knowledge and wit, he has come to embody ESPN in its dedication to entertaining and informing sports fans across the country.

He is best known for his signature delivery of highlights in every sport, most notably on NFL Sundays. Six times the versatile Berman has been selected the National Sportscaster of the Year (1989, 1990, 1993, 1994, 1996, and 2001) by the members of the National Sportscasters and Sportswriters Association (now the National Sports Media Association). Berman, who in 1989 became the first cable sportscaster to win National Sportscaster of the Year, ranks second among sportscasters in winning this award. Berman and his various shows have won 10 Emmy Awards and 12 Cable ACEs.

Berman received the distinguished Pete Rozelle Radio-Television Award from the Pro Football Hall of Fame in 2010 for his longtime exceptional contributions to radio and television in professional football, an unexpected and humbling honor which Berman cherishes most among a career of achievement.

His coverage of baseball for ESPN also spans almost four decades, with Berman's most significant contribution coming on Sept. 6, 1995. He handled play-by-play for the Emmy Award-winning telecast of Cal Ripken's 2,131st consecutive game, which surpassed the record held by the immortal Lou Gehrig.

In 2001, Berman was named winner of the prestigious Reds Bagnell Award from the Maxwell Football Club of Philadelphia for "contributions to the game of football." Previous recipients include Pete Rozelle, Don Shula, Joe Paterno, and Eddie Robinson, among others. In January 2009, Berman was honored with The Pat Summerall Award at the annual Legends for Charity dinner in recognition of his longtime excellence in football broadcasting.

In December 2017, Berman was inducted into the Sports Broadcasting Hall of Fame. In 2016, he was honored with the Newseum Institute's Al Neuharth Award for Excellence in Media – the first sportscaster ever honored. He was also inducted into the National Sports Media Association (formerly NSSA) Hall of Fame. In 2015, Berman was just the fifth on-air personality to be inducted into the Cable Hall of Fame. Hosting Sunday NFL Countdown has also garnered five Cable ACEs (1989, 1992, 1993, 1994 and 1995).

Berman – a veteran of 36 Super Bowls, beginning with the 49ers' first NFL Championship in Super Bowl XVI – began working alongside Tom Jackson on Sunday NFL Countdown in 1987 when ESPN first acquired the rights to carry the NFL. The 2015 NFL season was their 29th year working together, which is unheard of in TV, just two years shy of the longest duo – 31 years – Johnny Carson and Ed McMahon. Berman and Jackson teamed together every Sunday night in the fall from 1987-2005 to host the critically-acclaimed NFL PrimeTime, which still holds the record as cable television's highest-rated studio show.

When Monday Night Football moved to ESPN in 2006, so did Berman's signature weekly halftime highlights trip through the NFL, "The Fastest Three Minutes in Television." It was a staple on Sunday Night Football for all 19 years (1987-2005), and remained one on Monday Night Football and Monday Night Countdown through 2016.

Chris has covered 31 All Star games and 30 World Series for ESPN, including the 1989 San Francisco Earthquake, and Baseball Tonight since its inception. From 1986-2014, Berman covered the U.S. Open, a role that he relished, including the "NFL PrimeTime of golf," the nightly U.S. Open highlights show.

In 2003, he added play-by-play duties for ESPN's coverage of the first and second rounds of the U.S. Open to his host role. Berman has played himself in 15 motion pictures: The Longest Yard, Little Big League, Necessary Roughness, Draft Day, The Waterboy, Grown Ups 2, Tracktown, Eddie, The Garbage Picking Field Goal Kicking Philadelphia Phenomenon, Big Daddy, Second String, Even Steven, Kingpin, The Program, Celtic Pride – and on several television shows including Sesame Street, Spin City, The Jersey and Arli$$.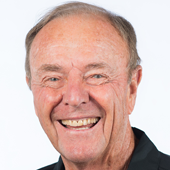 DICK GOULD
Dick Gould serves as the John L. Hinds Director of Tennis at Stanford University. He served as the Stanford Men's Tennis Coach, 1966-2004, during which time his team won 17 NCAA Team Championships (88 wins, 11 losses in NCAA team championship competition), 10 NCAA singles champions (5 others = runner-ups, 8 others have reached the semi finals); 7 NCAA doubles championship teams (8 other payers have reached the finals); 50 All Americans; coached 9 players who reached top 15 in ATP world singles rankings and 14 players who reached top 10 in ATP world doubles rankings (7 attained a #1 world doubles ranking – 11 have won Grand Slam Doubles Championships). Dick was the U.S. Olympic Committee Coach of the Year in 1998 and Pac-12 Conference Tennis Coach of the Century and he served at the Coach of All Star teams to China and Japan; he is past president of Professional Tennis, Inc. (1967 - forerunner to Nor Cal USPTA); and he advises JobTrain (OICW); Turing Sense, the Positive Coaching Alliance; Grips Program, East Palo Alto Tennis & Tutoring; US Sports Camps. Dick is a member of Athletic Halls of Fame: Ventura County (1990); Northern California Tennis (1992); Stanford University (1994); Intercollegiate (2006) S.F. Bay Area Sports Hall of Fame (2006), San Jose Sports Hall of Fame (2008), and the Multi-Ethnic Sports Hall of Fame (2014.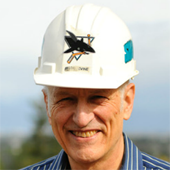 MATT LEVINE

Matt Levine is a visionary sports industry leader who has earned national prominence through his strategic insights; team/league/event brand development; licensing and analytics/technology innovations and management team building capabilities. He is a current member of founding management team creating and launching in the summer of 2018 the first United States-based professional 3x3 basketball league in New York, DC/Baltimore and the SF Bay Area. He was the Managing Director for SOURCE USA serving the sports and entertainment industry (60+ pro sports franchises; league commissioners of NFL, MLB, NBA and NHL; arenas/stadia/horse and motor racetracks; mixed martial arts promoters and university athletic departments). Matt was the Executive Vice President of the San Jose Sharks where is focus was market positioning and branding (including record-breaking and industry-leading merchandise sales) of the San Jose Sharks hockey franchise and opening of San Jose Arena (now SAP Center) with responsibility for building management team and driving all revenue streams. He was the President/CEO and Founder of Pacific Select Corp and Sports Team Analysis & Tracking Systems (STATS, Inc.) which conceived and deployed the first quantitative sports event attender measurement tool, the Audience Audit ™, in the mid-1970s, with the Golden State Warriors, expanding its use to all major pro team and racing sports. Matt launched in 1976 and published through 1982 the first national publication for sports management, the quarterly newsletter "Sports Management Review™, precursor to Sports Ink, Sports Business Daily and Sports Business Journal. And, he pioneered integration of computer technology (EDGE 1.000 ™) in TV and radio, Major League Baseball broadcast commentary, player performance evaluation and game tactics planning, the foundation technology for "Moneyball." Initial users in the early 1980s were the Oakland A's, New York Yankees, Houston Astros and Chicago White Sox.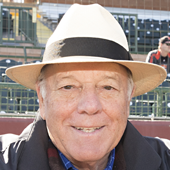 MARTY LURIE
Marty Lurie graduated from The University of Miami law school in 1971, became a lawyer in Miami where he practiced law for one year. He moved to the Bay Area where he practiced law for almost 25 years, during which time he handled over 100 homicide cases as well as a number of capital cases. Marty's seamless transition into sports broadcasting began with a show called "The Sports Doctor" on a small Oakland radio station. After becoming credentialed for the San Francisco Giants, the San Francisco 49ers, the Oakland Athletics, the Oakland Raiders, and the San Jose Sharks, his shows expanded to include interviews of professional players, which Lurie himself conducted after games. For the next 11 years, Lurie hosted the Athletics' "pre-pre-game" shows. During that time, he developed a short daily segment called "Memories of the Game," in which he would interview a prominent sports personality who had historical ties to that date. Today, more than 300 of these clips have been placed into the audio library at the National Baseball Hall of Fame in Cooperstown. In 2010. Marty began hosting weekend pre- and post-game shows on the Giants' flagship station, KNBR, where he has earned the nickname "Marathon Marty" because his shows, which started out airing for an hour before games and an hour after, now combine for around 8 hours of air time each day.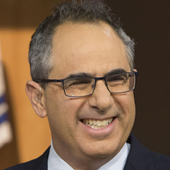 MIKE SILVER
Michael Silver joined NFL Media in August 2013 after spending six years covering the NFL for Yahoo! Sports. Prior to joining Yahoo!, Silver spent 13 years at Sports Illustrated, during which time he wrote more than 70 cover stories and authored 13 consecutive Super Bowl game stories for the magazine. In his role as NFL Media reporter/columnist, Silver appears on a variety of NFL Network programs and writes columns for NFL.com. Mike began his career as a sports writer and columnist for the Santa Rosa Press Democrat, where he covered the San Francisco 49ers and Golden State Warriors from 1990-94. He also covered the 49ers for the Sacramento Union and served as a correspondent for Pro Football Weekly and The Sporting News. He has also written articles for Rolling Stone and GQ. Mike's published works include: Rice with Jerry Rice (St. Martin's Press, 1996), Walk on the Wild Side with Dennis Rodman (Delacorte Press, 1997), All Things Possible with Kurt Warner (Harper San Francisco, 2000) and Golden Girl with Natalie Coughlin (Rodale Press, 2006).
Visit the Jewish Sports Hall of Fame Northern California's "Wall of Fame" on the Taube Koret Campus for Jewish Life in Palo Alto.
Our tax ID number is: 26-0493232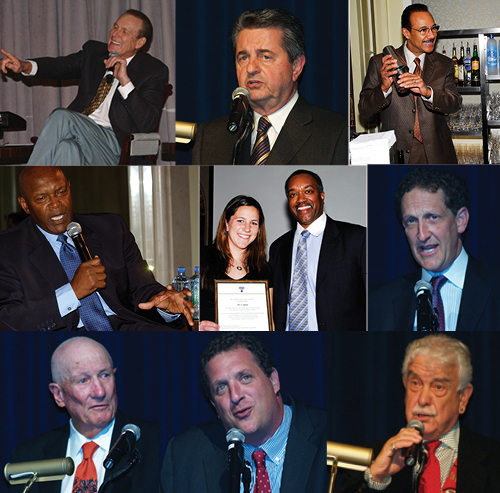 Row 1: Rick Barry, Carmen Policy, and Spencer Christian
Row 2: Vida Blue, Don Collins and award winning student, and Larry Baer
Row 3: Al Rosen, Harris Barton, and Jack Anderson, President of the JSHOF

Visit our website for inductee videos, upcoming events and lots more! • www.jshofnc.org