Description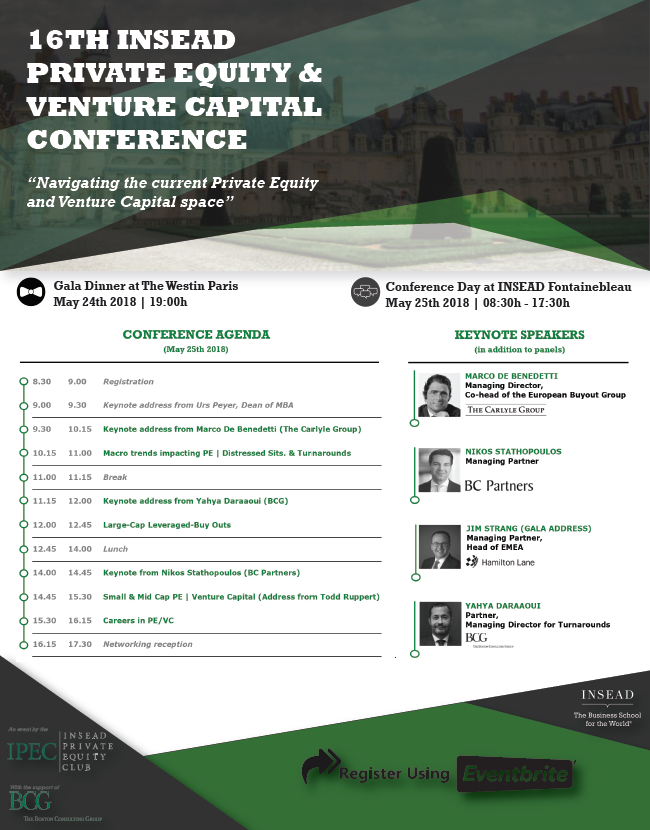 Please fill out the following survey so that we have up to date information regarding your dietary needs and travel requirements: https://goo.gl/forms/3CQrfeSli31UrLpS2
The INSEAD Private Equity Club ("IPEC")
Invites you to the 2018 Annual IPEC Gala
Thursday, 24 May 2018 in Paris
The INSEAD Private Equity Club - Alumni Club ("IPEC") Annual Gala is an exclusive event that brings together INSEAD alumni working in the private equity and venture capital industry globally for an evening to exchange ideas and perspectives.
The event this year will include a keynote session speech from Jim Strang of Hamilton Lane.
The IPEC Annual Gala is hosted the day before the student-run INSEAD Private Equity Conference, the largest private equity conference held by a European academic institution. Over 200 private equity professionals and INSEAD alumni are expected to attend the conference in Fontainebleau. The event will focus on changes taking place in the Private Equity industry with regards to: LP-GP relationships, the institutionalization of the asset class, shareholders and geographical shifts. The panels will focus on the following topics: buyouts, emerging markets, distressed investing, venture capital, mid-market, limited partners and fundraising, careers in private equity.
The IPEC Annual Gala is an event which will see the gathering of around 70 alumni behind closed doors to discuss the evolution of the industry. The event will take place Thursday evening May 24, 2018.
Tickets for each event are available on a first-come-first-serve basis. As there are a limited number of tickets available, we encourage all participants to buy tickets early.
PS: refunds will be available up to 1 day prior to the event.