Description
This year, Conexion is excited to have ANDRÉS TAPIA as the keynote speaker for our Hispanic Heritage Celebration.
Agenda
5:00 pm Registration and Network

6:00 pm Welcome and Opening Remarks by Peter Markell, Executive VP of Administration and Finance, CFO and Treasurer at Partners HealthCare & Stephanie Browne, VP Talent Acquisition, Chief Diversity & Inclusion Officer at Blue Cross Blue Shield of Massachusetts
6:30 pm Keynote Session with Andrés Tapia, Global Diversity & Inclusion Strategist
First 200 tickets include a copy of "Auténtico"
The first 200 tickets get a copy of Andrés' co-authored book "Auténtico: The Definitive Guide to Latino Career Success"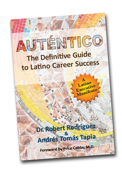 About the Keynote Speaker
Andrés Tapia is a global diversity & inclusion strategist and thought leader at Korn Ferry. He has over 25 years of experience as a C-suite management consultant, diversity executive, organizational development and training professional, and journalist.
Andrés is the author of the groundbreaking book, The Inclusion Paradox: The Obama Era and the Transformation of Global Diversity, as well as the co-author of Auténtico: The Definitive Guide to Latino Career Success. He is a frequently sought-after speaker globally on the topic of diversity and inclusion. He has been published in major dailies throughout the US and Latin America, primarily through his writing for the New America Media wire service as well as on the Huffington Post.
He is the recipient of numerous leadership and diversity awards and has served on a number of boards, including currently serving on the editorial board of Diversity Executive Magazine, the corporate advisory board for the Bentley University Center for Women and Business, the Hispanic Alliance for Career Enhancement (HACE), and Ravinia Festival.
Andrés received a bachelor's degree in modern history from Northwestern University in the Chicago area with an emphasis in journalism and political science. He grew up in a bilingual/bicultural home in Lima, Perú.
This event is sponsored by: