2018 Hair Art & Mobile Salon EXPO (TBA)

Monday, January 1, 2018 at 9:00 AM

-

Monday, December 31, 2018 at 9:00 PM (CST)
Ticket Information
This event is invite-only
You need an invitation to register for this event.
Contact the host
to find out more.
Event Details
RSVP Reservation for the 2018 Hair Art & Mobile Salon EXPO. Tickets are LIMITED!
Date, Time, and Location will be emailed to all RSVP's once they are set to give advance notice of the event. Please do not make travel arrangements prior to receiving the email with this information. Purchasing an RSVP is a Reservation for our event which is TBA.
-----------------------------------------------
Event info available at www.MobileSalonEXPO.com.

The Hair Art & Mobile Salon EXPO event is one of many that are scheduled to increase awareness and educate the general public on the Barber & Beauty Industry bringing Mobile Salons to the world and promoting hair enthusiasts of all ages and races to wear Hair Art Designs and Company Logos as a new form of advertising! Mobile Salons equal convenience. Instead of the customer having to go to the Barber Shop or Beauty Salon, now the Mobile Shops and Salons will come to the customers! Hair Art is an innovative method of displaying Company Logos in places other ads can't go.
The event is a blend between a Hair Show that features Hair Art (Haircuts with wild and crazy designed hair) and a Car Show that features Mobile Salons (Shuttle buses converted into custom Mobile Barber Shops and Beauty Salons). There are a variety of activities set up for all of our Attendees.
Come out to see the evolution of Barber Shops & Beauty Salons into this new world of Mobile Shops & Salons and a brand new advertising method On & In the Hair of real customer heads through Hair Art Advertising. 
This event was created by Ronnie Mac, "Mr. Hair Art" and hosted by Mobile Salon NETWORK. This Expo will be held in 2018 (Ticket Holders will be notified in advance) in Dallas, Texas. This event is open to the public and all Barber & Beauty Professionals, Students, Sponsor Companies, Investors, and Advertisers are welcome to participate.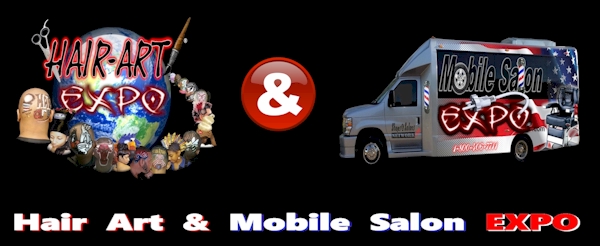 This event is expecting over 5,000 to attend in person and will be broadcasting the entire event over the internet through multiple LIVE STREAMS to thousands of online viewers. Among the attendees are business class owners and worker/operator class Barbers, Stylist, Cosmetologist, Nail Technicians, Massage Therapist, Pet Groomers and more. Many licensed professionals and just starting out students are also scheduled to attend this unprecedented event. Even Celebrities that are currently or soon to be enjoying the luxury and convenience of having their very own Mobile Salon Franchise parked outside their home or workplace will be attending the Mobile Salon EXPO. (Some of which have been talked into performing LIVE on stage at the Expo).
Join us for an educational and informative event. This event will have things for all the Barber & Beauty Professional as well as Sponsor Companies, Investors, and Advertisers! This Mobile Salon EXPO event will have real Mobile Salons & Exhibits on display for you to see and go aboard to test out. Over 50 Product Vendor Booths for all you professionals out there. Multiple gaming and event booths and Mobile Food Trucks and concessions for vending your favorite event foods!
Save This Event
When
Monday, January 1, 2018 at 9:00 AM

-

Monday, December 31, 2018 at 9:00 PM (CST)
Add to my calendar
Organizer
If there are any Sponsors, Investors or Advertisers who want to get in on this once in a lifetime opportunity and be a part of a groundbreaking industry shift, please contact the Mobile Salon NETWORK today.
"The Barber & Beauty Industry is now going MOBILE!" said the Owner, Ronnie Mac.