Description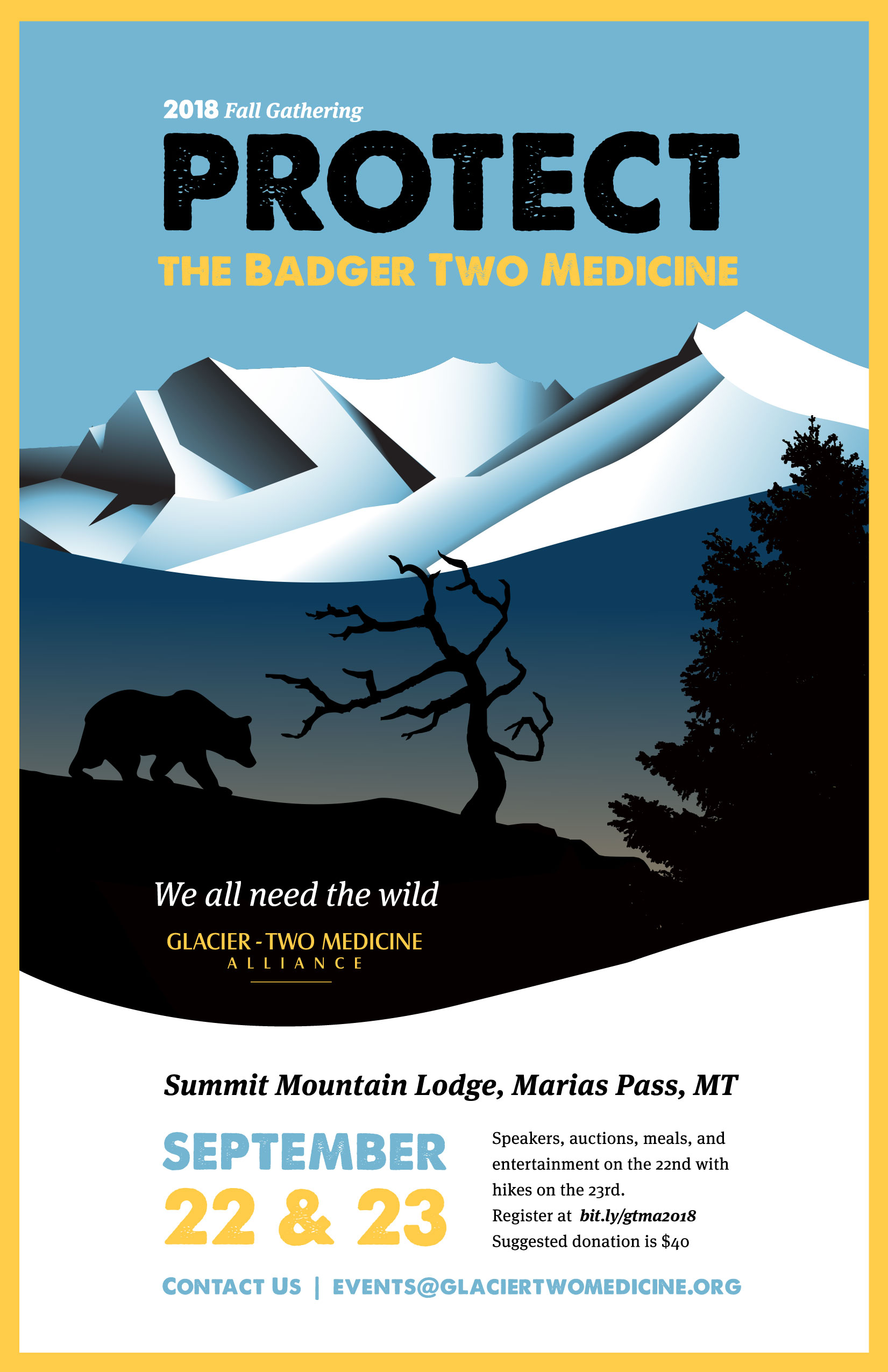 ABOUT
Do you believe in having a permanently protected Badger-Two Medicine? Want to do more to support the Alliance's efforts towards that goal? Join us for the 9th Annual Glacier-Two Medicine Alliance Fall Gathering on September 22 & 23, 2018 at the Summit Mountain Lodge, on Marias Pass, just 12 miles west of East Glacier Park on Highway 2.

This year we have a great lineup of speakers, live music, auctions, delicious food and hikes of all levels of difficulty in the place we all love and want to protect – the Badger-Two Medicine.
SPEAKERS
This year we are lucky to have Stephen Legault and Dr. David Mattson with us as speakers.
Stephen Legault is the author of fourteen books, including most recently Where Rivers Meet: Photographs and Stories from the Bow Valley and Kananaskis and Earth and Sky: Photographs and Stories from Montana and Alberta. He is a full-time conservation activist, writer, photographer, public speaker, and strategy consultant who lives in Canmore, Alberta with his wife Jenn, and two sons, Rio and Silas. He has been writing since 1988, and for nearly as long has been leading national and international conservation programs and organizations. He recently served as the program director (Crown, Alberta, NWT) of the Yellowstone to Yukon Conservation Initiative (Y2Y). His writing includes nine murder mystery novels, books of essays on Buddhism and Taoism and a collection of works by 25 authors on the Bow Valley of Alberta.

Dr. David Mattson has studied both grizzly bears and mountain lions for the last 35 years, including 15 years of intensive field investigations in Yellowstone. He is also intrigued by what goes on in peoples' heads, especially that which is relevant to understanding policy dynamics and the role and effects of scientific information. Dr. Mattson has pursued his interests as a Research Wildlife Biologist and Station Leader with the U.S. Geological Survey, as Western Field Director of the MIT-USGS Science Impact Collaborative, as Lecturer & Visiting Senior Scientist at the Yale School of Forestry & Environmental Studies, and as part of the Advisory Team for People & Carnivores.
Check out the photos from the 2016 Fall Gathering!
Watch the videos of our incredible speakers!
LODGING
Book a cozy, comfortable cabin at the Summit Mountain Lodge with us for the weekend! Simply get in touch with us via email below. This will substantially help to cover the cost of the venue while leaving more money in our treasury to continue our efforts toward permanent protection.
CONTACT
If you have questions please contact us at events@glaciertwomedicine.org
We look forward to you joining us for the 2018 fall gathering!
-The Folks at GTMA