Description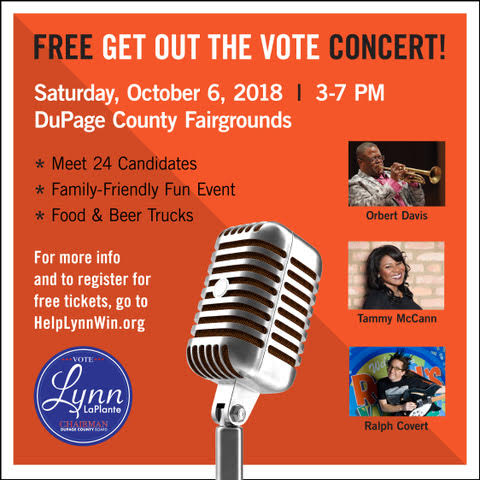 MUSIC FOR ALL AGES:
Orbert Davis (with his quintet of John Molder Ernie Adams, Stuart Miller and rising star Kevin King)
And more!
FOOD and BEER TRUCKS:
Family-friendly activities which include a mock voting event for children, with voting booths, ballots and stickers; seasonal activities for children, including: face painting, pumpkin painting and balloon artists and photo booth.
CANDIDATES:
All Democratic candidates running in the midterm election have been invited to speak and interact with guests. Candidates confirmed to appear include:
JB Pritzker for Governor
Kwame Raoul for Attorney General
Susana Mendoza for Illinois Comptroller
Raja Krishnamoorthi for IL-08
Lynn LaPlante for Chairman of the DuPage County Board
Liz Chaplin for County Board, District 2
Jean Kaczmarek for County Clerk
Laura Ellman for State Senate
Val Montgomery for State Rep IL-41
Jeff Jacobsen for DuPage Judge
Terra Howard for State Rep IL-48
Julie Renehan for County Board District 3
Greg Whalen for DuPage County Sherrif
Dawn DeSart for County Board District 5
Dan Hebreard for Forest Preserve President
Linda Davenport for DuPage County Judge
Sheila Rutledge for County Board District 6
Ashley Selmon for County Board District 1
Hadiya Afzal for County Board District 4
Zahra Suratwala for County Board District 1
Irfan Ibrahim for Forest Preserve Commissioner
Erica Green for County Board District 6
Tom Chlystek for State Rep IL-82
ACTIVITIES:
Register to Vote! Find your polling place, come up with a voting plan, review a sample ballot to be prepared for Election Day.


Educating Future Voters. Kids can try a mock voting booth; make their own campaign posters and other fun activities. Picture booths will be on hand to capture it, and all kids will receive iconic "I VOTED" stickers to wear proudly.
Inspiring activists from all backgrounds, areas and causes are booked to speak.
Organizations from around the state and nation will have booths to encourage voter participation, education and volunteer opportunities.
CONTACT INFORMATION:
Joanne Tyree, "Help Lynn Win"
(708)288-1131
joanneiam1953@gmail.com