2018 GoAEYC Fall Conference
Description
GoAEYC's 24th Annual Commitment to Quality Fall Conference
A jam packed half day featuring 48 presentations ranging from Advocacy and Curriculum to Administration topics. Registration begins at 7:00 AM and presentations begins at 7:45 AM and end at 12:50 PM. A light breakfast will be available as well as a sack snack betwen the last two sessions. Participants can earn 4.5 hours of DCFS in-service credit for attending this event. This event is Illinois Gateway approved and will be documented on your Professional Development Record.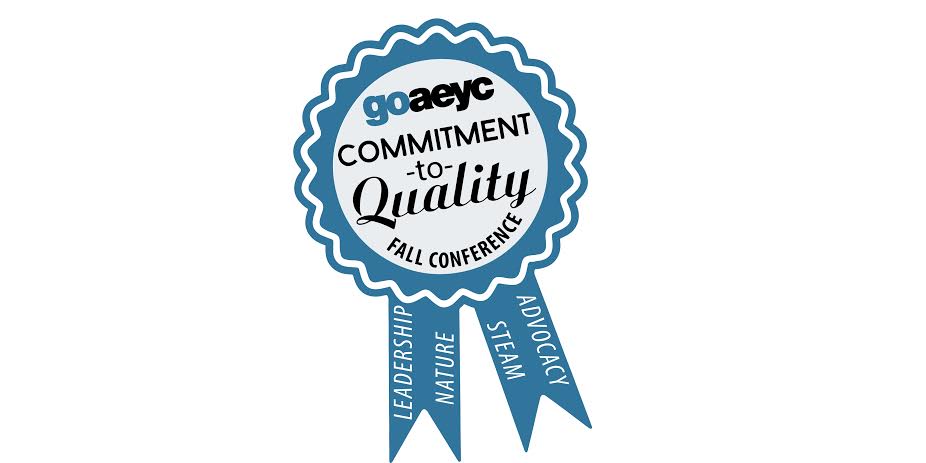 Who should attend?
Teachers
Assistants
Administrators
Students
GoAEYC Standard and Premium members, we invite you to be our VIPs! You will be able to bypass the check-in area and go directly to the room for a FREE breakfast buffet, along with brief annual meeting with raffles. At this meeting you will be eligible for an additional .5 hour in-service credit. Please look for signs posted to guide you to the room. To attend, please sign up on the registration form to indicate you'll be joining us. A limited amount of space will be available for on-site sign-up.
Early Childhood Administrators- We have a special track for you at the conference. Please join us in Session A with Tommie Robinson from Action for Children to hear Advocacy 101, Session B with Maryellen Waters and Penny Zimmerman about GoAEYC's new Administrator's Support Group, and lastly join Session C with Cheryl Joseph for Building Reflective Supervision.
GoAEYC is excited to offer Administrators a networking/support group that will meet throughout the year. We want to support you and ease some of your stress. Join us for this conference Kick-off session and together, we'll decide how often to meet and where, what topics to discuss and whether we should pursue this group for credit towards the Gateways' Director Credentials. Administrators drive the program and sometimes it's nice to have a good map to steer by. We hope our new Administrative Support group can be your guide to help support you in your challenging and very important role.
Please click here for the digital copy of the Conference book.

Special thank you to our Sponsors:
Gold Sponsor: Bright Horizons Family Solutions
Silver Sponsor: McCormick Center for Early Childhood Leadership
Friends of GoAEYC:
Oakton Community College
Lakeshore Learning Comapany
Illinois Early Learning Project
Illinois Gateways to Opportunity