Description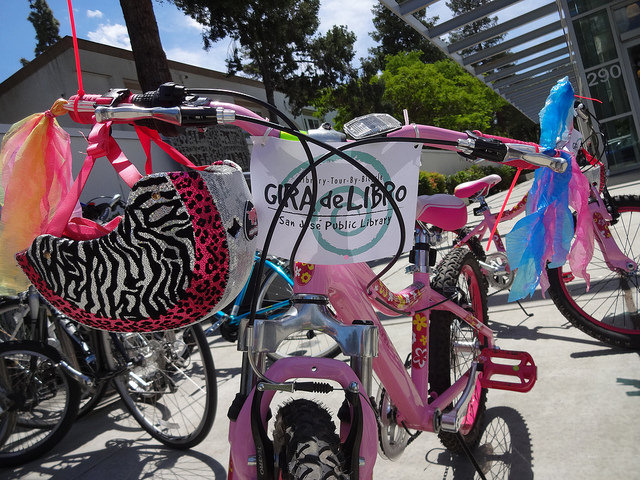 The ride will visit the following libraries:
Ride Details
The Tour date is Saturday, 2018 May 12. Participants may begin arriving at 8:45 AM at the Joyce Ellington Branch Library. The Tour departs Joyce Ellington at 9:45 AM.
From 8:45 AM-9:45 AM Community Cycles of California will be onsite to do basic bicycle safety checks and adjustments.
The 20 mile route will start and finish at the Joyce Ellington Branch at 491 East Empire Street.
The Tour is ridden at a casual and leisurely pace and we try to stay together as a group.
Route map available on MapMyRide
NOTE: The bicycle tour will not be held in the event of inclement weather
Tentative Schedule
8:45 AM Check-in begins at Joyce Ellington Branch

9:30 AM Bicycle safety talk

9:45 AM Depart Branch

10:35 AM: Arrive Lupe Columbian Mammoth
11:15 AM: Arrive Riverview Park
12:20 PM: Arrive Alviso Marina

12:45PM: Arrive Alviso Branch*

3:30 PM: Arrive Joyce Ellington Branch

4:00 PM: Finish
Library stops will include library tours, snacks and activities.
* NOTE: Longer stop at Alviso Branch Library for light lunch provided by San Jose Public Library
Stuff to Bring
In addition to having a bicycle in good working condition*, please bring your own following items for a more comfortable and safer ride:
Reusable water bottle

Lunch and snacks

Bike helmet

Sunglasses

Sunscreen

Layers and/or weather-appropriate clothing
*To make sure your bicycle is in good working condition, stop by the Joyce Ellington Branch Library on Thursday, May 10 from 4:00-6:00 PM for the Mobile Bike Repair Clinic provided by Community Cycles of California.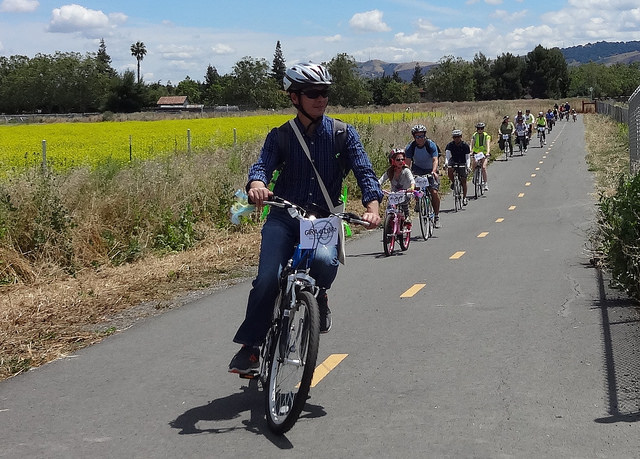 Why Bicycle Library Tours?
The Gira de Libro Library Tour by Bicycle is a fun tour for library lovers and bicycle enthusiasts. With the growing momentum of bicycle awareness, advocacy and infrastructure in Silicon Valley, libraries are pursuing innovative bicycle-related services and programming. Hosting library bicycle tours increases the visiblility of our libraries and gets librarians out into the community.
Library bicycle tours appeal to a broad demographic including young adults, adults and families. They bring people of all ages together and highlight the importance and significance of the library's role in the community and in bringing people together. Additionally, library bicycle tours get people of all ages out of cars and moving , showing that bicycling is a viable means of transportation to the library an everyday use.