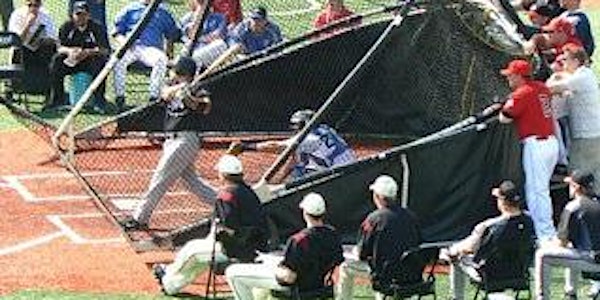 2018 Frontier League Tryout Camp & Draft
When and where
Location
UC Health Stadium 7950 Freedom Way Florence, KY 41042
Description
The 26th annual Frontier League Tryout Camp and Draft will take place April 23-24 at UC Health Stadium in Florence, Kentucky. All 12 Frontier League teams will be present, and over the past ten seasons an average of over 40 players per year have signed contracts out of the Tryout Camp.
FAQs
Are there requirements or an age limit to tryout?
Players must be at least 18 years old to attend, and must have been born on or after January 1, 1991 to be eligible for the 2018 season. Players with college eligibility remaining should check with their school's compliance officer before registering.
FAQs
What are my transport/parking options getting to the event?
UC Health Stadium is located at exit 180 off I-71/75 in northern Kentucky, about 10 miles south of downtown Cincinnati. The Cincinnati-Nothern Kentucky International Airport (CVG) is about 15 minutes away. Upon registering, your order confirmation will include information on the host hotel and rate code. Players are responsible for their transportation to and from UC Health Stadium. If you will not have a car, you should be able to find a ride by asking the other players in the hotel lobby.
What can/can't I bring to the event?
UC Health Stadium features an artificial playing surface, and per the manufacture's warranty metal spikes are not allowed. All players, including pitchers, must wear either molded cleats or turf shoes. Ten of the Frontier League's 12 ballparks feature artificial surfaces and have the same policy.
In addition, sunflower seeds, tobacco, and gum are not allowed on the field, the bullpen areas, or in the dugouts as they cause problems with the quality of the turf.
Players are responsible for bringing their own baseball equipment, including bats and catching gear, and should wear baseball pants. Baseballs and batting helmets will be provided by the Florence Freedom.
FAQs
How does the Tryout Camp work?
The workouts officially begin at 9:00 AM on April 23 and will feature a 60-yard dash, fielding and throwing drills for infielders, outfielders, and catchers, and batting practice for position players while pitchers will throw 15-20 pitch bullpens. Following the first day, the field managers will post a list of players invited back for inter-squad games on April 24. At the conclusion of the games on Tuesday, action will break for 30 minutes as clubs and prepare for the draft. The draft will take place at UC Health Stadium on Tuesday afternoon.
If I am drafted, when does spring training begin in the Frontier League?
Players report to spring training on Wednesday, April 25 with the first workouts scheduled for Thursday, April 26. Opening day rosters are due by Wednesday, May 9. If you will have issues reporting on April 25, speak with the club who selects you so alternate arrangements can be made.
If I still have college eligiblilty remaining, can I attend?
It is our understanding that participating in the workouts does not impact your college/amateur eligibility as long as you do not sign a contract. However, the ultimate decision is up to the NCAA, NAIA, or related organization. We have had players attend each year who return to complete their college seasons before signing contracts and reporting. We encourage any current college player to check with your compliance officer to see what you can and cannot do to protect your eligibility.
Can people come to watch the workouts?
Yes, the workouts are open to the public and there is no admission fee to watch. Family, friends, and fans are welcome to sit in the seating bowl at UC Health Stadium. Concessions are available for purchase, and restrooms will be open.
What happens if it rains?
We will make every effort to do as much of the workout as possible on the field at UC Health Stadium. The artificial playing surface allows us to play through light rain and to resume immediatly as soon as heavier rain stops. We do have access to an indoor facility if necessary. Regardless of the weather, the event will conclude on Tuesday, April 24, as players report to their teams for spring training beginning on Wednesday, April 25.