Description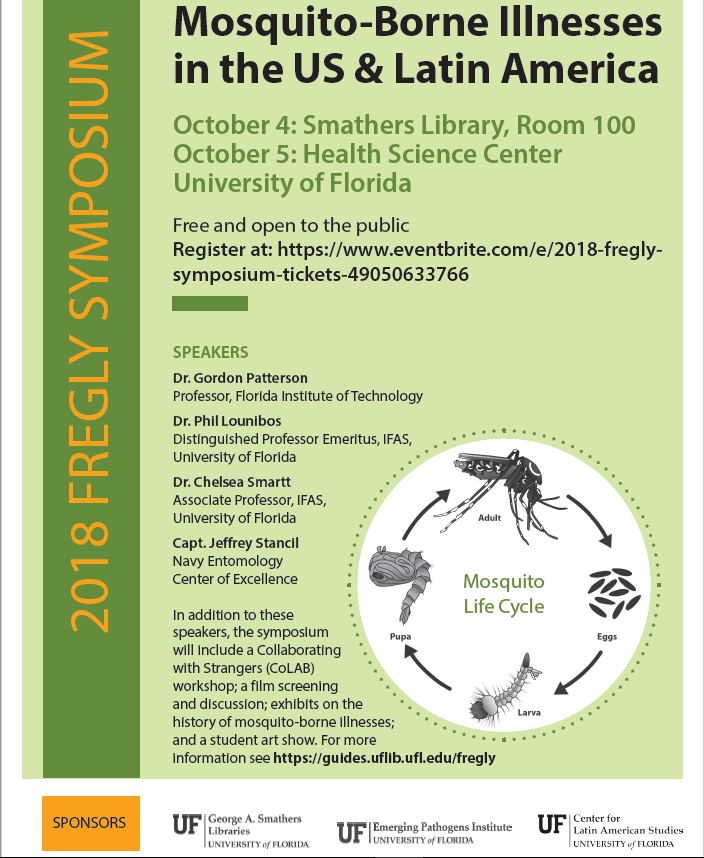 Melvin J. Fregly (1925-1996), a biomedical researcher specializing in human hypertension research, served as Assistant Dean for Graduate Education in the UF College of Medicine and was appointed Graduate Research Professor in 1979. An interdisciplinary symposium in his honor sponsored by the George A. Smathers Libraries and the Emerging Pathogens Institute will be held on October 4-5, 2018. The theme is mosquito-borne illness in the southeastern United States and Latin America, past, present, and future. Fregly, an educator and scientist with broad research interests, inspired the creation of this event.
This symposium is intended to address social, cultural, and scientific issues raised by mosquito-borne illness, a subject that is vitally important to public health in the southeastern United States and Latin America. It will bring together experts in different fields to describe how each discipline addresses these problems, and in the process, promote discussion among participants as to how interdisciplinary collaboration can enhance the development of innovative solutions. It will also highlight current research, addressing concerns about emerging mosquito-borne pathogens. The symposium is an outreach opportunity for the University of Florida, recognizing the importance of interdisciplinary work and collaboration, and will provide the opportunity for participants to contribute to the institutional repository at UF. It will also showcase the science-based holdings in the George A. Smathers Libraries. Ultimately, the symposium will raise awareness of available resources for research, as stipulated in the Libraries' strategic goals, and will promote connections among its collections and curators. The symposium will contribute to the Libraries' efforts to encourage transformative collaboration by drawing together members of the university and local communities.
Event website: https://guides.uflib.ufl.edu/fregly
2018 Fregly Mosquito Borne Illness Symposium Schedule
October 4- events occur in Smathers Room 100 unless otherwise noted
8:00 Registration and continental breakfast
8:30 Opening remarks- Judith Russell
9:00- 9:45 Plenary: Gordon Patterson talk--"Waging War on the Insect Menace: The Devil Lies in the Details"

9:45-10:00 Break
10:00-12:00 CoLab
12:00-12:15 pick up boxed lunches
12:15-1:15 Lunch and table discussion- topics raised during CoLab
1:15-1:30 Break
1:30- 2:30 Tour of Smathers library
2:30-2:45 Break
2:45-3:45 Plenary: Jeff Stancil talk--"The War on Bugs: The Role of the United States Military in Medical Entomology"
4:15-5:15 Marston Science Library tour
6:00 Reception- Health Science Center Founders Gallery
October 5 Events occur in the Health Science Center unless otherwise noted
8:00: 8:30 Continental breakfast
8:30- 9:30 Opening remarks, Melissa Rethlefsen
9:00-9:45 Plenary: Dr. Phil Lounibos talk--"From Forest to Favela: Hitchhiking of Vector Mosquitoes and Viral Pathogens with Human Migrants throughout History"
9:45-10:00 Break
10:00-10:45 Plenary: Dr. Chelsea Smartt talk--"Control the mosquito, control the disease: understanding mosquito vector-virus interactions "
11:00-12:00 HSC Library tour and viewing student art
12:15-2:15 Lunch and historical film screening

2:15-3:00 Discussion on historical film

3:00-3:15 Break
3:15-4:15 Panel discussion
FAQs
What are my transportation/parking options for getting to and from the event?
Please see https://guides.uflib.ufl.edu/fregly for more information on parking during the event.