Description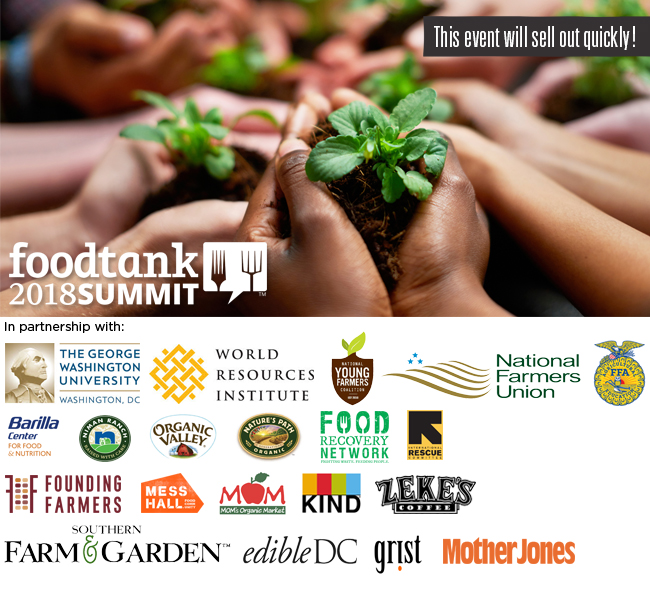 Cultivating the Next Generation of Young Food Leaders
Food Tank's 4th Annual Washington DC Summit
In partnership with George Washington University, World Resources Institute, the National Farmers Union, the National FFA Organization, the National Young Farmers Coalition, Grist, Mother Jones, and Edible DC.


February 28th, 2018 at the Jack Morton Auditorium.
WASHINGTON, D.C. FOOD TANK SUMMIT AGENDA
8:30 am, Registration and Breakfast
9:00 am, Welcome and Introduction
Kathleen Merrigan, Executive Director of Sustainability, George Washington University (GWU)
Andrew Steer, President and CEO, World Resources Institute
Danielle Nierenberg, President, Food Tank
9:15 am, a Fireside Chat featuring Representative Chellie Pingree (D-ME) and Representative Dan Newhouse (R-WA). Moderated by Helena Bottemiller Evich, Senior Food and Agriculture Reporter, POLITICO
9:50 am, Panel 1: Growing Farmers Around the Globe
Moderator: Kathleen Merrigan, Executive Director of Sustainability, George Washington University (GWU)
MJ Altman, Editorial Director, World Food Program USA
Emily Zweber, Farmer-Member, Organic Valley
Anne-Teresa Birthwright, Academic Tutor, The University of the West Indies, Mona Campus - Jamaica, Winner, BCFN YES! 2016
Myeasha Taylor, Urban Farming Specialist
Jennie Schmidt, Farmer, Schmidt Farms
10:40 am, Young Farmer Spotlight: Violet King, Farm Manager, Dreaming Out Loud
10:45 am, Networking Break
11:00 am, Panel 2: Cultivating the Food and Agriculture Movement
Moderator: Caitlin Dewey, Reporter, The Washington Post
Lauren Frances Tucker, Executive Director, Kiss the Ground
Cecily Upton, Co-Founder and VP of Innovation and Strategic Partnerships, FoodCorps
Mara Fleishman, Chief Executive Officer, Chef Ann Foundation
Tambra Raye Stevenson, Founder and CEO, WANDA: Women Advancing Nutrition, Dietetics, & Agriculture
Sarah Sem, Former President, The Store at George Washington University
12:00 pm, Young Farmer Spotlight: Scott Sibbel, Farmer, Sibbel Family Farms and Niman Ranch
12:05 pm, Lunch
1:40 pm, Fireside Chat featuring Seth Goldman, Co-Founder and TeaEO Emeritus, Honest Tea; Scott Norton, Co-Founder, Sir Kensington's; and Scott Nash, Founder and Owner, MOM's Organic Market. Moderated by Frank Sesno, Director, School of Media and Public Affairs, The George Washington University.
2:10 pm, Young Farmer Spotlight: Liz Whitehurst, Farmer Owner, Owl's Nest Farm
2:15 pm, Panel 3: Advocating for Future Farmers and Eaters
Moderator: Tim Carman, Food Writer, The Washington Post
Jill Isenbarger, CEO, Stone Barns Center for Food and Agriculture
Jeremiah Lowery, Member, DC Food Policy Council
Mailee Walker, Executive Director, Claneil Foundation
Regina Northouse, Executive Director, Food Recovery Network
3:10 pm, Networking Break
3:25 pm, Young Farmer Spotlight: Meredith Epstein, Lecturer and Advisor in Sustainable Agriculture, University of Maryland's Institute of Applied Agriculture, and Guy Kilpatrick, Terp Farm Manager, University of Maryland Dining Services
3:30 pm, Panel 4: Building Innovative Alliances
Moderator: Eliza Barclay, Science and Health Editor, Vox
Dan Simons, Owner, Founding Farmers
Amber Lambke, President and CEO, Maine Grains
Bennett Haynes, Chief of Produce, Beefsteak
Jessie Bovay, Director of Business Development, Mercaris
Logan Peterman, Agricultural Research & Analytics Manager, Organic Valley
4:30 pm, Fireside Chat featuring Roger Johnson, President, National Farmers Union, Lindsey Lusher Shute, Executive Director & Co-Founder, National Young Farmers Coalition; and Mark Poeschl, CEO, National FFA Organization. Moderated by Whitney Pipkin, Reporter, the Chesapeake Bay Journal.
4:50 pm, Keynote: Haile Thomas, Founder and CEO, The Happy Organization
5:00 pm, Closing and Thanks

This event is SOLD OUT. Please apply to the waitlist here. Full price tickets are $299 (full and partial scholarships offered). Just Announced: Post-Summit Reception and Dinner event. Learn more (will sell out soon) here.
Interested in sponsoring the event? Email bernard@foodtank.com
Interested in volunteering for the event? Email your resume and availability to vanesa@foodtank.com
Organizer of 2018 Food Tank Summit (Washington, DC) - Cultivating the Next Generation of Young Food Leaders