Description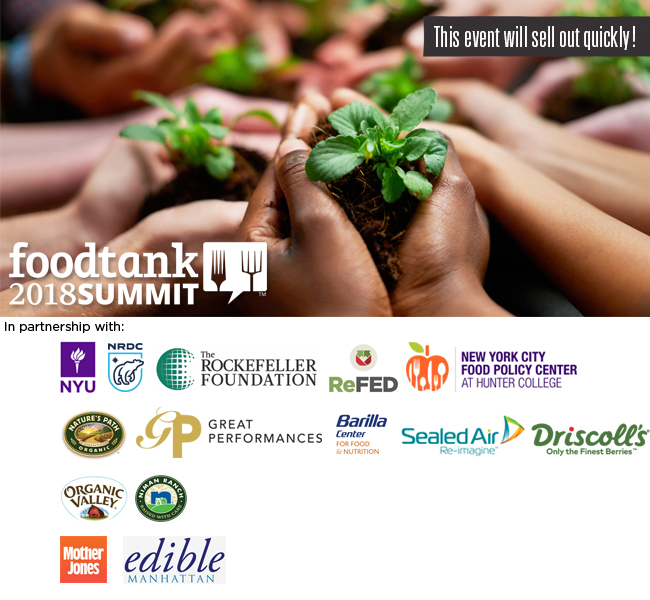 ***This Summit is SOLD OUT. Apply to the waitlist HERE.***
The New York City 2nd Annual Food Tank Summit
Food Tank, Natural Resources Defense Council, New York University, Hunter College NYC Food Policy Center, ReFED, and The Rockefeller Foundation are excited to announce the second annual NYC Food Tank Summit. Event sponsors include the Barilla Center for Food and Nutrition (BCFN), Driscoll's, Edible Manhattan, Food For All, the Food Recovery Network, Great Performances, Mother Jones, Nature's Path, Niman Ranch, Organic Valley, and Sealed Air.
Wednesday, October 3, 2018
2018 speakers and moderators include (more names to be announced soon!):
Jane Ambuko, Senior Lecturer and Head of Horticulture, Department of Plant Science and Crop Protection, University of Nairobi
Elizabeth Balkan, Director, Food Waste, Natural Resources Defense Council (NRDC)
Dan Barber, Chef, Blue Hill
Dickie Brennan, Owner and Managing Partner of Dickie Brennan & Company
Marco Canora, Chef and Founder, Brodo
Chris Cochran, Executive Director, ReFED
Gabriele Corcos, Host, Extra Virgin
Homa Dashtaki, Owner, White Moustache Yogurt
Sheryll Durrant, New Roots Farm Coordinator, International Rescue Committee
Rafael Flor, Director, YieldWise, The Rockefeller Foundation
Joe Folds, President, Pacific Foods
Tobias Grasso, North American President for Food Care, Sealed Air
Marie Haga, Executive Director, Global Crop Diversity Trust
Karen Hanner, Vice President of Product Sourcing, Feeding America
J.J. Johnson, Chef, Author, and Co-founder, Ingrained Hospitality Concepts
Robert Lee, Co-Founder & CEO, Rescuing Leftover Cuisine
Tim Ma, Chef and Owner, Kyirisan
Bonnie McClafferty, Director, Food Value Chain, Global Alliance for Improved Nutrition (GAIN)
Katherine Miller, Vice President of Impact, James Beard Foundation
Elizabeth Mitcham, Director, Horticulture Innovation Lab and Postharvest Specialist, Department of Plant Sciences, UC Davis
Caity Moseman Wadler, Executive Director, Heritage Radio Network
Julia Moskin, Reporter, New York Times
Brad Nelson, Vice President, Global Operations Discipline Leader, Marriott International
Marion Nestle, Professor of Nutrition, Food Studies, and Public Health, Emerita, New York University
Danielle Nierenberg, President, Food Tank
Sandy Nurse, Founder & Co-Director, BK Rot
Dadisi Olutosin, Co-Founder and Chief Culinary Officer, Plated Food Groupe, LLC
Charles Passy, Journalist, The Wall Street Journal
Tobias Peggs, Co-Founder and CEO, Square Roots
Adam Platt, Writer, New York Magazine
Chloe Sorvino, Reporter, Forbes
Dr. Roy Steiner, Rockefeller Foundation
Ben Tinker, CNN
Bryan Walsh, Senior Editor, Time Magazine
Ellen Wulfhorst, Chief Correspondent, Americas, Thomson Reuters Foundation
As one of the fastest-growing nonprofit organizations in food and agriculture, Food Tank started these Summits four years ago, all in collaboration with major universities and non-profits and bringing together more than 400 speakers for discussions moderated by journalists from outlets including the New York Times, the Washington Post, the Chicago Tribune, Vice, Vox, NPR, BuzzFeed, and Bloomberg.
Breakfast, coffee/tea, snacks, and lunch included (vegetarian, vegan, and gluten conscious options).
For sponsorship opportunities, email bernard@foodtank.com. To volunteer, please send your resume and availability on October 2nd and 3rd to vanesa@foodtank.com with the subject line "Volunteering at the New York Summit."
***This Summit is SOLD OUT. Apply to the waitlist HERE.***