Description
Seeking Corporate Sponsors and Table Hosts
Thank you for supporting Triad FCA. We would like to invite you to join us as a table host for our 2018 Spring Banquet on Thursday, February 15 at Proehlific Park. This year, we are honored to have Clemson University head football coach Dabo Swinney. In his nine years at Clemson, Coach Swinney has led his teams to 5 Atlantic Division titles, 3 ACC Championships and the 2017 College Football Playoff National Championship.
Coach Swinney is a bold champion for Christ and an outspoken supporter of FCA. He was recently featured on the cover of FCA's Sharing the Victory magazine in an article titled "The Sovereignly Scripted Tale of Clemson's National Championship Coach". He will share his powerful personal testimony with us.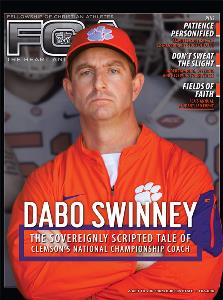 This is our 16th annual Triad FCA Spring Banquet. It is a fundraising event for the benefit of our local ministry. Seating for this event is limited and tickets are only available through corporate sponsors and individual table hosts. General admission tickets are not available.
If you are interested in partnering with us as an individual table host or corporate sponsor please click the green REGISTER button above to review options and select the package that you are interested in. We are anticipating a packed house for this event so please make your reservations and payment as soon as you can.
TABLE LOCATIONS WILL BE SIGNED IN THE ORDER IN WHICH PAYMENT IS RECEIVED. The sooner you finalize your sponsorship, the closer you'll be sitting to Coach Swinney during his talk.
Thank you, and we look forward to seeing you at the banquet in February.
The Triad FCA Board and Staff
Ray Alexander, Kenny Carper, Cy Cole, Gary Everhart, Reed Humphrey (Board Chairman), Shane Ledbetter, Eddie Miller (Area Representative), Wayne Robinson (Area Director), Pete Shaw, Vance Tate, David Worsley