Description
Join us for the second annual FarmHop! We're featuring TWO tour dates this year! August 11th and September 22nd, 2018 from 9am-4pm (individual tour times may vary slightly).
A huge THANK YOU! to our sponsors for making this event possible: Indiana Dunes Tourism, Market Wagon, South Shore Convention & Visitors Authority, Purdue Extension, Starke County Tourism, Food Bank of NWI, Roots Organic Juice Cafe, Nature's Cupboard, & Seven Sons.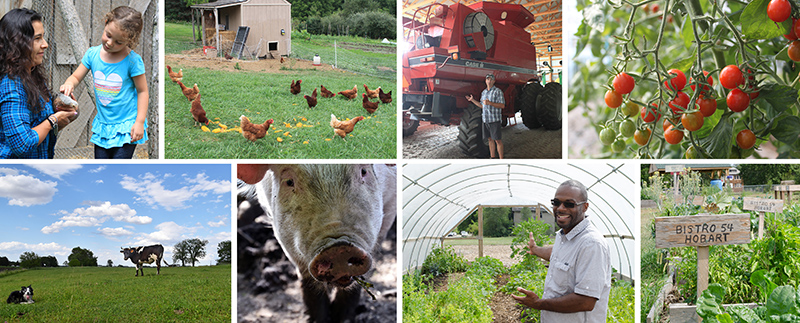 CHOOSE YOUR TOUR!
Choose from two dates and five tours from around the region for an in-depth look into the amazing work happening at family farms, community gardens and local food projects in Northwest Indiana. Enjoy the summer sunshine and seasonal changes from the view of a local farm. Hop on a bus full of farm enthusiasts and away you go!
Visit nwifoodcouncil.org/farmhop for additional details and photos.
August 11th Tours
Tour A – Gary, IN departure – See several thriving urban farms with unique solutions for community food access, a beautiful aquaponics system, a garden for the visually impaired, an urban farmstead with exotic plants and medicinal garden and a food pantry with an abundant supply of homegrown produce! (East Chicago Aquaponics, Blind Social Center, A Rose for Yaminah Garden, Sojourner Truth House).

Tour B – Valparaiso, IN departure – Explore a successful, biodynamic hop farm with heritage breed animals, a farm with a biodynamic approach that has been organic since 1969 and raises heritage animals and unique varieties of fruits and vegetables, and a mini-tour of cluster of commercial farms including corn, onion sets, mint and tomatoes (Howe Farms, Acorn Acres Farm, Bucher Farms, Dutch Valley Growers, Abbett Farms, Wapple Farms). *this tour may run over slightly.

September 22nd Tours
Tour C – Gary, IN departure – Even more urban farms! Visit a flourishing faith-based farm with several high tunnels full of fresh produce, bees, fruits, chickens and more; an established community garden with raised beds and off-grid water solutions; an old armory converted into an urban farm, training center and food pantry, a creative homestead, and a school with an inspiring, hands-on agriculture program. (FAITH Farms, Peace Farms and Garden, Stewart House Urban Farm and Gardens, Jay-One's Farm, Thea Bowman Leadership Academy)

Tour D – LaPorte, IN departure – Hop on this tour to visit a church that created a food-providing organization to serve the hungry in addition to their youth agriculture training center and community garden; an organic farm that grows a variety of vegetables, flowers, herbs and eggs for their CSA, farmers markets, grocery stores and local schools; and a modern sustainable community intentionally cultivated to honor the original historic farmstead and not merely develop it. (Pax Center/Jackson Street Community Garden, Rainfield Farm, farm TBA)

Tour E - Valparaiso, IN departure - This widely diverse tour will take you to a lively family farm with nearly 600 egg-laying chickens; an organic tilapia farm; a sustainable vegetable farm known for its soil conservation techniques and black garlic; and a homestead with incredible diversity including fruit production, heritage breed animals, value-added products and plans for a future winery. (Three Boys & Some Chicks, Triple B Tilapia, Perkins Good Earth Farm, Pioneering Pig Homestead)
*farms listed are not in a particular order per tour and are subject to change per farm needs.
Tickets are only $20 for adults or $10 for kids 12 and under and include a locally-sourced lunch! Plus, adult ticketholders will receive two added bonuses:
A voucher worth $15 redeemable at MarketWagon.com, an online farmers market delivering local food across Northwest Indiana.
A $10 coupon off a produce box from Nature's Cupboard
Questions or interested in sponsorship? Call 219-313-8828 or message us on Facebook!

THANK YOU!
Thank you to our generous sponsors for making this event possible!