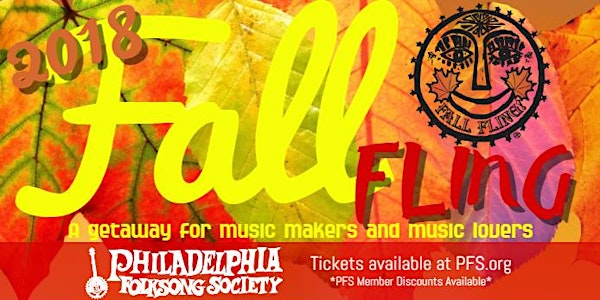 2018 Fall Fling!
When and where
Location
Fall Fling Appel Farm Arts and Music 457 Shirley Road Elmer, NJ 08318
Description
A WEEKEND GETAWAY FOR MUSIC MAKERS & MUSIC LOVERS!
Each Fall, the Philadelphia Folksong Society gathers folk performers, enthusiasts, and fans of all ages for a long weekend adventure at Appel Farm with attendee-run workshops, activities, and outdoor leisure in a supportive and welcoming community. It's a Folk Family reunion of sorts, with friends new and old!

Included in Fall Fling is also:
Workshops galore – A full schedule of participant-led workshops on Saturday & Sunday. You can make all of your workshop dreams come true: you volunteer to lead a workshop, and we put it on the schedule! Workshops can include vocal and instrumental themes and styles, songwriting, performance techniques, dance, tie-dye, yoga & massage, crafts, kid's activities, sports, etc. Sign up to lead a workshop when you register!
Meals all weekend – We cater to several dietary preferences so you won't have to worry about it. Just let us know when you register.
Campfire Sings & informal jamming – There is a designated campfire area where formal campfire sings can be arranged. S'mores anyone?
Informal jamming also spontaneously pops up in cabins, dining hall, gazebo(s) or anywhere the acoustics sound good! All are welcome to join in.
RV & tent camping – Itching to get one more weekend outdoors this year? A large field close to all activities provides a great location to pitch a tent or park your RV. Sorry, no hookups available, but we have designated nearby bathroom and shower facilities for those not staying in a dorm.
Heated dormitory accommodations – On-site dorm buildings each include 5 – 7 interconnected separate "cabins" that each sleeps up to 7 people using just the bottom bunks, or 14 including the top bunks (don't worry, we generally reserve the top bunks for kids and won't make you climb up there unless you really want to!).
**We only accept up to 135 bed registrations, so sign up early!
**Have some friends or family to share a dorm? Make sure you specify with whom you would like to bunk, and/or who your "cabin organizer" is on your registration form!
**Did we mention that almost all of dorm buildings are heated?
Kid's Open Stage – Since music is in your family's blood, this is the opportunity to engage kids (up to age 18) to the thrill of performing in front of an audience in a supportive and non-judgmental environment. Let's get 'em started early!
Adult's Open Mic – This is your opportunity to showcase and share your talents in front of an audience with professional audio engineers that work hard to make you sound even better! Sign up when you arrive on Friday (slots will be given on a first come, first served basis).
​​​​​​​This year we're doing tiered ticketing – 50 tickets at $130/160, 50 tickets at $140/170, 50 tickets at $150/180, 200 tickets at $160/190 for adults. Become a member and get your tickets early to ensure the best pricing!
PAYMENT PLANS: We are pleased to be offering Payment Plans through Affirm! If you would like to spread out your Fall Fling ticket purchase of $150 or more over multiple payments, please select this payment method.
Any questions please feel free to contact Fall Fling chair Charlie Miller at pfs-fallfling@pfs.org or staff member Jennifer Rajotte at jrajotte@pfs.org! We hope you can join us this year.