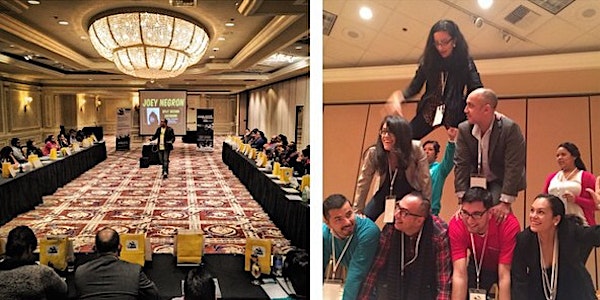 2018 ENGAGE Virginia: Youth Engagement Seminar & Showcase
When and where
Location
George Mason University 4400 University Dr. Fairfax, VA 22030
Description

CoolSpeak is the leading full-service youth engagement organization delivering unique speakers, programs and events to keep students inspired, parents involved and teachers engaged. The CoolSpeak engagement platform offers specifically tailored experiences that allow educational institutions, non-profit organizations and Fortune 1000 businesses to foster educational agendas and support proactive youth outreach. CoolSpeak allows for the cultivation of stronger and more meaningful connections that empowers our audiences to become catalysts' for positive change, intrinsic motivation, personal growth and self-sustaining inspiration. We put the motivation back into education.
Why is it so difficult to keep students interested in learning? What kind of information will they remember beyond the event? How can we teach both intrinsic and extrinsic motivation? You may have asked yourself these questions before, but you probably didn't know where to find the training to help you, much less expect to find the answers at a conference that is so much fun!
With the increase in the interest of discovering new, innovative approaches to engage young people in the educational experience and in the spirit of sharing our approach to youth engagement with youth professionals across the country, CoolSpeak is proud to present the ENGAGE: Youth Engagement Seminar & Showcase, a training and professional development seminar that will focus on student engagement best practices and researched techniques.
In just three days, participants will learn, experience, and practice some of the most effective strategies to cultivate motivation, improve emotional intelligence, and enhance critical thinking skills. You will learn techniques and strategies to make improvements on already existing programs that will result in your students experiencing lasting results, or design new programs that benefit them in the best ways possible.
Whatever your level of expertise, after ENGAGE, you will be prepared to redesign your existing programs or develop and execute new, more successful lessons, programs and events for youth.
CoolSpeak will be hosting ENGAGE: Youth Engagement Seminar & Showcase - Virginia, June 20-21, 2018 at George Mason University.
For more information on Engage visit www.engageyouthnow.com.
If you want to learn more about CoolSpeak, check us out at www.coolspeak.net