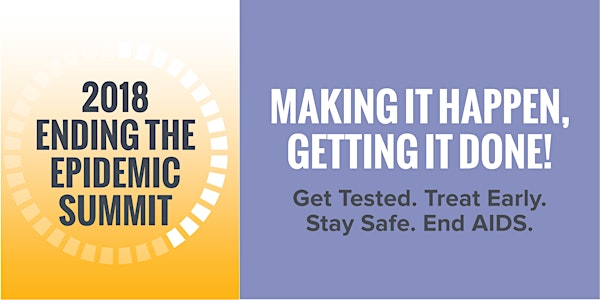 2018 Ending the Epidemic Summit
When and where
Location
Empire State Plaza Convention Center Albany, New York 12242
Description
2018 Ending the Epidemic Summit
The New York State Department of Health AIDS Institute (NYSDOH AI) is hosting the third annual Ending the Epidemic Summit on December 4-5, 2018 at the Empire State Plaza Convention Center and accompanying meeting rooms. The 2018 Ending the Epidemic Summit is intended to bring key stakeholders to one forum to share Ending the Epidemic implementation efforts focusing on the theme of Making it Happen, Getting it Done! Addressing health inequities has always been a priority in the Ending the Epidemic efforts which will be highlighted during this feature event.
Background
On June 29, 2014, Governor Andrew M. Cuomo detailed a three-point plan to move us closer to the end of the AIDS epidemic in New York State. The goal is to reduce the number of new HIV infections to an estimated 750 annually by the end of 2020 and achieve the first ever decrease in HIV prevalence in New York State.
The three-point plan:
1. Identifies persons with HIV who remain undiagnosed and links them to health care.
2. Links and retains persons diagnosed with HIV in health care to maximize virus suppression to improve health and prevent further transmission.
3. Facilitates access to Pre-Exposure Prophylaxis (PrEP) for persons who engage in high-risk behaviors to keep them HIV negative.
Ending the Epidemic efforts in New York State will maximize the availability of life-saving, transmission-interrupting treatment for HIV, saving lives and improving the health of New Yorkers. In October 2014, a Task Force to develop a Blueprint was brought together to operationalize the three-point plan. The Blueprint was presented to the Governor on April 29, 2015.
Please register by 5pm on Thursday, November 29, 2018.
AGENDA
December 4, 2018
12:00 pm: Registration opens outside of Meeting Room 6
1:30 pm: Please join us in the Convention Center for the World AIDS Day Commissioner's Special Recognition Awards Ceremony, recognizing individuals for their commitment, contribution, and response to improve and promote the health and well-being of all New Yorkers.
3:30 pm: Welcoming Remarks
3:45 pm: Undetectable=Untransmittable (U=U) Presentation
4:15 pm: Celebration of ETE Community Contributions
5:00 pm: TED-style Talks
6:00 pm: Poster Presentations
December 5, 2018
8:30 am: Registration
9:00 am: Welcoming Keynote Remarks
10:00 am: State and City ETE Updates
11:15 am - 1:30 pm: Informational Workshop Sessions
Break Out Session 1: 11:15 am - 12:15 pm
1. Rapid Access to Treatment
2. Viral Load Suppression and Housing
3. PrEP
4. No Population Left Behind Part 1 (Undocumented, Native American, and reaching Vulnerable Populations)
5. TGNC Health
6. Sexually Transmitted Infections
7. Continuous Quality Improvement/Viral Load Suppression
Break Out Session 2: 12:30 - 1:30 pm
1. Undetectable=Untransmittable (U=U)
2. Viral Load Suppression in the Clinical Setting
3. Role of Peer Work in Ending The Epidemic
4. No Population Left Behind Part 2 (Women Living with HIV, People Released from Incarceration, and Long-term Survivors)
5. Reaching Young Adults
6. Drug User Health
7. Continuous Quality Improvement/Stigma
1:45 pm: TED-style Talk
2:00 pm: Three Point Plan Panel
2:45 pm: TED-style Talk
3:00 pm: Closing Remarks
Click below for more information on:
World AIDS Day/ETE Summit CEI Training