Description
Starting April 7th, Training Sponsorships will be available over at https://www.eventbrite.com/e/2018-drupal-govcon-training-sponsorships-registration-44651865933
August 22 - 24 | National Institutes of Health | Bethesda, MD
Since its early days as Capital Camp, Drupal GovCon has been the premiere event for the Drupal community in the Washington, DC metro area. We work together to build new skills, meet other open source advocates, advance Drupal, and build an even greater community. We bring together
Developers | Site Builders | Designers | Content Managers | Project Managers | Business Owners | Job Seekers | End Users | and more
GovCon is open to everyone, not just government. We encourage government employees, nonprofit leaders, educational organizations, and anyone looking to develop their Drupal skills to join our supportive and inclusive environment.
GovCon is a 100% volunteer-run effort so your sponsorship helps us keep this event running. Attendee tickets are free and so are the lunches. And we even provide travel scholarships for committed community members. Your sponsorship makes all this possible.
Our sponsorship packages are designed to help you with:
Networking | Lead Generation | Brand Awareness | Talent Recruitment | Showcasing Your Projects | Giving back and supporting the Drupal Community
Dates to Remember
Sponsorships are offered on a first-come, first-served basis. More information about each of these deadlines will be sent to sponsors closer to the date.
March 1st @ 2pm EST - Early-bird sponsorships open. Note the time difference this year. We thought we'd switch it up a bit to keep you on your toes! These Early-bird rates end on April 30th.

May 1st @ Midnight EST - Regular rate sponsorships open. These regular rates end on June 30th.

July 1st @ Midnight EST - Procrastinator rate sponsorships open. It pays to give us your money early! :)
July 1st - Table selection begins
August 22nd @ 7am - 8am EST - Table set-up. Conference organizers will be on hand starting at 6:30am (warning - we may not have had our coffee yet). Registration and check-in opens at 8am, so please have your table ready for attendees at 8am so you don't miss valuable time to chat with attendees.
August 24th @ 1pm - 2pm EST - Table tear down and sponsor meeting (room location TBA)
Sponsorship Packages
(click for larger version)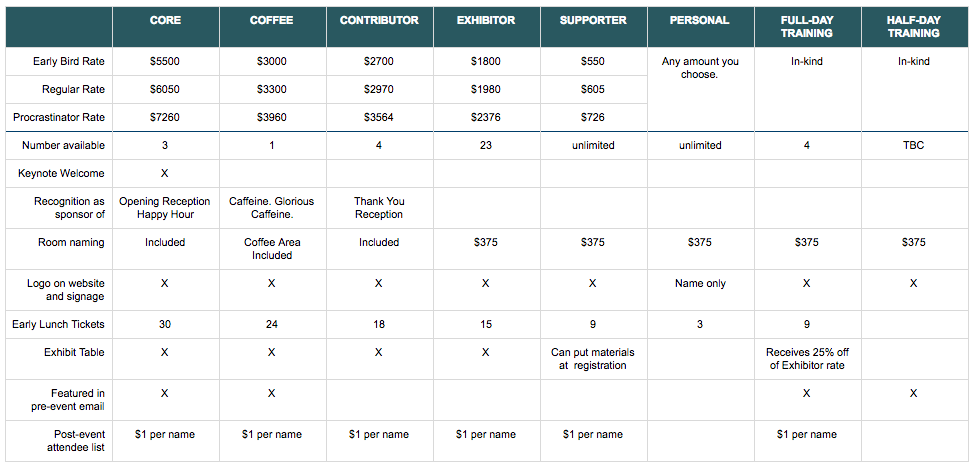 2017 Sponsors
Acquia | Aten | Beyond Spots & Dots | Bixal | Booz Allen Hamilton | BlackMesh | Chief | CivicActions | CTAC | Debug Academy | DesignHammer | Drupalize.Me | ELMS Learning Network | Evolving Web | FFW | Fig Leaf Software | Forum One | GovWebworks | Hook 42 | IBM | IQ Solutions | JBS International | Last Call Media | Message Agency | Mobomo | NETE | New Target | Pantheon | PhaseOne | Phase2 | Promet Source | Sapient Consulting | Sleight-of-Hand Studios | Taoti Creative | The Brick Factory | WebFirst | weKnow
Want to make up your own sponsorship? Send Amy an email outlining your sponsorship idea!
FAQs
What if my company needs an invoice or needs to pay by check?
No problem, send Amy an email and she'll coordinate with you directly. Your space is not saved until payment is received so contact her as soon as possible!
What levels get a table in the exhibit hall?

Core, Coffee, Contributor, and Exhibitor have tables included in their sponsorship packages. Full-Day Training sponsors receive a code via email for a 25% discount to upgrade to a table.
What do I get with a table?
You get a 6 foot table and 2 chairs. If you need electrical, we will get that information during table selection. Speaking of...
Do I get to choose my table?
Yup. Table selection will begin July 1st, 2018 starting with Core Sponsors in a first-come, first-served system.
What is this room naming thing?
Each room at the venue will have a sign in front so that conference attendees know what room their session is in. If you sponsor a room, your company's name and logo will also be included on the sign. You can also include a branded banner stand next to the room's podium if you'd like. This is automatically included in Core, Coffee (for the coffee area), and Contributor levels and available as an add-on for $375 for all other levels.
Early lunch tickets?
In the past, we marked a certain number of sponsor badges with SPONSOR so they could go and get lunch early so they could have their table staffed during the lunch break. Coordinating getting the names of these staff in time to get name tags printed was a mess. So this year we will be distributing physical tickets in your sponsor packets that you can use for your staff, guests, customers, heck, any way you like. One ticket = One lunch 1/2 hour earlier than general attendee lunch.
How do I get the Post-event attendee list? How much is it?
We want to make sure that our attendees really do want to receive your messages so we ask them to opt-in during their registration process. Because of this, we don't really know how big the list is going to be. After the conference, we will be creating another Eventbrite to sell the list at $1 per name. In 2017, it was 182 names.
Can I create a custom sponsorship?

Probably. Send Amy an email outlining your sponsorship idea!