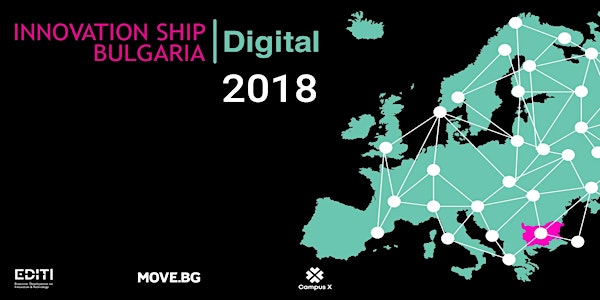 Дигитални Посоки 2018 | Digital Directions 2018
When and where
Date and time
Monday, November 19, 2018 · 6 - 9:30pm EET
Location
Campus X 31 Alexander Malinov street 1729 Sofia Bulgaria
Description
"Дигитални Посоки 2018" ще се проведе на 19 ноември 2018г. в Campus X, София. Събитието се организирана от MOVE.BG и мрежата за дигитално развитие EDIT.BG в партньорство с водещи организации от дигиталната екосистема, Министерството на икономиката на Република България, Българска Банка за Развитие и Национална Компания Индустриални Зони.
В рамките на "Дигитални посоки 2018" ще бъдат представени резултатите от третото национално проучване на дигиталната екосистема в България, в което взеха участие над 200 стартиращи, микро, малки и средни предприятия. Предвиден е и специален дискусионен панел на тема "Накъде сочи компасът на дигитална България?". В него ще вземат участие водещи правителствени експерти и лидери от дигиталната индустрия в България.
В рамките на събитието ще имате възможността:
да се запознаете със заключенията и резултатите от третото национално проучване на българската дигитална екосистема
да се включите в дискусия на високо равнище за ролята на технологиите в икономическата и дигитална трансформация на България

да обсъдите свои идеи и предизвикателства, които сте срещнали по пътя си на предприемач
Ще Ви очакваме на 19 Ноември 2018 от 18:00 в Campus X.
---
MOVE.BG, the digital network EDIT and the Ministry of Economy and Energy of Bulgaria have the pleasure to invite you to attend the "Digital Directions 2018" event which will take place in Sofia, Bulgaria on 19 November, 2018 at Campus X, in cooperation with leading organizations from the digital ecosystem and the Ministry of Economy and Energy of Bulgaria.
The event will present the key findings from the integral survey of the digital innovative ecosystem in Bulgaria. Over 200 start-ups, micro, small and medium-sized Bulgarian digital companies took part in the survey for the third consecutive ecosystem mapping. The event will feature a panel discussion on "What is the direction of digital Bulgaria?". The panel will feature high officials from the Bulgarian government together with key stakeholders from the Bulgarian digital ecosystem.
In this conference, we invite you to:
Hear the main findings of the extensive research project on the Bulgarian digital ecosystem
Participate in a high-level discussion on the role of technologies for the economic and digital transformation of Bulgaria
Communicate your ideas and challenges encountered during your entrepreneurship journey
We look forward to seeing you on 19 November 2018 in 18:00 at Campus X.
About the organizer
EDIT.bg e акроним на Economic Development via Innovation and Technology и e обединение зад каузата на силната дигитална индустрия и превръщането на България в предпочитано място за IT бизнес, където се поощряват иновациите, а малкият и среден дигитален бизнес имат висока добавена стойност. EDIT.bg се случва по инициатива на МOVE.BG, в партньорство с организациите Start It Smart, StartUP Foundation, Association of Bulgarian Leaders and Entrepreneurs ABLE, Betahaus, Bulgarian Centre of Women in Technology BCWT, brain WORKSHOP Institute, Eleven Accelerator Venture Fund, LAUNCHub Seed and Acceleration Fund, NEVEQ, TAKEOVER, Perpetto, Reloyalty, Join The Players, Doglar, а мрежата е отворена за всички, които са свързани с развитието на дигиталната индустрия в България.