Description
Join over 20 of the region's most renowned cultural and arts organizations to jumpstart your arts career. Offering internship, fellowship and other career development opportunities, representatives from The Kennedy Center for the Performing Arts, Arena Stage, Shakespeare Theatre Company, Washington Performing Arts, National Gallery of Art AND MORE will be on hand to meet you and other early career professionals in-person. The fair starts with a one-hour panel seminar. Registration for the event is required; no admission fee.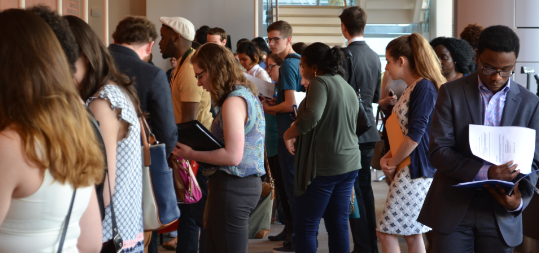 ---
Represented organizations

826DC

Arena Stage


Arts on the Horizon

Atlas Performing Arts Center

CulturalDC

DC Commission on the Arts and Humanities

Everyman Theatre

Folger Theatre

Imagination Stage

The Kennedy Center

Mosaic Theater Company of DC


National Gallery of Art/Smithsonian

National Museum of Women in the Arts

Olney Theatre Center

Rorschach Theatre

Roundhouse Theatre

Spanish Education Development (SED) Center

Shakespeare Theatre Company

Split This Rock

Studio Theatre

Theatre J

The Theatre Lab

Washington Performing Arts

Wolf Trap

Woolly Mammoth
Panelist

Jackie Rucker Bohi, Arena Stage HR & Finance Associate (Interviewing Do's & Don'ts)
Alison Irvin, Arena Stage Leadership Office Manager (Resumes & Cover Letters)
Tiana Bias, Arena Stage Donor Relations Manager (Transitioning from Intern to Employee)


FAQs
What are my transportation/parking options for getting to and from the event?
The Waterfront station, on the Green line, is located one block East of Arena Stage at 4th and M Streets.
---
Due to construction in the area, the best access from the Waterfront Metro Station to Arena Stage is via M Street.
Metrobus stops are located directly in front of the theater, and across from and slightly north of the theater entrance.
For information on Metro-operated parking lots, service updates, fares and bus routes, visit the Trip Planner on the Metro website or call 202.637.7000 (TTY: 202.638.3780).
---
There are Central Parking garages on 4th St. between I and M Streets.
Fourth Street Garage
1101 Fourth Street SW (across from the Safeway)

L'Enfant Plaza Parking
370 and 950 L'Enfant Plaza SW
L'Enfant Plaza provides ample parking (1,400 spaces) and is just a few blocks from the Southwest Waterfront and less than one mile from Arena Stage. Learn more
Colonial Parking
Located just off Maine Avenue, SW one block south from the Municipal Fish Market. Learn more
Limited surface parking is available for $16 along Water Street in front of the Gangplank Marina which is across from Arena Stage.
Street Parking
Street parking is scarce around Arena Stage. Please allow yourself extra time if you plan to park on the streets. Please read signage carefully and observe parking restrictions. Arena Stage is not responsible for the condition of parking meters on neighborhood streets. Street parking is free on federal holidays.
Parking Panda
Find and reserve parking online through Parking Panda. Reserve here
Bus Parking is available in areas surrounding the Mead Center for American Theater. Click here
---
Will interviews take place during the fair?
No. Organization representatives will not be interviewing candidates during the fair.

What should I bring to the fair?
It is recommended that copies of your resume and/or business cards are brought to share with organizations.

Will there be internet access?
Yes, guest internet access is available.
I am a career changer, can I attend the fair?
Yes, several represented organizations accept career changer applicants.
Are there opportunities for students who haven't graduated yet?
Yes, many of the organizations represented have summer and seasonal opportunities for students still in college.
What are the deadlines for applications?
For application deadlines, please check the website of the organization of interest.
Are there opportunities for high school students at the fair?

Some organizations represented do provide internship opportunities for high school students. Please review the website of the organization in question for more information.
My young adult can't make the fair. Can I come in their place?
Yes. Parents are welcome to attend the fair to gather more information on the many arts/cultural internship & apprenticeship opportunities available in the Washington D.C. area.