2018 Dallas COCHON555

Sunday, February 11, 2018 from 5:00 PM to 8:00 PM (CST)
Event Details
Epic Culinary Tour Comes to Dallas For First Time Ever

With an all-star cast of chefs who specialize in whole animal cooking paired with farmers responsibly raising delicious heritage breed pigs, Cochon555 heads to Dallas, Texas for the first time on February 11. The all-inclusive feast hosted by the beautiful Four Seasons Resort and Club Dallas at Las Colinas will feature a hundred-plus prominent chefs, farmers, sommeliers, distillers, brewers and barkeeps all working in concert to create luxurious moments that educate the palate.
Cochon555 is proud to announce this year's group of cutting-edge chefs from across the city, each cooking one whole heritage breed pig raised by a family farm. The competing chefs include Host Chef Christof Syre of LAW Restaurant at Four Seasons Resort and Club Dallas, Josh Sutcliff & Junior Borges of Mirador, David Uygur of Lucia, Chef Matt McCallister of FT33, and Misti Norris of Petra and the Beast.
One week before the event, each chef receives a 200-pound heritage breed pig sustainably sourced from Black Hill Meats, Chubby Dog Farm, Legend Meats, Blackland Prairie Pork, and Augustus Ranch to create a maximum of 6 dishes for competition. With dozens of bites from iconic local chefs, boutique distillers, and artisan winemakers, the event is akin to an epic tasting menu of heritage breed pork with endless beverage pairings taken standing up.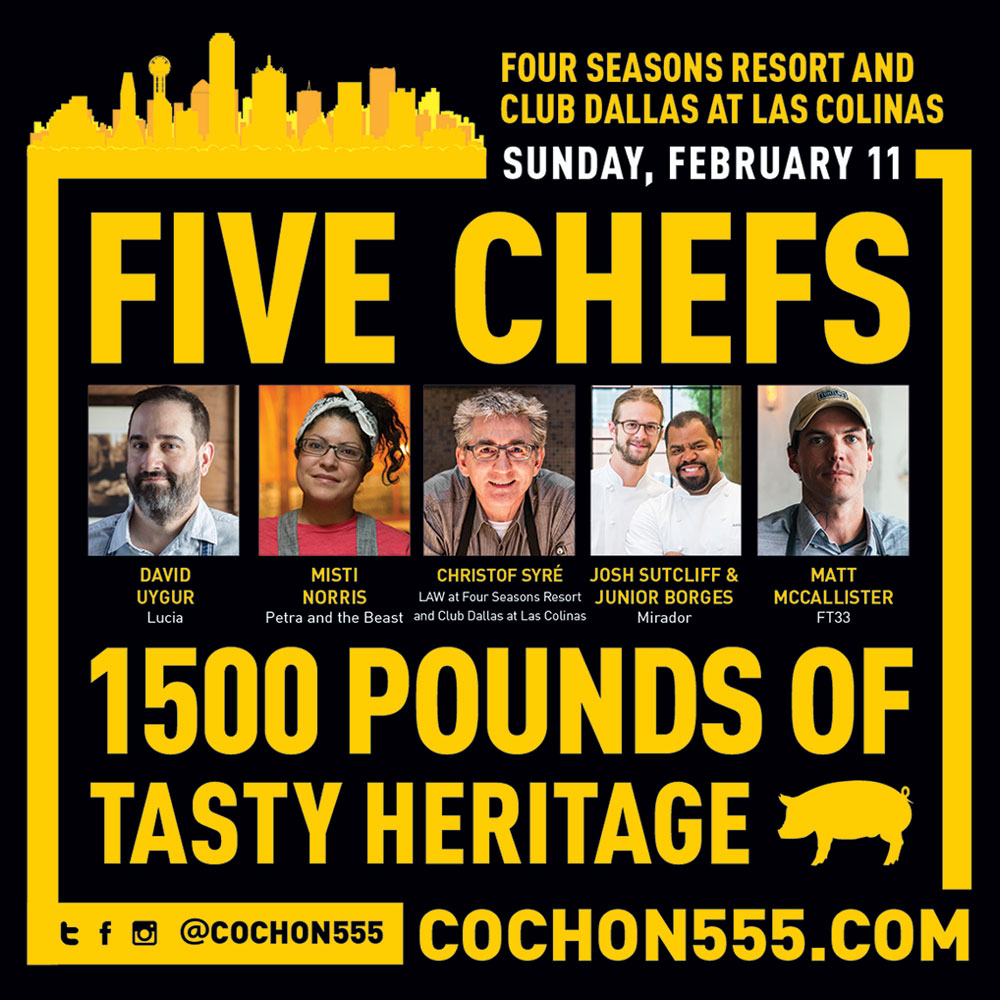 To win the friendly competition for a cause, a chef's menu must woo twenty celebrity judges with their "Judge's Plate" scored on utilization; technique; and overall flavor and be voted "best bite of the day" by guests. The winning "Prince or Princess of Pork" in Dallas will advance to the national finale, Grand Cochon, a head-to-tail, winner-takes-all showdown for the crown in Chicago on September 30th. Additionally, running in tandem are two satellite beverage competitions to complement the whole-animal tilt; Punch Kings, a whole bottle, large-format spirit competition featuring five top barkeeps in a hand-crafted punch challenge and Somm Smackdown, a face-off of five top sommeliers pairing the best wine with heritage pig.
 Placing the spotlight on "knowing where your food comes from", each event features an educational whole animal butchery program called the Pop-Up Butcher Shop and Silent Auction to benefit charity. This year's headlining all-star butcher is Zachary Dunphy of Commissary Dallas. Together with gifts from chefs, sponsors and John Boos & Co., they will raise money to benefit Piggy Bank, a start-up farm in Missouri that serves as a kickstarter for new family farms and a safety net for those in the wake of a disaster (flood, fire and disease). As an accelerator, Piggy Bank supplies piglets to small farms in exchange for business plans that are posted online in the name of transparent "open-source agriculture".
Click here to for dates, videos and more information about the movement.

Cochon555 is a culinary competition to promote local family farming and whole pig cookery through the eyes of five notable chefs. Each tasked with the goal to win votes from celebrity judges and pork enthusiasts, chefs have one week to prepare a 200 pound pig and present a "Judge's Plate" scored on utilization; technique; and overall flavor. The winner of the local competition is announced the Prince or Princess of Pork and advances to the national finale. Grand Cochon spotlights the 'Best 3 Bites' from all Cochon555 regional events in a head-to-tail, winner-takes-all showdown for the crown.

Created in 2008 in response to the lack of education around heritage breed pigs, Cochon555 is a nose-to-tail culinary event dedicated to supporting family farmers and educating buyers about the agricultural importance of eating heritage breed pigs, some of which are on critical watch lists. The meat they produce is recognized for its superior flavor, texture, appearance, and nutritious qualities. At all events, we source only the highest quality ingredients and products.

At any given event, over a hundred-plus cooks, chefs, restaurant and bar owners, renowned sommeliers and barkeeps, can be found working in concert to create luxurious moments. We work with every type of restaurant and bar imaginable – from farm-to-table to Michelin star - and all participating chefs share one core value: they source products responsibly. If you like tasty pig, our goal is to buy the ""best breeds"" from farmers doing it the ""right way"". Your support benefits our foundation project, @PiggyBankOrg, a start-up farm in Missouri that serves as a kickstarter for new family farms and a safety net for those in the wake of a disaster (fire, flood, and disease). 

SIGNATURE FOOD EXPERIENCE: Over 1500 Pounds of Heritage Pig, 5 Chefs Cooking Whole Hog, Cocina De La Familia aka Asador de Pastor pop-up, Starter Bar with Cures, Pates and Foie, Signature Cheese Bar, Luxe Butter Bar, Tartare Bar w. Antica Wines, Royal Oak ""Dirty Steaks"" Tasting, Swine & Sweets w. Perfect Puree, and Mike's Pie Pop-Up Pie Shop

ELEVATED DRINK: Buffalo Trace Welcome Lounge, Five Winemaker's Table, Somm Smackdown (VIP only), Punch Kings (VIP only), The Manhattan Project, Smoked Old Fashioned, Antica Wines and Tartare Bar, Angostura Original Bitter's Bar, Heritage Rum Cart, Wines of Germany Culinary Pop-Up, Tiki Bar, Italian Wine Showcase, Arrangement of Dry Sparkling Sodas, Topo Chico Secret of Mexico, Hand-Crafted Beer & Cider.

VIP FOOD - An extra hour of extravagance without waiting in line. Chefs will serve a preview of two dishes during the first hour.
VIP BEVERAGE - The first hour includes five barkeeps in bourbon punch competition called Punch Kings and guests enjoy reserve and allocated wines and spirits.
Age Requirement: Be sure to bring a valid ID for entry, as no one under 21 is permitted, including infants and small children.
When & Where

Four Seasons Resort and Club Dallas at Las Colinas
4150 N MacArthur Blvd
Irving, TX 75038


Sunday, February 11, 2018 from 5:00 PM to 8:00 PM (CST)
Add to my calendar
Organizer
The epic culinary tour starts in New York City in late-January and culminates with the finale, Grand Cochon September 30th in Chicago, marking our first decade. Cochon555 aims to create moments of inspiration, and to engender discussion and action - to buy, to cook, shop and donate in the name of a safe, honest, and delicious. Bottom line, we are educating the nation one bite at a time and creating a safer food future to be shared with our children.