2018 CSUDH South Bay Economic Forecast
Description
CSUDH South Bay Economic Forecast
A Region in Transition: The Future is Here
3:00 pm to 5:30 pm - Speaker Panel and Economic Forecast Presentation
5:30 pm to 6:30 pm - Craft Breweries and Wine Reception
The CSUDH South Bay Economic Forecast ofers a focused look at future developments that are potentially changing the South Bay economy.
Speakers and topics include:
Heidi Pease | Los Angeles Blockchain Lab | Blockchain- The Vision, Hype and Reality

Aziz Ucmakli |Honda R&D Americas, Inc.| The Future of Mobility in the South Bay

Matthew Staal | Honda R&D Americas, Inc.| The Future of Mobility in the South Bay

Bree Nguyen | Facebook | The Future of Media

Shan Sundar | Edgesoft, Inc.| Every City can be a Smart City

William Yu | UCLA Anderson | South Bay Economic Report

Dr. Jose Martinez | CSUDH | Telework and Updates of Housing and Transport Trends

Dr. Fynnwin Prager | CSUDH | Entrepreneurs / City Economic Development in South Bay

Who Should Attend: Business Leaders in the community, civic leaders, small business owners, major corporations and South Bay residents.
$110 – General Ticket

$850 – Table of Ten
Ticket rate includes the 2018-2019 South Bay Economic Forecast report produced by UCLA Anderson Forecast.
**Tickets are not refundable but are transferable
All proceeds will benefit the College of Business Administration and Public Policy
Parking for the Economic Forecast will be available in Lot 6, where permits will be made available for purchase at one of the pay stations located where the dollar signs are on the map. The fee is $8.00 and our machines accept cash, credit/debit cards. Please note, you must display the permit in your vehicle once purchased. Parking officers will be nearby to offer assistance.
Lot 6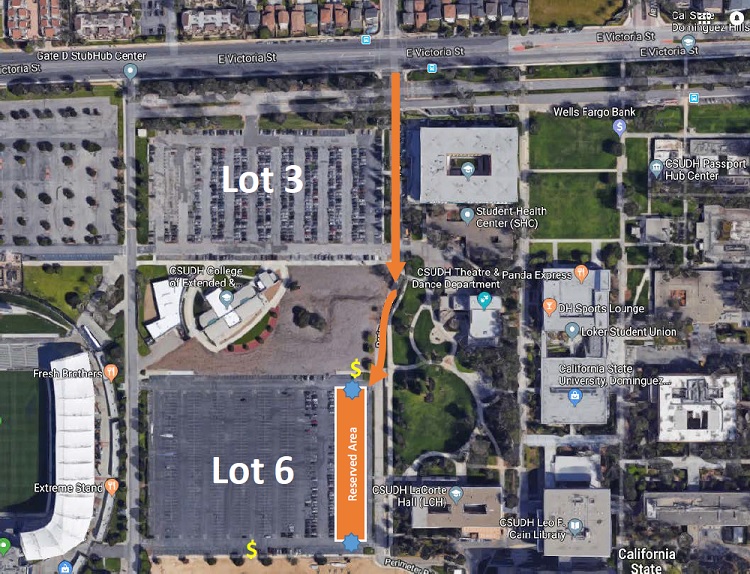 Driving Instructions to the CSUDH Campus
For further information, contact Ceremonies & Events at (310)243-2666 or universityevents@csudh.edu.