Sales Have Ended
Ticket sales have ended
Welcome to the first ever Xinno Week!
Sales Have Ended
Ticket sales have ended
Welcome to the first ever Xinno Week!
Description
We have:
12 unicorn companies senior executives from both the U.S. and China
30+ speakers and panelists
Total fund size of $1B+ among all VC attendees.
If you are
Entrepreneurs who are looking for opportunities in Chinese market.
Innovators who are developing their business cross-border.
Startups who are looking for fund and partners.
Scientists who are working on commercializing scientific achievements.
You CANNOT miss XINNO WEEK!
Announcing the First Annual Cross-Border Innovation Week (Xinno Week) 2018 in Seattle, WA! This event brings together top tech-talent, entrepreneurs, technologists, academics, startups, and world-class organizations from across the Pacific Northwest and China to discuss emerging technology trends, applications, and opportunities for cross-border collaboration in the areas of Artificial Intelligence, EdTech, Internet of Things (IoT), Blockchain, and HealthTech.
Xinno Week provides a platform for entrepreneurs, innovators, business and industry leaders to connect and gain valuable insights of technology and investment trends in both U.S. and China markets, to discuss emerging opportunities and to foster partnerships and collaboration.

For more information about this event, please visit www.xinnoweek.org
Event Highlights:
☛ Meet some of China's largest technology unicorns
China is currently home to more than 59 unicorns (companies valued at over one-billion dollars), a number that is steadily growing. At Xinno Week 2018 you'll have the opportunity to meet one-on-one with mentors, investors, co-founders and sponsors from some of the largest unicorns in China who are ready to help you get started.
☛ Pitch your startup to U.S. and China-based investors
Are you a startup or entrepreneur looking for funding? Have a passion for discovering new and emerging technologies? At Xinno Week 2018, you'll have the opportunity to do both! Pitch your startup or idea to U.S. and China based investors and hear pitches from some of the fastest growing technology startups in the Pacific Northwest.
☛ Learn how you can benefit from doing business in China
Xinno Week 2018 will welcome representatives from over 20 China-based technology innovation parks and investment firms, giving you the unique opportunity to learn more about the Chinese market and startup environment as well as government policies aimed at supporting foreign companies. Learn more about how your business or startup can reap all the benefits that doing business in China has to offer.
☛ Event extra, VIP access (from 6:00pm to 8:00pm)
With the purchase of VIP ticket, you will have the opportunity to enjoy an elegantly prepared dinner with investors, startup teams, and company executives from China and U.S. This is a great opportunity for people who is looking for capitals, partnership potential, or just someone that wants to expand their networks.
Confirmed Speakers: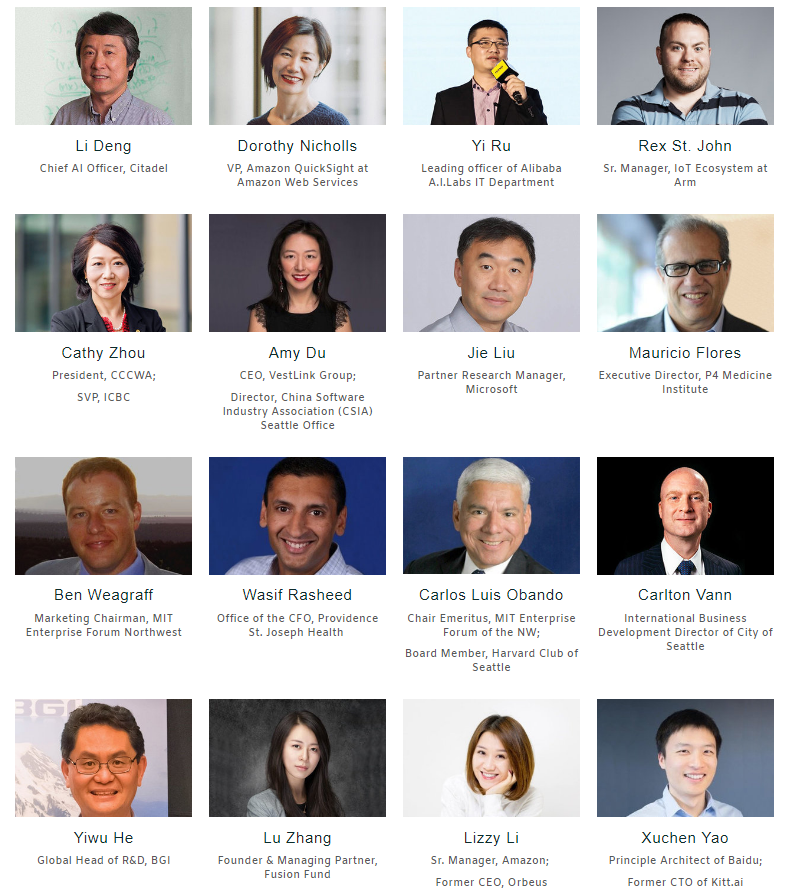 Agenda:
May 13th
9:00 AM
Door will open at 8:30 AM, registeration starts
10:00 AM
Opening Remards and Key Notes
World-class industry leaders and scientists will share their perspectives in cutting-edge technology applications in successful cross-border collaborations.
12:00 PM
Lunch, included in the tickets
1:00 PM
Forum 1: Innovation & Investment
Local startups will demonstrate the lastest innovations in the Greater Seattle Area to U.S. and China VCs and Corporate Investors.
Forum 2: Unicorns in China
Executive from Chinese unicorn companies will share how they use innovatives technologies to accerate development and drive gowth.
Forum 3: Leaders in Tech
This discussion will focus on future generations may lead technology development, achieve personal growth and social impact.
6:00 PM
Dinner (VIPs and invited guests only). Dinner location will be sent to attendees later.
This event is organized by Chinese Chamber of Commerce in Washington State, VestLink Group, MSUP, Chinese Young Professionals Association.