Event Information
Location
Spieker Forum, 6th Floor, Chou Hall
Haas School of Business
2220 Piedmont Ave
Berkeley, CA 94720
Description
Join us for the 10th anniversary of Cleantech to Market!
Come learn about this year's exciting startups and hear C2M alumni reflect on the program's 10-year impact. This is an amazing opportunity to hear about the most innovative and impactful clean technologies and network with cleantech professionals and next-generation leaders.
Dauntless IO - Adaptive machine learning for sensing applications
Opcondys - Power switching using light instead of electricity
Mosaic Materials - Metal organic frameworks for gas separation
Lucent Optics - Light-redirecting film for efficient natural lighting
HelioBioSys - Cyanobacteria to create sustainable biomaterials
Treau - Lightweight heat exchangers to decarbonize HVAC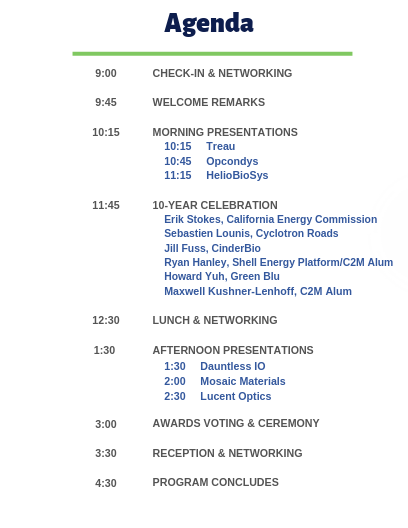 The Symposium is free of cost for registered attendees.
Registration includes lunch and a networking reception.
---
The 2018 Symposium will be hosted at Spieker Forum, which is located on the 6th floor in Chou Hall. Chou Hall is located at the Haas School of Business. Directions can be found here.
Rideshare/taxi drop off:
The best location for drop off is at the Berkeley Haas Cronk Gate.

2220 Piedmont Ave.
Berkeley, CA 94720
Parking:
Public parking is available at the Maxwell Parking Lot. You will need to keep the ticket you receive and pay at the pay stations before you exit.

Maxwell Parking Lot (located across from Haas)
2205 Piedmont Ave, Berkeley, CA 94704
---
C2M's 2018 Sponsors & Partners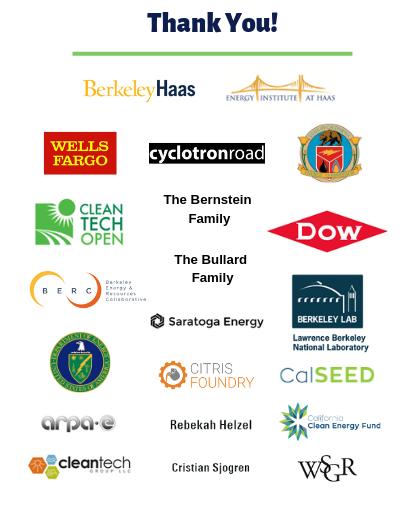 Date and time
Location
Spieker Forum, 6th Floor, Chou Hall
Haas School of Business
2220 Piedmont Ave
Berkeley, CA 94720