Description
Welcome to Citizens' Climate Lobby Wild West Regional Conference
Friday, Sept. 28, 5pm - Sunday, Sept. 30, 12:15pm
You are invited to the annual Citizens' Climate Lobby (CCL) Wild West Regional Conference! CCL builds the political will for our elected representatives to take action on climate change.
Our Regional Conference is an opportunity for newcomers and experienced CCL members to gather to learn, practice skills, inspire each other, and strategize in moving our country toward climate solutions. The Wild West Region - Arizona, New Mexico, Colorado, Utah, Nevada, Montana and Wyoming - is large and diverse, but we share common concerns due to the climate impacts already manifesting in our wildlands, cities and farms.
Rising temperatures, prolonged wildfire seasons, drought, flooding, and insect infestations are already impacting our communities, agriculture and outdoor recreation industries. The harm of inaction and the benefit of action have never been higher.
For more information, contact Brandi Williams, blwill22@yahoo.com.
---
What you need to know about the 2018 Wild West Regional Conference:
Who:
Everyone is welcome, whether it's your first CCL experience or you're an experienced volunteer. The Wild West Region includes Arizona, Colorado, Montana, Nevada, New Mexico, Utah, and Wyoming, but everyone is welcome no matter what state you are from.
When:

Friday, Sept. 28, 5pm - Sunday, Sept. 30, 12:15pm
Full conference registration includes lunch and dinner on Saturday

Where (Please note the 3 different venues for events):

Friday night social at Tracy Aviary; 589 E 1300 S, Salt Lake City, UT 84105
Saturday Conference at Wasatch Retreat and Conference Center; 75 S. 200 E. Salt Lake City, UT 84111
Sunday Conference at Doty Education Center Bldg #6 at Intermountain Medical Center, 5121 Cottonwood St, Murray, UT 84107

Tickets:

Climate Advocate Training Only (no breakout, general sessions or meals): Free
Early Bird (through Sept. 4): $80
Regular (Sept. 5-21): $90
Student (high school and undergraduate college students): $20
Keynote/Plenary Address Only (Yoram Bauman and Sam Daley-Harris): $10

Deadline to register is Friday, September 21, 2018.
Travel Information:
Saturday and Sunday events are easily accessible from the downtown area by UTA's TRAX system.
Nearby hotels include:
Hotel RL, 161 W E 600 S, Salt Lake City, UT 84101
Double Tree Suites by Hilton, 110 W 600 S, Salt Lake City, UT 84101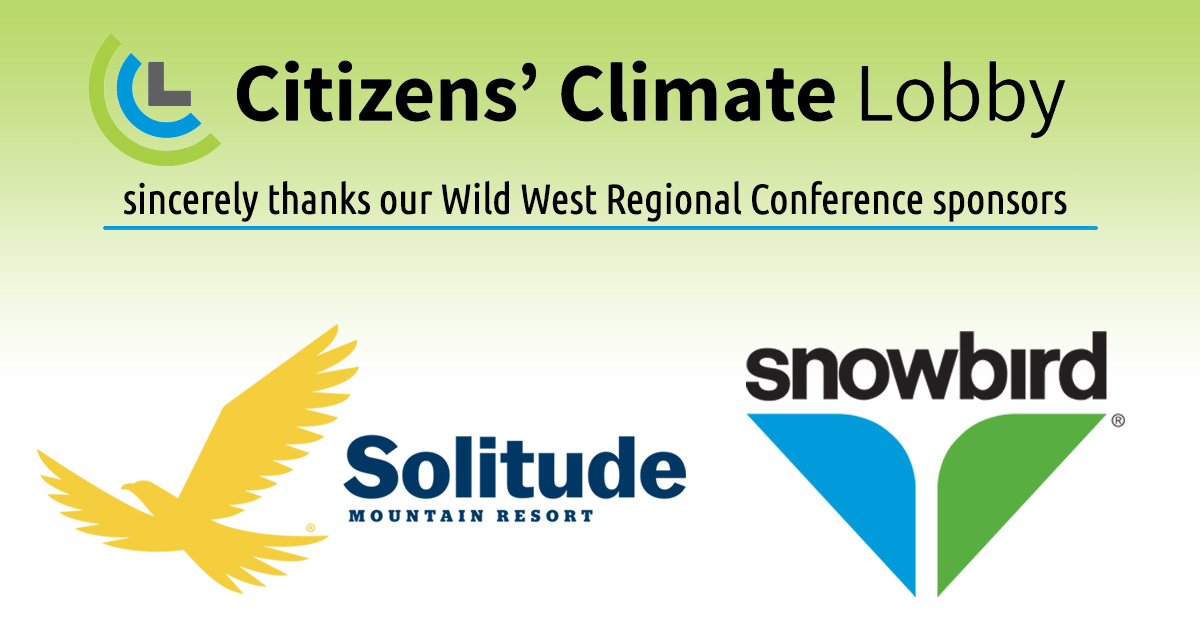 AGENDA (or click here for a printable version) (click here for speaker bios)

FRIDAY Sept 28th at Tracy Aviary- Chase Mill
5:30-8:30 Social time to mingle with your fellow CCLers. Must be 21 years or older. Dinner will be provided.
SATURDAY Sept. 29th at Wasatch Retreat and Conference Center
7:50-8:20 Registration and Coffee
8:20-8:30 Welcome: Bill Barron, CCL Regional Coordinator, Salt Lake City, UT

8:30-9:10 Our Carbon Budget: Dr. Rob Davies, Utah State University, Physicist
9:10 -9:25 Break
9:25-12:30 CCL Climate Advocate Training (runs concurrently with the breakout sessions)
For people who haven't previously attended an in-person Climate Advocate Training, this session goes through CCL's approach, methodology and values and provides a guide on how to develop relationships with our elected representatives.
9:25-10:20 State Highlights: State Leaders and Bill Barron
10:20-10:35 Coffee Break
10:35-11:25 Breakout Sessions Part 1
A) Building Relationships with Faith Communities
Jean Hill, Catholic Diocese Social Justice Promoter and Government Liaison, Salt Lake City, UT
Rev. Charles Robinson, St. Luke's Episcopal Church, Salt Lake City, UT
Bishop Stephan James, LDS church, 27th Ward, Emigration Stake, Salt Lake City, UT
Moderator: Regina Pistilli, CCL member, Salt Lake City, UT
Discuss how climate change is viewed by faith communities, and how people in their congregations can play a role in solving the climate dilemma.
B) Public Health Effects of Climate Change in Our Region: Responsive Actions
Rob Byron, M.D. MPH, Co-Chair CCL Health Team, Billings, MT
Kathleen Wells, Professor Emerita, Case Western University, CCL Leader, Denver, CO
An update on the pressing threats to public health posed by climate change in the Wild West region—escalating heat, drought, wildfire, and vector-borne diseases—are reviewed through image, story, and data.
C) Laser Talk Jeopardy!
Bri Buckley (UT) and Brandi Williams (UT)
Test your knowledge of laser talks or learn in the CCL rendition of Jeopardy!
11:25-11:40 Coffee Break
11:40-12:30 Breakout Sessions Part II
D) Engaging Youth and Higher Ed
Sierra E. Cottle, CCL Wild West Regional Fellow, Flagstaff, AZ
Regina Pistilli, John Michael Fabrizi (Westminster College, UT) on capstone experience
Wendi Odai and students about New Mexico's Senate Memorial 23
E) Story Telling
Reggie Mitchell, CCL member, Albuquerque, NM
We remember people's stories, not facts. Learn how to effectively use story-telling when discussing climate change.
F) Partnering with Other Citizen Groups and Business Sectors
Steve Glaser (UT) partnering with the League of Women Voters
Bryan Debbink and Merrill Gulstrom (CO) partnering with the Rotary Club
Bill Barron (UT) partnering with the Ski Industry

12:30-1:30: Lunch
1:30-1:40 Fundraising for CCL: Madeleine Para, CCL Vice President of Programs
1:40-2:30 Keynote: Comedy, Economics, and Carbon Taxes
Yoram Bauman, Ph.D., Economicst and Comedian Salt Lake City, UT
2:30-3:30 Getting a Bill through Congress: When Is Compromise a Good Thing?
Madeleine Para, CCL Vice President of Programs
Politics is the art of compromise, but we also need to know our bottom line. What are your personal priorities when a bill begins to go through the "sausage-making" that often accompanies legislation?
3:30-3:50 Coffee Break
3:50-4:40 Impacts of Climate Change on Water
Brian McInerney, Hydrologist at National Weather Service, UT
Laura Briefer, Director Salt Lake City Public Utilities, UT

4:40-5:30 Case Study: A Conservative Strategy for CF&D in Colorado
Grant Couch, Co-founder of CCL's Conservative Caucus, Boulder, CO
Ian Harrison, CEO of Building Energy Performance, Boulder, CO
CF&D should resonate with Republicans as it aligns with many core conservative values, but the policy often fails to persuade when we lead with a climate change argument. The Colorado CCL team is developing a conservative statewide strategy to help our Republican members of Congress and Senators support CF&D that focuses on core conservative values.
5:30-7:00 Dinner
SUNDAY Sept 30th at Doty Educational Center
8:30-9:00 Coffee Break
9:00- 9:15 Welcome and Announcements
9:15-10:30 Panel Discussion: Building Relationships at the State Level
Rebecca Edwards, Representative for Utah House District 20
Michael Shea, Senior Policy Associate, HEAL Utah
Mishka Banuri, West High School Student, Salt Lake City, UT
Carrie Butler, Policy Director for Action Utah, Salt Lake City, UT
Moderator: Tom Moyer, CCL member, Climate Utah founder, Park City, UT

10:30-11:00 Coffee
11:00-11:45 Plenary: Bringing Bipartisanship and Transformation to Citizen Activism
Sam Daley-Harris, Founder of RESULTS: the power to end poverty
Learn from CCL's original coach how and why our methodology works and how we can have further breakthroughs with it.

11:45-12:15 Wrap Up: Madeleine Para, CCL Vice President of Programs
---
Minors (under 18) Registration: If you are under the age of 18, or are registering for someone under 18, a signed permission slip must be completed to attend the conference. Please email Brandi Williams, blwill22@yahoo.com for a permission slip. Minors must be accompanied by a parent/guardian or chaperone (who must also be registered for the conference).
Questions? Please email Brandi Williams, blwill22@yahoo.com

By registering for this event, you are giving Citizens' Climate Lobby and Citizens' Climate Education permission to send you email including information about CCL/CCE and how you can volunteer and support our work. You can unsubscribe at any time by emailing unsubscribe@citizensclimatelobby.org.