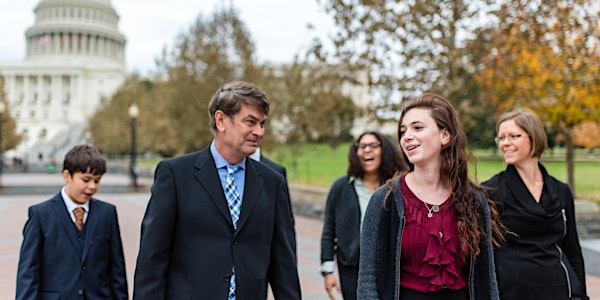 2018 Citizens' Climate Lobby North Wind Regional Conference
Event Information
Location
Cedar Canyon Camp and Retreat
5130 Memorial Road
Rapid City, SD 57702
Refund policy
Refunds up to 30 days before event
Description
Welcome to Citizens' Climate Lobby North Wind Regional Conference

Mitakuye Oyasin: We Are All Related
Friday, Sept. 28, 5pm - Sunday, Sept. 30, 12pm
You are invited to the annual Citizens' Climate Lobby (CCL) North Wind Regional Conference! CCL builds the political will for our elected representatives to take action on climate change.
Our Regional Conference is an opportunity for newcomers and experienced CCL members to gather to learn, practice skills, inspire each other, and strategize in moving our country toward climate solutions. The North Wind Region - Iowa, Minnesota, Nebraska, North Dakota, South Dakota - is large and diverse, but we share common concerns due to the climate impacts already manifesting in our wildlands, cities and farms.
Rising temperatures, prolonged wildfire seasons, drought, flooding, and insect infestations are already impacting our communities, agriculture and outdoor recreation industries. The harm of inaction and the benefit of action have never been higher.
For more information, contact Mary Deibert, rmdeibert@gmail.com.
---
What you need to know about the 2018 North Wind Regional Conference:
Theme:
Mitakuye Oyasin: We Are All Related. This Lakota expression was chosen as our theme in honor of the native tribes in South Dakota and throughout our region. It is a prayer of oneness and harmony with all forms of life. Since Climate Change impacts all forms of life on Earth, our work to create the political will for climate solutions is in keeping with this theme.
Who:
Everyone is welcome, whether it's your first CCL experience or you're an experienced volunteer. The North Wind Region includes Iowa, Minnesota, Nebraska, North Dakota and South Dakota, but everyone is welcome no matter what state you are from.
When:
Friday, Sept. 28, 5pm - Sunday, Sept. 30, 12pm (all times listed are in the Mountain time zone)
Where:
Friday Sept 28th: Journey Museum, 222 New York St, Rapid City, SD
Saturday Sept 29th and Sunday Sept 30th: Cedar Canyon Camp and Retreat, 5130 Memorial Road, Rapid City, SD 57702
Tickets:
Regular (Sept. 11-27): $85
Regular plus donation for student scholarship: $110
Students: $25
Low income: $35
Deadline to register is Thursday, September 27, 2018.
Ticket includes the conference and meals indicated in the agenda. Lodging is an additional cost, but options are available on-site.
On-Site Lodging:
Lodging is an additional cost and you will need to make those reservations separate from your conference registration. Contact Mary Deibert, rmdeibert@gmail.com for lodging reservations at Cedar Canyon. If you'd like to stay anywhere other than Cedar Canyon, you are welcome to make those reservations on your own.
Lodging options (with pricing) available at Cedar Canyon:
Economy lodging shared (Bunk house beds) $16/person/night (plus $12 to use their linens)
Modern lodging individual rooms (each room has it's own bathroom) $64/room/night
Modern lodging shared rooms (up to 6 people per room) $64/room/night
Camping with your own tent or RV
You will need to find your own room/cabin mates (except for the bunk house) - a great chance to build relationships within your chapter.
Agenda:

(updated, but a few more details are still coming)
FRIDAY night Keynote: Journey Museum, 222 New York St., Rapid City, SD
5:00 - 6:00 - Social Hour with heavy Hors d'oeuvres
6:00 - 7:00 - Keynote Speaker - Dan O'Brian
For twenty years, Dan O'Brien struggled to make ends meet on his cattle ranch in South Dakota. But when a neighbor invited him to lend a hand at the annual buffalo roundup, O'Brian was inspired to convert his own ranch, the Broken Heart, to buffalo. In 2001, he founded Wild Idea Buffalo Company and Sustainable Harvest Alliance to produce large landscape, grass-fed and field-harvest buffalo to supply high quality and sustainable buffalo meat to people interested in human health and the health of the American Great Plains. He now raises buffalo and lives on the Cheyenne River Ranch in western South Dakota with his wife Jill. O'Brien is the author of nine books of fiction and nonfiction, as well as being a naturalist and environmentalist.
7:00 - 8:00 - Tour the Journey Museum
SATURDAY: Cedar Canyon Camp and Retreat, 5130 Memorial Road, Rapid City, SD 57702
8:00 registration and breakfast
9:00 plenary with Mark Reynolds, ED of Citizens' Climate Lobby
10:15 Choose your Track:
Group Leader & Liaisons (with Mark R),
Climate Advocate Training Workshop (new to CCL),
Speed topics (experienced volunteers that are not GL or Liaison) - topics include Social Media, City Council Endorsements, CCL Higher Ed program and more.
12:15 lunch - group photo before
1:45 workshop sessions round 1
National Guard and Climate Change with Matraysa Punderson, SD National Guard Environmental Compliance division
National Parks Xanterra, Kevin Crosby, addressing climate change, sustainability and the Nat'l. Parks including Mt. Rushmore
Organizing on College Campuses with Steven Kirchner, student at University of Nebraska Lincoln
Carbon Farming: the use of biochar for carbon sequestration with Steve Gruhn
2:30 workshop sessions round 2
3:15 Listening to Farmers and Ranchers Plenary panel with interactive time

Moderated by Joseph Robertson, CCL Global Strategy Director
Jeremy Smith & Trish Jenkins - Cycle Farm in Spearfish, SD
Keith Alverson -SD Corn Growers Assn via Zoom from Souix Falls, SD
More panelists TBA
4:45 Andrew Iron Shell, Community Engagement Director, Thunder Valley CDC
Thunder Valley CDC is a Lakota-led grassroots organization working to create systemic change on the Pine Ridge Reservation in South Dakota. They collaborate with – and empower – Lakota youth and families to improve the health, culture and environment of their community in a way that heals and strengthens their identity. And in a way that transforms the place they proudly call home. They are actively disrupting the status quo and creating models of change that overpower intergenerational poverty and build momentum toward regional equity.
Andrew is one of the employees that has been with the organization the longest, and sees how solutions must be in-depth in order to be successful long-term. "By deliberately going to the root of the issue we can create new systems for healthy, affordable housing and show how systemic changes are truly workable strategies out of poverty."

6:00 break & supper
7:00 Intergenerational Dialogue
SUNDAY: Cedar Canyon Camp and Retreat
7:00 optional worship
8:00 breakfast
9:00 state planning sessions
10:45 closing session with Mark Reynolds
12:00 conference ends
---
Minors (under 18) Registration: If you are under the age of 18, or are registering for someone under 18, a signed permission slip must be completed to attend the conference. Please email rmdeibert@gmail.com for a permission slip. Minors must be accompanied by a parent/guardian or chaperone (who must also be registered for the conference).
Questions? Please email Mary Deibert, rmdeibert@gmail.com

By registering for this event, you are giving Citizens' Climate Lobby and Citizens' Climate Education permission to send you email including information about CCL/CCE and how you can volunteer and support our work. You can unsubscribe at any time by emailing unsubscribe@citizensclimatelobby.org.
Date and time
Location
Cedar Canyon Camp and Retreat
5130 Memorial Road
Rapid City, SD 57702
Refund policy
Refunds up to 30 days before event