Description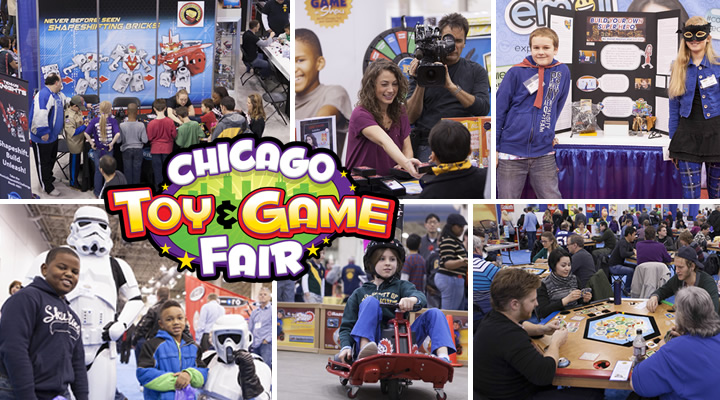 We showcase the best toys and games from around the globe. Build towers, play in tournaments, meet characters and more!
The Chicago Toy & Game Fair is the destination to discover "what's hot for the holidays" and try out toys and games before you shop for Black Friday Specials throughout the holiday season. You are certain to find some great additions to your family collection of toys and games.
To celebrate our 16th Anniversary - here's what you'll see this year!
Super Power Sensory Hour 9:00 am – 10:00 am hosted by Neighborhood Parents Network providing early access to families of children with special needs.

Young Inventor Challenge (deadline October 28th)! Amazing Prizes & Meet Toy and Game Executives and Inventors + Meet the Last Year's Winners of Ship of Treasures!

Meet Inventors! Come say "hello", take your photo and get inside knowledge on what it takes to invent a game or toy! You'll be able to say you knew them before they were hot!
National Yo-Yo Championship: Over 50+ Professional YoYo Competitors from Coast to Coast Saturday, November 18th!

Photo Ops: Snap a photo with some of your favorite characters from Star Wars!

Demo Areas: Play and test the hottest toys and games with your family, friends, and other attendees.

LIVE Unboxing: Check out live unboxings from our Play Influencer team!

Holiday Shopping: Shop for the Hottest New and Classic Toys for the Holidays and take advantage of the many "ChiTAG exclusive" discounts.

Local Entertainment: Interact with Chicago's local play celebs - Ben's Bubble Show, Mercy Magic, meet Princess Etch, and many more!

Stage Performances


Interactive Exhibits: Experience a fun filled day with hands-on displays encouraging and promoting the world of play!

Giveaways! Many exhibitors will be giving away toys and games throughout the day.

Festival of Lights Parade: After playing your way through ChiTAG, head to Michigan Ave for the Festival of Lights Parade.
Are you a Scout, firefighter, police, active military, educator, librarian or grandparent?Check out our ticketing page for more information on qualifying for free admission.
Tickets registration provides access to the fair either Saturday or Sunday.
Check out other events happening at ChiTAG Week:

Toy & Game Innovation Awards (TAGIEs) ($250)
More details: http://www.chitag.com/tagies

Parking and Directions: https://www.chitag.com/directions