Description
Chicago get ready to ignite your future at the 2018 Chicago LIT College Tour "The Ultimate Student Leadership Conference" Presented by ADP! This year's event will be hosted at UIC, Student Center East, Room 605, on Wednesday, April 4, 2018, 5pm-9pm.

LIT College Tour is a national career and leadership initiative designed to support students' academic success, career exploration, internships and jobs, as well as personal and professional development. Students get a chance to meet face-to-face with recruiters, network with potential mentors and gain valuable insights from speakers in a more intimate gathering.

Our half-day leadership boot-camp offers rapid-fire learning, leadership development and transformational experiences via 3 learning tracks, keynotes, workshops and 20+ industry experts and emerging leaders from diverse industries including Entrepreneurship, STEM, Marketing, Media, Entertainment, Law, Finance and related fields.

Program: (Subject to change)

4:30 p.m. Registration opens

5:00 p.m. Opening remarks
Gigi Alfonso, Sr. Talent Acquisition Business Partner - Campus, ADP

5:10 p.m. Opening keynote "Mastering Your First Impression"
Kevin Davenport, Founder & President, The Ideal Candidate

5:30 p.m. Panel 1 – All Things LIT (Leadership. Innovation. Transformation): The Journey from Student to Entrepreneur/Professional
Moderator: Enrique Rodriguez, Award-winning News Anchor & Reporter, Univision
Melissa Godinez, Recruiting Manager, Farmers Insurance
Troy McIntosh, Sr. Director, Diversity & Inclusion, U.S. Cellular
Melanie Munoz, Diversity Inclusion Consultant, The Kaleidoscope
Mallory Nichols, Campus Recruiter, Gartner (formerly CEB)

6:20 p.m. Panel 2 – Communications, Entertainment & Marketing: How to Build a Powerful Personal Brand
Moderator: Susana Song, Emmy award-winning Journalist
Elina Feldman, University Relations, Strategic Partnerships Manager, Blue Cross & Blue Shield
Brittney Diamond, Manager, Talent & Development, Vibes
Elizabeth Aguirre, Local Marketing Manager, MetroPCS
Tania Haigh, CEO, Magnolia Insights

7:10 p.m. Workshop - Sandee Kastrul, President & Cofounder, i.c. stars on "Launching & Funding Your Social Enterprise"

7:40 p.m. Closing remarks
Gigi Alfonso, Sr. Talent Acquisition Business Partner - Campus, ADP

9:00 p.m Networking & Reception at Concrete Cowboy, 646 N Franklin St, Chicago, IL 60654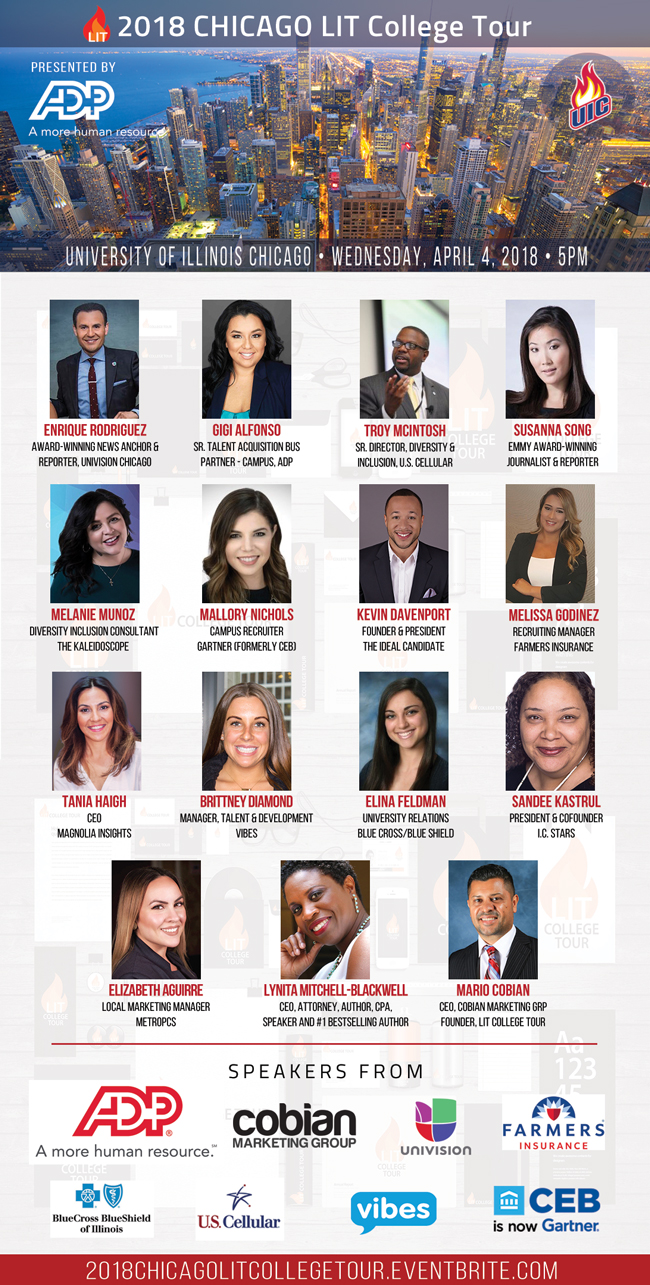 Highlights from past events: