Description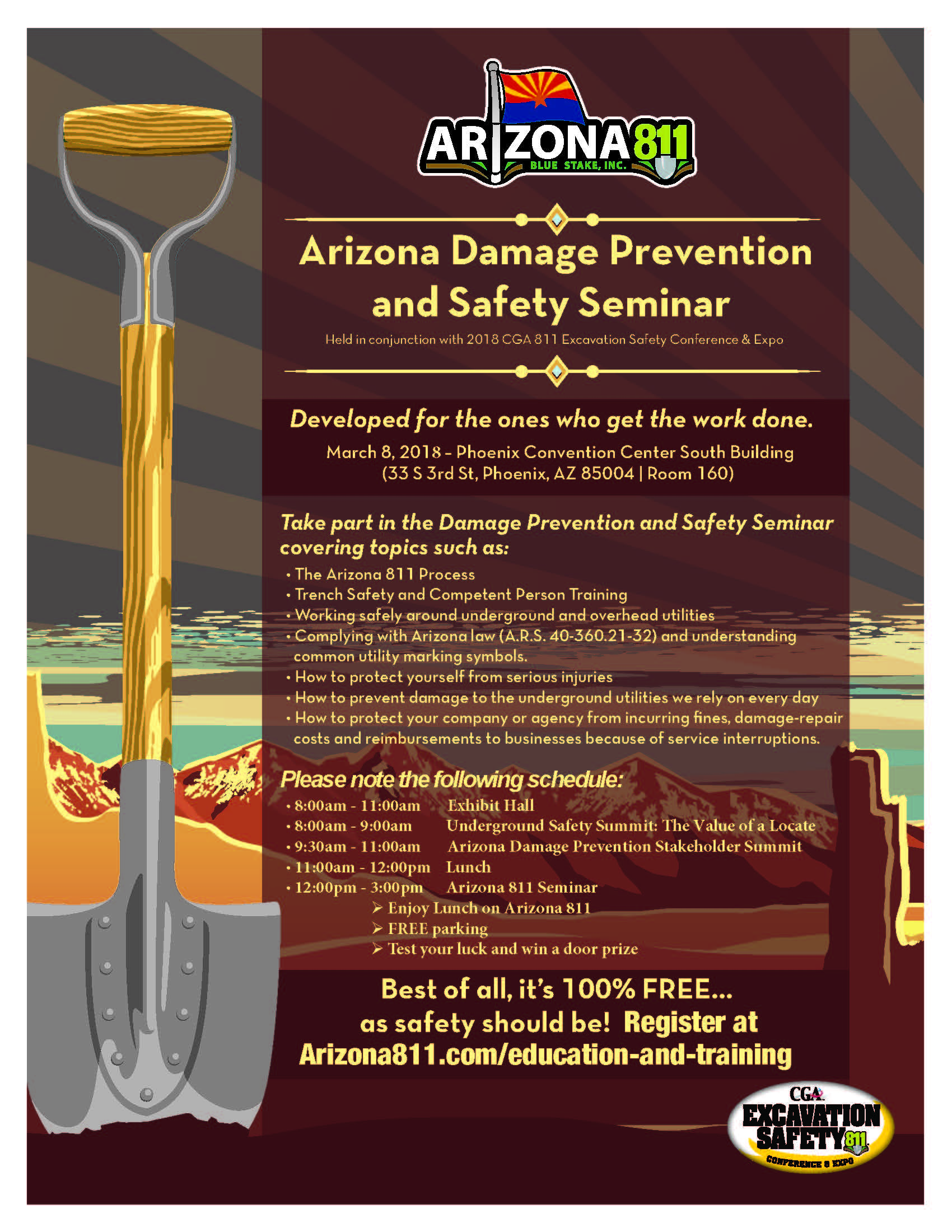 Please adhere to the following:
The schedule this Safety Day is as follows:
8:00am - 11:00am Exhibit Hall
8:00am - 9:00am Underground Safety Summit: The Value of a Locate
9:30am - 11:00am Arizona Damage Prevention Stakeholder Summit
11:00am - 12:00pm Lunch
12:00pm - 3:00pm Arizona 811 Seminar
Check-in for this seminar will begin at 11:30 a.m. and the program will begin promptly at 12 p.m.

Complimentary lunch is included.

Program duration is 2.5-3 hours.

Seating is first-come, first-served. Parties who want to sit together should arrive early.
Companies and local governments are welcome to send multiple attendees. However, a registration form must be completed for each individual who is attending.

Attendees are expected to honor their RSVP. Substitutions can be made at any time. NOTE:This is a free event; however individuals who RSVP and fail to show up without canceling at least 72 hours in advance will be billed $30 to cover the costs of pre-paid meals and training expenses. If you RSVP but cannot attend, please cancel your reservation at least 72 hours in advance or designate a substitute attendee from the excavation industry!

For the benefit of all seminar participants, professional and courteous behavior is expected at all times. Alcohol is not served or permitted at Damage Prevention & Safety Seminars. At their discretion, organizers reserve the right to refuse entry and/or continued participation to any individual who is disruptive.

As a courtesy to other attendees, please put mobile devices on vibrate or silent mode when the program begins. If you must take or make a call, kindly do so outside of the training room.

If you have questions, please contact:

Sunita Rowe, Public Services Liaison

Arizona 811 (formerly Arizona Blue Stake)

sunita.rowe@Arizona811.com or (602) 659-7508