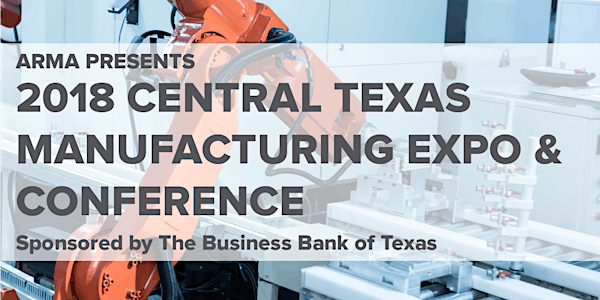 2018 Central Texas Manufacturing Trade Show & Conference
Location
Palmer Events Center
900 Barton Springs Road
Exhibit Hall 1
Austin, TX 78704
United States
Description
Save the date for the Central Texas Manufacturing Expo and Conference, presented by the Business Bank of Texas. Taking place at the Palmer Events Center from 10am-5pm. Featuring presentations on the Factory of the Future by the Chief IT Architect for General Motors, Marc Mulzer, and Senior IT Manager leading General Motors 4.0 transformation, Jennifer Watson, as well as over 100 exhibitors showcasing advanced products, capabilities and services. More details coming soon.
Registration Information:
Trade show attendance is FREE, but still requires registration.
Conference tickets are $25 for members and $50 for non-members
Exhibitor Information:
10x10 Booth
ARMA Member $550 | Non Member $675
10x20 Booth
ARMA Member $750 | Non Member $900
Online Exhibitor Kit: https://www.freemanco.com/store/show/landing?showID=476455
To get more information on exhibiting contact Liz Gori at liz@arma-tx.org.