Description
2018 CASTLE ROCK TOUTLE LAKE CAREER DAY
THURSDAY, FEBRUARY 15, Time 12:30 p.m. - 2:30 p.m.
Toutle Lake High School
Gymnasium
5050 Spirit Lake Hwy
Toutle, WA 98649
---
Dear Industry Leaders and Business Partners:
The first-ever Castle Rock Toutle Lake Career Day is February 15!
We hope you will join us and host a table at the event to help educate the emerging workforce about the companies, industries and career opportunities in our area.
We are seeking employers in and around Cowlitz County from all industries: health care, manufacturing, technology, construction, finance, hospitality, retail, apprenticeship, transportation, etc.
The event is geared toward students in the 11th and 12th grades and will be a great experience for the youth to explore and gain knowledge on what career opportunities and pathways are available to them in our area.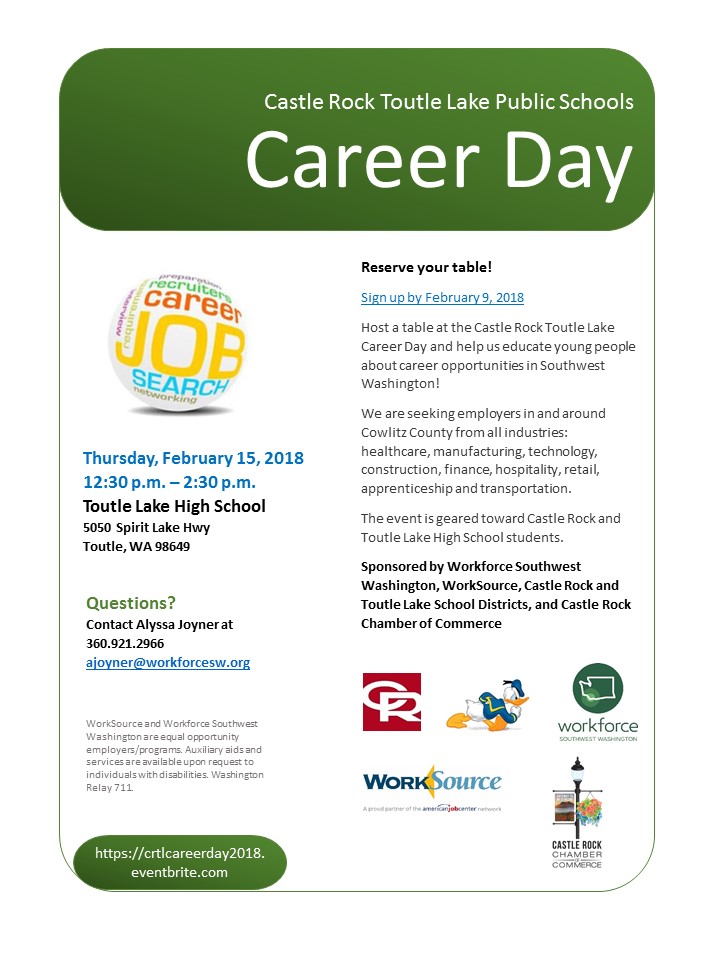 Please take this opportunity to come out and market your company, your industry, and your career opportunities!
---
Sponsored by Workforce Southwest Washington, WorkSource, Castle Rock School District, Toutle Lake School District, and Castle Rock Chamber of Commerce.