2018 CASPA Career Talk and Job Fair-setting your career milestone
Description
Registration is required.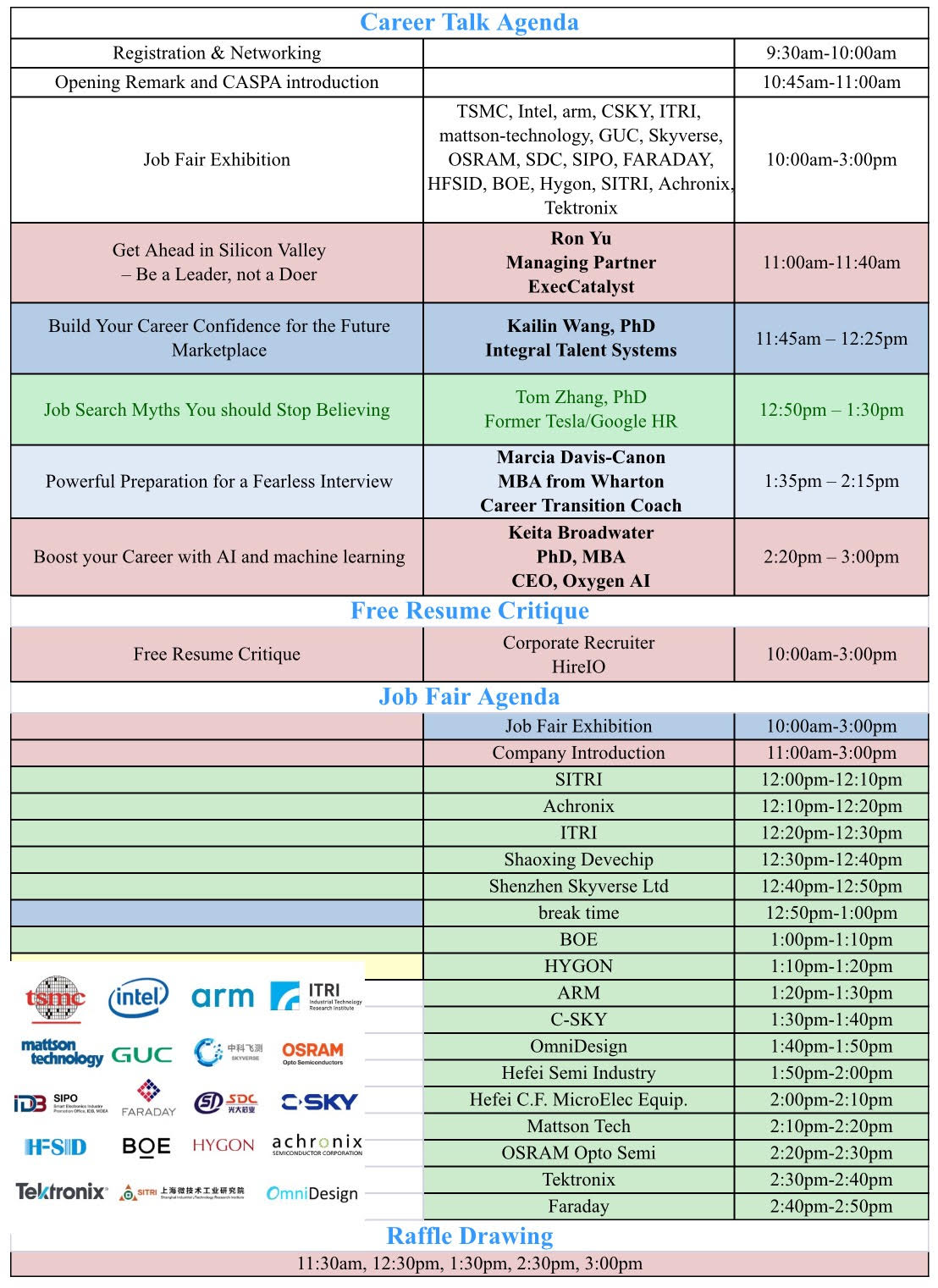 Link: Job details
Speakers:
Ron Yu
Managing Partner, ExecCatalyst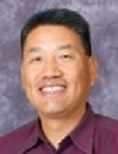 Ron Yu is a Managing Partner at ExecCatalyst (www.ExecCatalyst.com). As an executive coach, he helps high-tech executives and their teams develop new leadership and communication skills to accelerate through inflections in their business. Prior to this Ron has recruited and developed hundreds of top performers and leaders while holding executive roles at Salesforce.com, Oracle, Hyperion Solutions, Portal Software, Openwave Systems, and startups. Ron earned his BS in Math-Computer Science from UCLA and completed the Executive Management Program at Stanford Graduate School of Business. He has been an executive mentor with Monte Jade, a Chinese technology network with over 10,000 members, since 2009 and also a runs 3 monthly private CEO groups for the Alliance of CEOs. He's a highly sought after speaker and blogs on Executive Leadership and Career Management topics.
Dr. Kailin Wang
Career Coach, Integral Talent Systems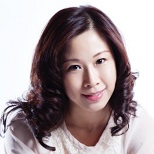 Holding a Ph.D. degree in Organizational Psychology and an M.S. degree in Electrical Engineering, Kailin is a career coach and organizational consultant who has over 10 years work experience in the Silicon Valley across various job functions including software engineering, technical marketing, business development, and program management. Kailin is enthusiastic and experienced in leadership/career development, talent assessment, work motivation, team dynamics, and employee engagement. She enjoys facilitating high-impact changes and helping organizations and people grow towards greater potentials.
Marcia Davis-Cannon
MBA, Career Transition Coach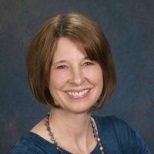 Marcia Davis-Cannon had a 20-year corporate career in operations, finance and product management before following a new calling. She has an MBA from Wharton and a coaching certificate from Western Seminary.
Marcia is a Career Transition Coach, and also director of large group meetings for Career Action Ministry and a leader with Toastmasters International. Marcia brings a passion for helping people work through barriers to get in touch with their purpose and take action to find work that is meaningful.
Dr. Tom Zhang
Ex Tesla & Google Recruiter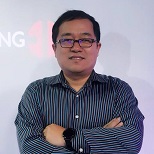 Dr. Tom Zhang is a recognized expert in HR and Talent Acquisition in Silicon Valley. Tom helped build the early Asia Pacific team in China, Japan and Australia for Tesla Motors. Prior to Tesla, he worked at HR/staffing team at Google and Tencent America. His other areas of expertise include US/China labor law compliance, executive search, executive compensation and and career consulting. He taught at San Jose State University. He received his PhD degree in Electrical Engineering from Zhejiang University.
Dr. Keita Broadwater
Co-founder, Oxygen AI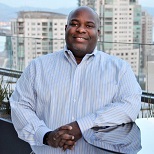 Dr. Keita Broadwater is the co-founder of Oxygen AI, a firm that uses machine learning and AI to do product development and business consulting. Before that he worked in various roles in high tech in Operations, Strategy, and Supply Chain for companies including Hewlett Packard, Intel, Lenovo, and LinkedIn. His interests are applying deep learning and computational linguistics to solve real world problems.
----------
CASPA welcomes all participants (companies) as long as the participants follow the regulations and laws including, but not limited to, equal employment opportunities (EEO) to all applicants without regard to race, color, religion, sex, national origin, age, disability or genetics.
**Be prepared to interview with hiring managers and recruiters at the CASPA High-Tech Job Fair, Professional Dress (suit & tie or business suit) required. Bring plenty of resumes.
Look forward to seeing you in 2018 CASPA Career Talk and Job Fair!
Sincerely,
Mingyu Qu, Executive Board of Director, CASPA
Brandon Wang, Chairman and President, CASPA