2018 Caregiving Symposium
Description
The CAREGIVING SYMPOSIUM, sponsored by Boulder County Area Agency on Aging and TRU PACE, is the annual educational event for family caregivers of older adults (and for the general public), which features a large resource fair, workshops on caregiving topics, complimentary lunch for pre-registered guests, educational handouts, and more. (Scroll down past the event sponsors to see the full agenda.)
Registration for general admission is free. Pre-registration by May 9 is required in order to receive lunch. Walk-in registration is permissible, but does not include lunch. Assistance for respite care (substitute elder care) is available: call 303-678-6284. For general information, contact Juliette Kershner, BCAAA, at 303-678-6116 or InfoCaregiver@bouldercounty.org .
Reasonable accommodations will be provided upon request for persons with disabilities. Please contact Julia Yager, Boulder County ADA Coordinator, or the BC Human Resources Division, at 303-441-3525, at least 48 hours prior to the event.
Directions to the Plaza Convention Center: The Best Western PLUS Plaza Hotel is at 1900 Ken Pratt Blvd (Hwy 119), between Hover Road and Sunset Street in south Longmont. The Plaza Convention Center is behind (north of) the hotel, at 1850 Industrial Circle. Turn onto Industrial Circle from either side of the hotel; it circles around to the Convention Center. Park in the Convention Center's or Hotel's lots (or in overflow parking at the mall) and enter the main east doors. WARNING: Do not park in the lots of adjacent businesses; they will tow!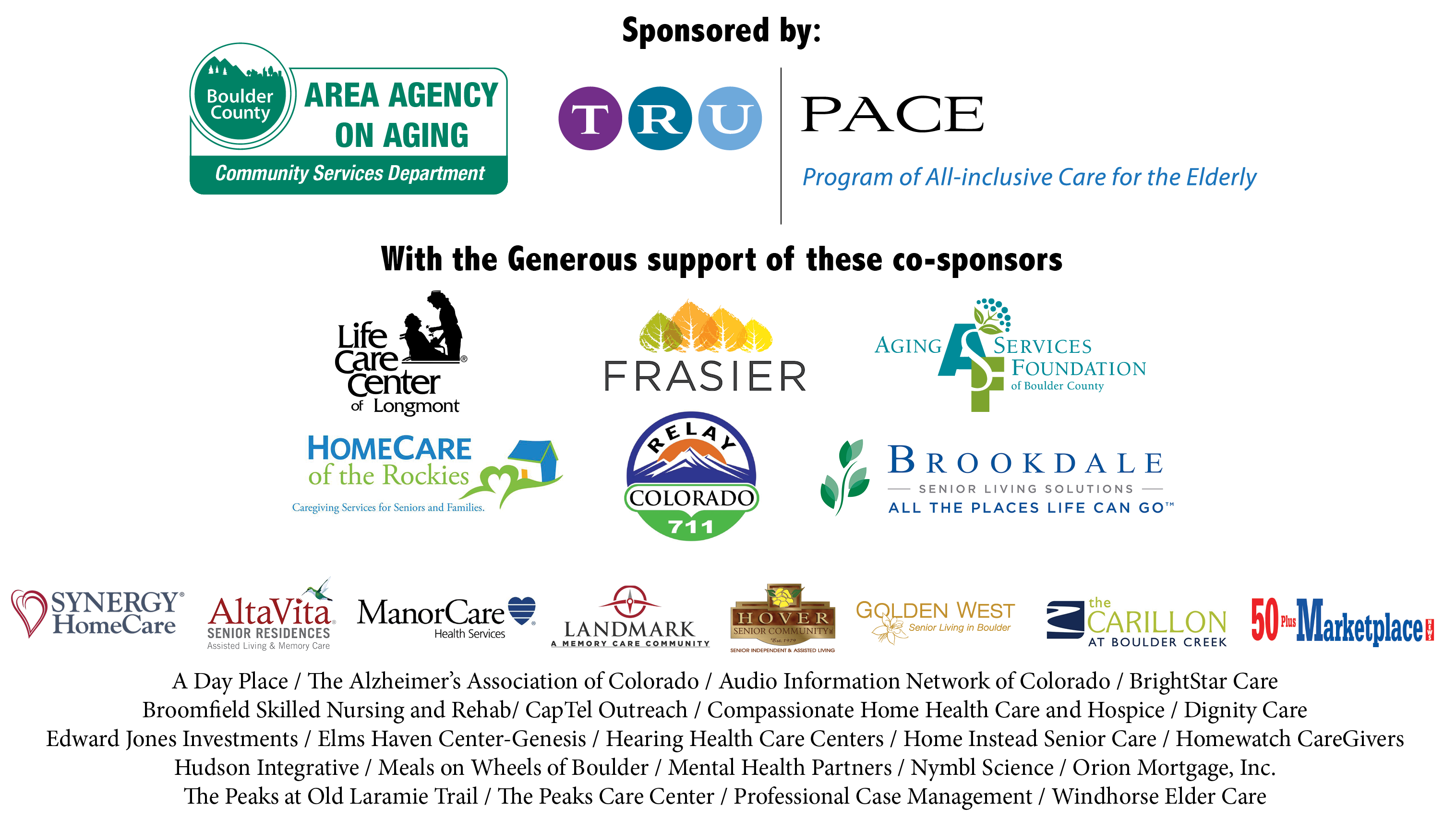 Agenda
8:30 a.m. - Registration begins (continues throughout the day);
Resource Fair opens
9:30 - 10:30 a.m. - Workshops along four tracks (see descriptions below)
11:00 a.m. - 12:00 p.m. - Workshops along five tracks (see descriptions below)
12:00 -1:30 p.m. - Lunch available for pre-registered guests
1:30 - 2:30 p.m. - Workshops along five tracks (see descriptions below)
3:00 - 4:00 p.m. - Workshops along four tracks (see descriptions below)
3:00 p.m - Resource Fair ends
4:00 p.m. - Event ends
We are offering four themed tracks of workshops this year-each with one talk per time slot, as well as a track in Spanish covering two sessions, and a Falls Awareness Learning Lab available during two sessions.
(You may choose a track and stick with it or choose which session appeals with each time slot)
Track 1: Caregiver 101 (designed with those new to caregiving in mind)
Memory Care: Adjusting your Communication in the Earlier Stages - Megan Carnarius, RN, NHA (nursing home administrator), and LMT (licensed massage therapist). Memory consulting practice at Memory Care Consulting.
Love Doesn't Conquer All - Kim Mooney, Thanatologist, Practically Dying LLC.
Resources to Support Family Caregivers: A Panel on Community Offerings- Desiree Firle, ADRC Coordinator and Colleen Sinclair, Options Counselor, both with Boulder County Area Agency on Aging, Jacki Myers, Senior Resource Specialist, City of Boulder, Brandy Queen, LPC, Seniors Counseling and Resource Education Coordinator, Longmont Senior Services. Moderated by Keith Carr, Options Counselor Supervisor, Boulder County Area Agency on Aging.
Recognizing Scams and Financial Exploitation: Types, Signs and Prevention - Lizbeth Parker, Consumer Specialist, Community Protection Division, Boulder County District Attorney's Office.

Track 2: The Long Term Caregiver
Full Presence Caregiving: Bringing Mindfulness and Heart to the People we Serve - Jyoti Sharp, Owner, and Stephanie Kindberg, Director of Operations, Windhorse Elder Care.
Transcending Dementia: Spirituality and the Self - Ralph Patrick, Director of the Greater Boulder Region of the Alzheimer's Association.
Medicaid: Everything You Didn't Know and Didn't Know Who to Ask - Rick Romeo, Vincent, Romeo & Rodriguez.

The Move to Long-Term Care: What to know and what to do- Erica Corson, Elder Rights Program Manager and Long Term Care Ombudsman, Ashley Reese and Steven Seay, Long Term Care Ombudsmen, Boulder County Area Agency on Aging.
Track 3: New Trends in HealthCare
That's Cool, What Does it do: Current Trends in Supporting Caregivers in Caring for Older Adults with Assistive Technology-Julia Beem,MA, Senior Instructor AT Program Outreach & Emergency Preparedness Program Coordinator Assistive Technology Partners, Department of BioEngineering, Department of Physical Medicine and Rehabilitation and Department of Pediatrics, University of Colorado Denver.
Living at Home:Options Along This Continuum of Care : Looking at the PACE Model, Mobile Urgent Care, and Telemedicine - Leslie Mader, TRUPACE, Outreach and Enrollment Manager, Justin Rinehart, Dispatch Health, Chip Davis, Principal, virHealth.tech, and Robert Thorn, MBA, FACHE, Principal, Summit Healthcare Strategies.

Pushing Up Daisies: Funeral Options, including Natural Deathcare, for the 21st Century - Karen Van Vuuren, co-founder of The Natural Funeral.
Making Health Care Fun Again: An Introduction to Music Therapy - Leah Quiller, MM. MT-BC, Owner/Neurologic Music Therapist,Peak Pathways Music Therapy,LLC.
Track 4: Facing Challenges
Neuropsychological Testing in Diagnosis and Care Management of Dementia: Facing
Challenges with Data - Jennifer Geiger,Ph.D., ABPP-CN, Board Certified Clinical Neuropsychologist.
Plan Interrupted: Navigating the Emotions that Come When Life Changes - Sandi McCann, Certified Senior Advisor, President, HomeCare of the Rockies, Inc., Co-founder Caregiver Calls to Serve, LLC.
Hearing from Caregivers who have Negotiated Challenges in Caring: within a Difficult Relationship, as an LGBTQ Caregiver, with Early Onset Alzheimers, and with Difficult Behaviors. Moderated by Jessica O'Leary, Care Coordinator with Halcyon Hospice and Palliative Care and Gerontologist/teacher of the Savvy Caregiver Course.
A Deep Breath and The Right Words: Navigating Difficult Conversations - Kim Mooney, Thanatologist, with The Conversation Project, Fran Meyers, Faith Community Consultant, The Conversation Project and Owner, The Center for Advanced Care Planning.
Track 5: Workshops in Spanish

Resources to Support Family Caregivers, A Panel on Community Offerings - Agencies represented will include those from Boulder County Care Connect, El Comite, and the Longmont Senior Center.
Experiences as A Long Distance Caregiver - Margarita Delgado, Council Member at Large, Aging Advisory Council, Area Agency on Aging.
Other Opportunities During the Day
Focus Group: Community Conversation for Family Caregivers.
Come try our interactive Falls Awareness Learning Lab to learn about the many ways you can prevent a fall.