2018 Campus Compact Mid-Atlantic Presidents' Institute and 10th Anniversary...
Description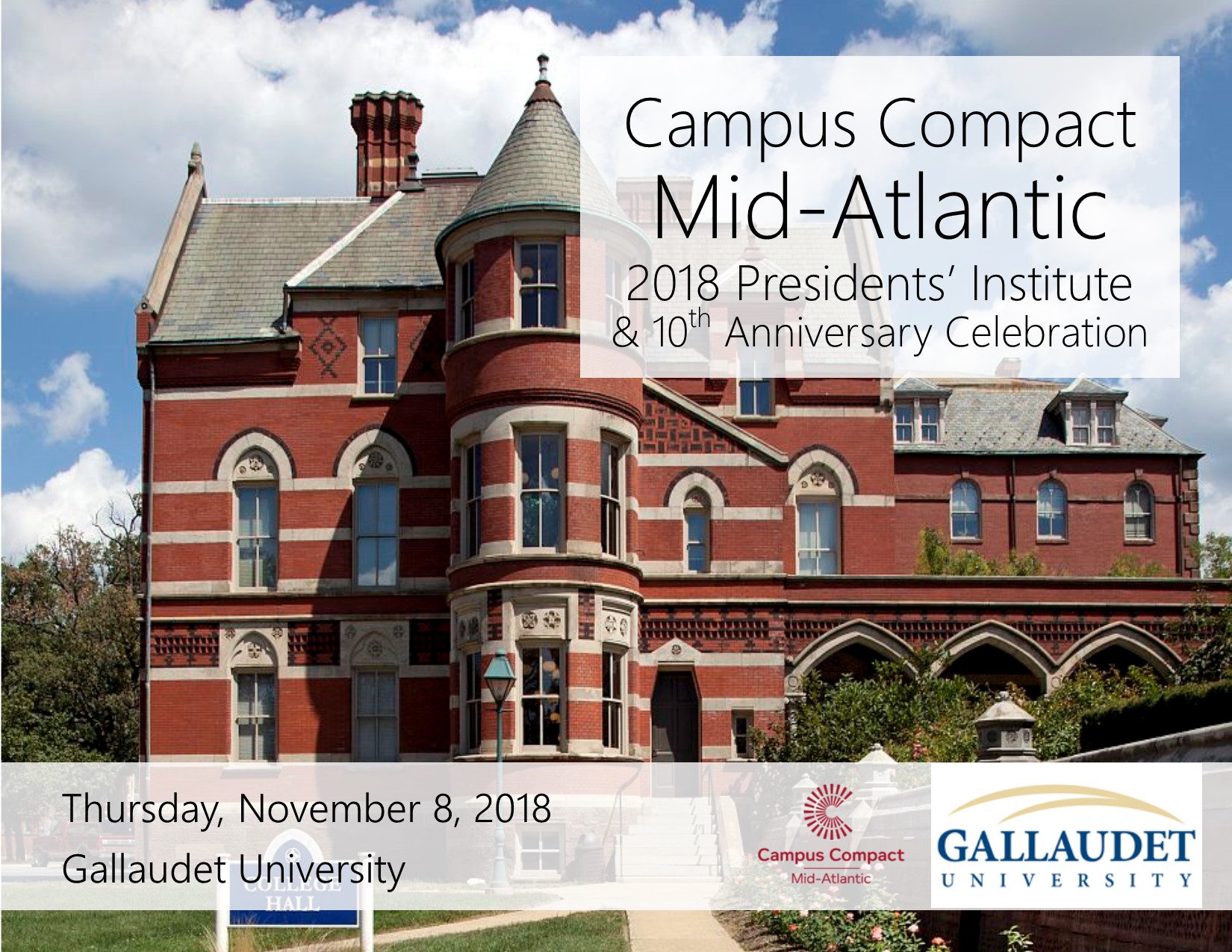 Systemic Action: Advancing Equity Through College,
Career, and Civic Readiness
Campus Compact (CCMA) is a network of 44 public, private, 2- and 4- year colleges and universities in the Maryland, Washington, D.C., and Delaware region, mobilizing the collective commitment and capacity of higher education to actively advance our communities through civic and community engagement.
The biennial CCMA Presidents' Institute serves as a platform for the collaborative efforts of presidential leadership, K-12, and community partners to address issues critical to the region. This year, the Presidents' Institute & 10th Anniversary Celebration will explore systemic action by advancing equity through college, career, and civic readiness through convening the region's presidents, superintendents, and other civic leaders in a conversation about the structural/systemic issues impacting education in our region, and how civic and community engagement could enhance college, career, and civic readiness for K-12 and higher education students.

Highlights of the CCMA 2018 Presidents' Institute & 10th Anniversary Celebration
Leadership:

Presidents and Superintendents will discuss cultivating and supporting engaged civic and community partnerships.

Collaboration:

Dynamic and diverse panel sessions and plenary addresses will weave together community engagement and education.

P20 CONNECTS:

K-12 and higher education partners will explore college, career, and civic readiness.

Renewal:

Attendees will participate in enriching discussions about the collective impact of CCMA

Recognition:

CCMA's region-wide service-learning and civic engagement awards will be confirmed.

Networking:

Leaders across all segments of higher education, K-12, and the community will engage in cross-sectoral dialogue to enhance partnerships.
Visit midatlantic.compact.org/pi for more information.
---
Agenda & Panel Sessions
7:30 a.m. – 8:45 a.m.: Presidents' Council Annual Meeting & Leadership Breakfast (Invitation Only)
8:00 a.m. – 9:00 a.m.: Registration and Refreshments
8:00 a.m. - 9:00 a.m.: CCMA AmeriCorps VISTA Member Poster Session
9:00 a.m. – 10:00 a.m.: Opening Plenary with Keynote Speaker Eric Deggans
10:10 a.m. – 11:25 a.m.: Panel Session One
11:30 a.m. – 12:30 p.m.: Lunch, Plenary Speaker, Awards Program
12:30 p.m. - 1:45 p.m.: Focus Groups
1:55 p.m. – 3:05 p.m.: Panel Session Two
3:10 p.m. - 3:30 p.m.: Closing Remarks
Panel descriptions are available at midatlantic.compact.org/pi.
---

Lodging & Transportation
Map, Directions, & Public Transportation Information
Hotel: The Presidents' Institute will be held at the Kellogg Conference Hotel at Gallaudet University. The room block is available through the Kellogg Conference Hotel website.
Parking Information: Parking is available on campus for free in the 6th Street Parking Garage.
Registration Cancellation Policy:
By purchasing a ticket, you are indicating a commitment to attend and will be held responsible for the registration fee. Your fee can be refunded if you notify us of a cancellation at least 7 days prior to the event via email to deroberts@ccmidatlantic.org.

Event Disclaimer:
CCMA reserves the right to use any photographs or other recordings taken at CCMA events in promotional materials. No recordings of any kind may be used at CCMA events without the prior written consent of CCMA organizers and presenters. The views and opinions expressed at CCMA events do not necessarily reflect those of CCMA, nor does CCMA make any representation regarding the information presented at CCMA events.