| | |
| --- | --- |
| 2018 Business Plan & Becoming A Person Of Influence Workshop | |
Event Details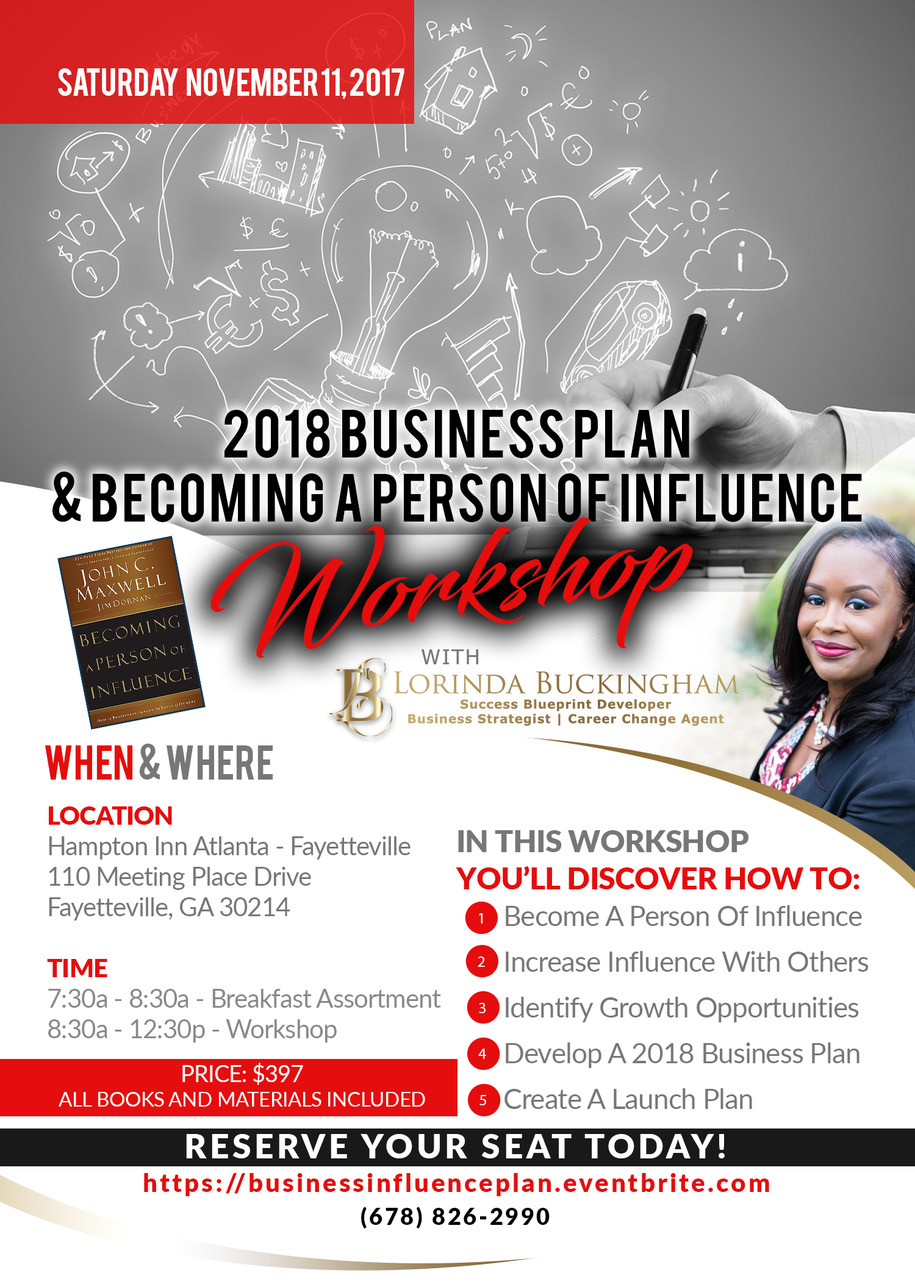 Start 2018 on the right foot with 2018 BUSINESS PLAN & BECOMING A PERSON OF INFLUENCE WORKSHOP WITH LORINDA BUCKINGHAM. If you are looking to start, grow, or expand your business this is the workshop for you! Discover how to set the right foundation for your company. You will gain empowering leadership principles that will help you achieve success personally and professionally. 
Lorinda Buckingham, Creator & C.E.O of Modern Empowerment, brings over 15+ years of expert Engineering & Business experience, successfully managed high quality products from design concept to product launch.
Lorinda will help individuals and companies DISCOVER CLARITY, DEVELOP SUCCESS BLUEPRINTS, 
CREATE STRATEGIC PARTNERSHIPS, & BOOST PERFORMANCE for business and career development; 
including promoting work-home balance and healthy lifestyles!
In this workshop, you'll discover how to:
* Become A Person Of Influence
* Increase Influence With Others
* Identify Growth Opportunities
* Develop A 2018 Business Plan
* Create A Launch Plan
ALL BOOKS AND MATERIALS ARE INCLUDED.
This 1/2 day workshop will be held at the Hampton Inn Atlanta - Fayetteville located at 110 Meeting Place Drive Fayetteville, GA 30214 from 7:30am to 12:30pm. Light refreshments will be served.
Seating is limited. Reserve Your Spot Today!
When & Where

Hampton Inn Atlanta- Fayetteville
110 Meeting Place Drive
Fayetteville, GA 30214


Organizer
Lorinda Buckingham, Business Strategist & Success Blueprint Developer, is CEO of Modern Empowerment, a premier Personal & Professional Development Training and Consulting firm, specializing in developing and executing development training programs to grow the capabilities of companies, employees, business owners, and sales professionals to become effective leaders to lead others, build cross-functional team work and communication, increase productivity and efficiency, enhance brand reputation, and align their personal development with their business strategies. 
Lorinda has been very successful in helping clients who were frustrated with the lack of internal leadership, anxious to eliminate the fear of rejection, angry about high turn over rates, disappointed in the lack of follow-thru, concerned about the low morale within their organization, and worried about being able to face the challenges and meet the opportunities ahead. 
To learn more about our how our development programs can help you and your team, connect with Lorinda or to work with Lorinda, contact us at modernempowermentgroup@gmail.com.