Description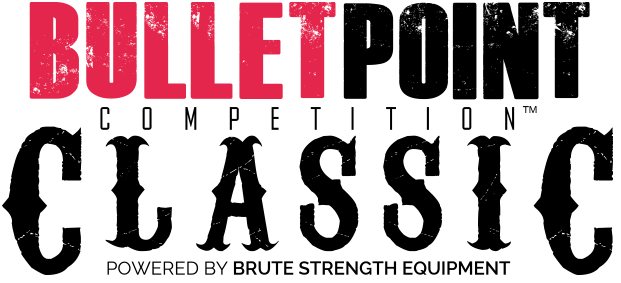 The Bullet Point Classic is our flagship competition and quickly growing to be one of the best competitions in the area. It is a fitness competition designed for all levels, from beginners to advanced level athletes. The event will be comprised of 4 workouts. Rx and Scaled divisions are available, workouts are designed to be strategy based rather than raw strength and endurance. This will make it attainable for most intermediate level athletes who meet movement standards to compete in the Rx division while still being very challenging for the most elite of athletes.
Event Webpage: http://classic.bulletpointcompetition.com/
Date: May 19, 2018
Format: 3-Person Same Sex Teams, 4 WODs
Divisions: Rx, Scaled
Difficulty: ALL LEVELS
RX AND SCALED DIVISION - $320.00 PER TEAM
Rx division WODs will be attainable for most intermediate level athletes, we are programming WODs that require strategy and not just brute force strength and endurance. Using this concept they will not only be attainable for most intermediate level athletes that meet the movement requirements but will also be challenging for the most advanced athletes participating.
Scaled division will be open to all levels of athlete. The movements will be basic movements that can be done by all levels with little to no scaling. The WODs will be designed to make this all levels division competitive and fun.