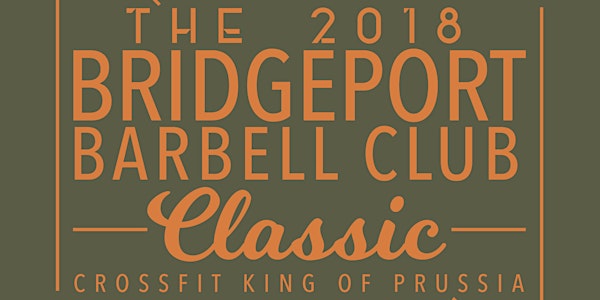 2018 Bridgeport Barbell Club Classic
When and where
Location
CrossFit King of Prussia 200 DeKalb Street Bridgeport, PA 19405
Description
Join the Bridgeport Barbell Club for our 4th annual summer weightlifting meet, The Bridgeport Barbell Club Classic!
Follow the Bridgeport Barbell Club Facebook Page, Instagram and Facebook event for updates and announcements.
The deadline to register is July 27th.


---
Schedule*
Session 1- Men's Session (Weigh In: 7:45am-8:45am; Start: 9:45am)
Men's Awards
Session 2- Women's Session (Weigh In: 10:45-11:45am; Start: 12:45pm)
Women's Awards

Start List:
https://docs.google.com/spreadsheets/d/1g1rldEM4skWPKcYPv22F9tlc0xpQaLmgwhGSSWXUcng/edit?usp=sharing


---
Awards
The best lifter by formula overall and in novice, masters and youth will recieve a medal and prizes from our sponors.

---
Event Shirts
You can purchase an event Tshirt or Tank with your meet registration.
---
Uniform
A weightlifting singlet is required for all Open & Masters Lifters.
http://www.iwf.net/wp-content/uploads/downloads/2015/01/141231-IWF-Guideline-for-Outfit.pdf.
Novice and Youth lifters are not required to wear a singlet. The only requirement is that clothing can not be loose fitting and elbows must be exposed.
---
USA Weightlifting Membership
A valid USA Weightlifting membership is required for all lifters. You will need to present a digital or paper copy of your USAW card at the competition when you sign in. A USAW membership can be obtained here: https://webpoint.usaweightlifting.org/wp/Memberships/Join.wp
---
Refund Policy
No refunds will be granted. Registration transfers may be granted at the discretion of the meet director.
---
Volunteering
Running a great weightlifting meet requires help from dedicated volunteers like you! Lunch will be provided. Contact Stephanie at coachstephvincent@gmail.com or 610-308-2507 if you can help!