Description
When registering its recommend that you use a personal email over work; many companies will block/junk large emails from an outside company. Your confirmation, communications and the handout link will be sent to the email address used during registration.
*Confirmations are sent instantly, if you do not receive verify that you typed your email address correctly.
TARGET AUDIENCE
This conference is designed for surgeons who specialize in breast surgery, medical oncologists, pathologists, genetic counselors, rehabilitation physicians, physical therapists, plastic/reconstructive surgeons, registered nurses, healing coaches, radiologists, radiology technologists and any other interested allied health care professional in the areas of primary care, internal medicine, family practice and OB/Gyn.
CONFERENCE OVERVIEW
The Virginia Piper Cancer Institute Breast Center in conjunction with Consulting Radiologists Ltd. plan each year this one-day conference with specialists from multiple fields who will present information about breast health and the care of patients: an area that is rapidly changing as a result of advances in prevention, screening, and detection. Other discussion topics will include Stereotactic Biopsy, Tomosynthesis, Oncology Updates, Shared Decision Making, Difficult Interactions, The Team Approach, Reconstruction, Mastectomy Tattoos and the Myth of Work Life Balance. Each session will be followed by a question and answer panel made-up of the section of speakers to enhance your learning experience.
COURSE MATERIALS
In an effort to Go Green, a link will be emailed to those registered 7 business days prior to the conference to give you an opportunity to download/print the presentations of your choice. You will be provided with a handout that contains note sheets and the Wi-Fi detail during sign-in.
GUEST SPEAKERS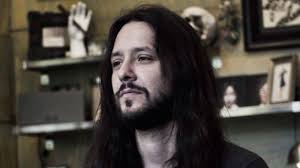 David Allen, Tattoo Artist
Chicago, IL
David is a painter and a tattooer. He's spent the last seven years tattooing over mastectomy and reconstruction scarring. His article "Moving the Needle on Recovery from Breast Cancer" has been published in JAMA. In addition, one of his mastectomy tattoos was recently on display at the Museum of Modern Art. "This has changed me. The gravity of the situation, watching the transformation," Allen says in his most recent interview with NPR. "The way she carried herself, her posture. Her smile, her joy were infectious. I couldn't believe I was able to use my craft to have that kind of influence."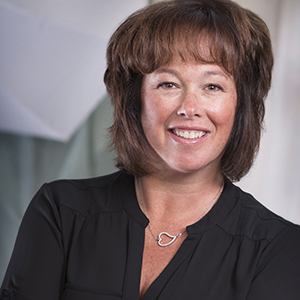 Dawn Derenburger, RT(R)(M)
Dawn is currently the Director of Breast Imaging Services for Invision Diagnostics, LLC. Dawn has worked in several Roles in various facilities including the University of Virginia, CRL Women's Imaging Center in Edina, Minnesota, and Virginia Piper Breast Center in Minneapolis. Her expertise includes mammography positioning, interventional breast procedures, MQSA and ACR, EQUIP review and implementation, policy and procedure development, and workflow analysis. She works as a colleague and consultant for Mammography Educators.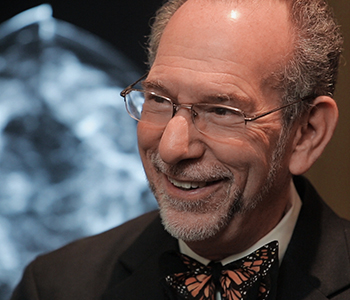 Michael Linver, MD, FACR, FSBI
Albuquerque, NM
Dr. Michael N. Linver, MD is the Director of Mammography at the Breast Imaging Center, Albuquerque and Adjunct Professor of Radiology at the University of New Mexico.
Dr. Linver has been a mammography specialist since 1986. He described his historic involvement in the development of legislation and regulation in the field of mammography: "I was involved intimately in the creation of the Mammography Quality Standards Act and the FDA's implementation of that and so I was fortunate enough to be very involved in the legislative process that has, I think, really improved dramatically the quality of mammography in the United States."

DISTINGUISHED SPEAKERS

Anne H. Blaes, MD, MS
Associate Professor
University of Minnesota;
Director Adult Cancer Survivor Program

Amy Lenarz, MN, RN, OCN
Breast Cancer Care Coordinator
Piper Breast Center at Abbott Northwestern Hospital
Virginia Piper Cancer Institute, part of Allina Health

Mark R. Migliori, MD, FACS
Plastic Surgeon
Edina, MN
Pat Vitale, LICSW
VPCI Manager
Piper Breast Center
Abbott Northwestern Hospital & West Health

AGENDA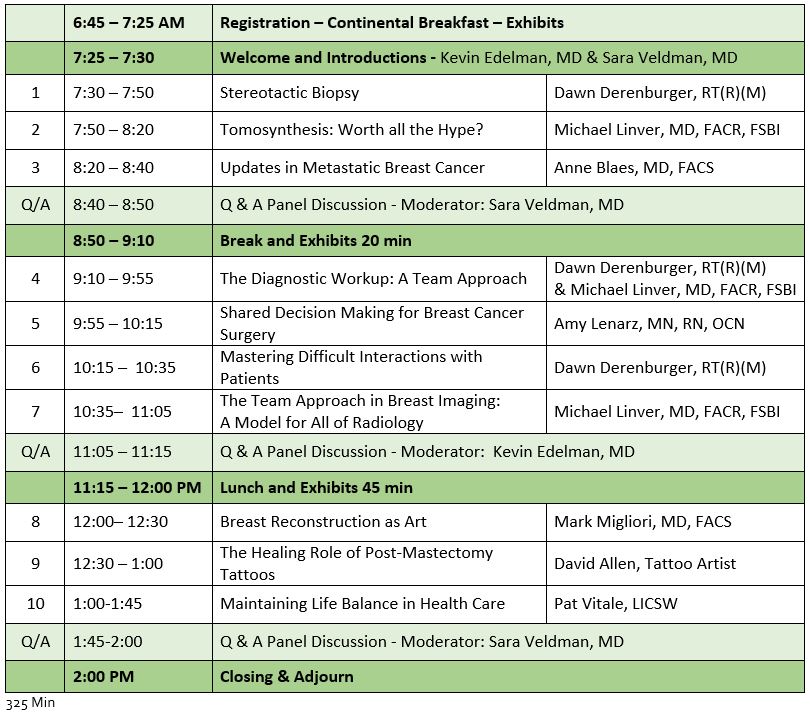 ACCREDITATION
ACCME (Physician) - Allina Health is accredited by the Accreditation Council for Continuing Medical Education (ACCME) to provide continuing medical education for physicians. Allina Health designates this live activity for a maximum of 5.0 AMA PRA Category 1 Credits™. Physicians should claim only the credit commensurate with the extent of their participation in the activity.
MNBN (Nurse) - This activity has been designed to meet the Minnesota Board of Nursing continuing education requirements for 5.0 hours of credit. However, the nurse is responsible for determining whether this activity meets the requirements for acceptable continuing education.
ONCC (Oncology Certified Nurse) - The program content has been reviewed by the Oncology Nursing Certification Corporation (ONCC) and is acceptable for recertification points. TOTAL 5.0 pts in OCN & CBCN
Disclaimer: ONCC review is only for designating content to be used for recertification points and is not for CNE accreditation. CNE programs must be formally approved for contact hours by an acceptable accreditor/approver of nursing CE to be used for recertification by ONCC. If the CNE provider fails to obtain formal approval to award contact hours by an acceptable accrediting/approval body, no information related to ONCC recertification may be used in relation to the program

ASRT (Tech) - Category A Credits are approved for 5.75
Other - Individuals representing other professional disciplines may submit conference materials to their respective professional associations for 5.0 hours of continuing education credit if the content is applicable to the area of license renewal. In addition, you may be required to provide proof of attendance to the board upon request.
REGISTRATION DEADLINE - Wednesday, March 7th
Tuition fee includes conference educational credits, continental breakfast and lunch. To ensure a comfortable environment, attendance may be capped; early registration is recommended.
CANCELLATION POLICY
Tuition is non-refundable after Wednesday, March 7th. Substitutions are accepted at any time; to complete your substitution contact Krista.lee@allina.com. In the unlikely event the program is cancelled Allina Health will not be responsible for air fare, hotel or other costs incurred by participants.
ALLINA HEALTH EMPLOYEE REIMBURSEMENT
For questions regarding reimbursement call HR at 612-262-4688, press #2.
ALLINA HEALTH PLANNING COMMITTEE
Christina (Tinna) Braatz, MSN, RN, CNP, CBCN
Family Nurse Practitioner, Certified Breast Care Nurse
Consulting Radiologists, Ltd.
Kevin Edelman, MD
Radiologist
Medical Director of Imaging at WestHealth
Consulting Radiologists, Ltd.
Lisa Entleutner, MSN, RN
Patient Care Supervisor, Piper Breast Center
Abbott Northwestern Hospital, WestHealth and Virginia Piper Cancer Institute Cancer Clinic
Dawn Johnson, MD
Medical Director, Piper Breast Center
Abbott Northwestern Hospital and WestHealth
Krista Lee, BS
Program Specialist
Learning & Development
Allina Health
Becky Merrick, RT(R)(M)
Breast Imaging Supervisor, Piper Breast Center
Abbott Northwestern Hospital
Chantelle Owens
Administrative Assistant, Piper Breast Center
Abbott Northwestern Hospital
Sara Veldman, MD
Radiologist
Medical Director of Imaging, Piper Breast Center – Abbott Northwestern Hospital
Consulting Radiologists, Ltd.
Melissa M. Wall RN, BSN, MBA
Operations Director, Allina Health Mammography
Virginia Piper Cancer Institute Cancer Clinics;
Piper Breast Centers, Radiation Oncology
United Breast Center

Exhibiting Opportunities are available, if interested please contact Krista.Lee@allina.com