Description
Last Updated 2018/11/16 16:00)
2018 Boston Blockchain Conference
Nov.17@MIT Samberg Conference Center
Organizers:
Boston Chinese Investment Club (BCIC),
International Collegiate Blockchain Association (ICBA)
Partners:
BitBlock Capital
MIT Sloan Greater China Club (GCC)
【Introduction】
We are excited to invite you and your team to join as part of our elite investor community. The conference is scheduled on Saturday, 11/17/2018 at the MIT Samberg Conference Center.
The event will share with you the latest thoughts and developments in Blockchain/Crypto domain from distinguished professionals and academia, and showcase a number of selected high quality Blockchain technology startups.

波士顿华人投资协会(BCIC)与ICBA基金会,将携手中美各大知名投资机构,业内资深以及优秀的区块链项目,举办首届区块链创投峰会。峰会将邀请各个行业的精英人士,探索技术,回归初心,正视区块链真实的技术价值。而对于这一年的喧嚣和沉淀,迷失和探索,我们也会汇聚这个行业真正的实践者和意见领袖,以实事求是的态度,共同探索区块链的方向和未来。
More on our website:
http://bcicglobal.org/2018-boston-blockchain-conference/
Check our Wechat for latest info: https://mp.weixin.qq.com/s/rMeJFhuUzqboPyZq4AWYIw

---
【Agenda】
*lunch is included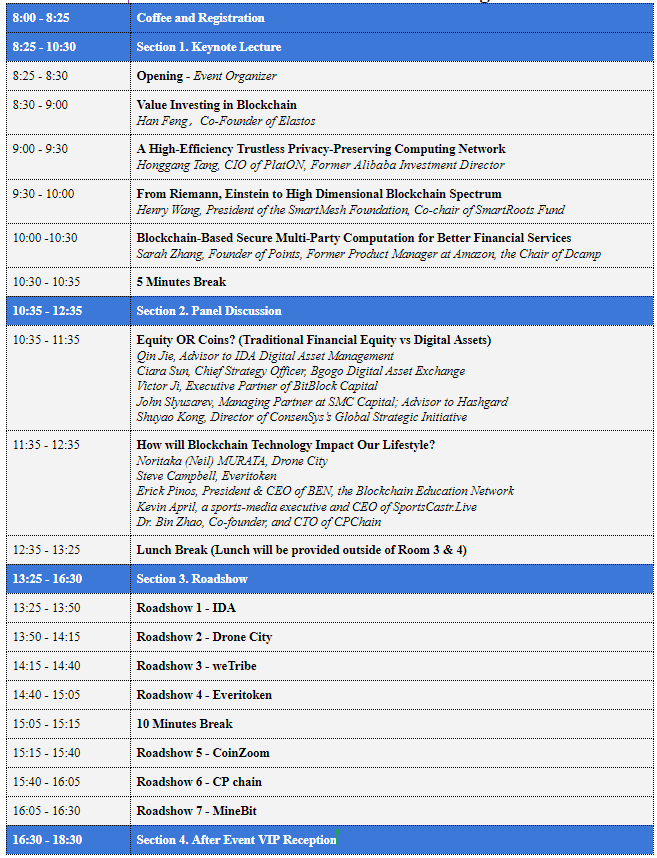 ---
Confirmed Speakers (Updated 2018/11/14 21:00. More to come)
Henry Wang 王启亨
President of the SmartMesh Foundation, Co-chair of SmartRoots Fund, President of the International Federation of Blockchain applications (IBAF)
Henry Wang is the president of the SmartMesh Foundation, Co-chair of SmartRoots Fund, President of the International Federation of Blockchain applications (IBAF), and Founder of Universal Connectivity and Consensus Organization (UCCO). After receiving his master's degree in Physics from Peking University in 1999, Wang obtained a full scholarship for a Doctorate of Astronomy and Physics degree at Northwestern University in the United States. In 2000, Wang Qiheng transferred to Washington University in St. Louis to pursue a Doctoral degree in Computer Science. During his doctoral studies, Mr. Wang served as a core development member and director of business development for Erlang Technology in the United States. In 2006, Henry Wang left school and worked on several business, leading to the formation of the SmartMesh Foundation in Singapore, to realize his dream of the exchange of information and value without boundaries (Internet of Value). In April, 2018, Silicon valley IT magazine APAC CIO Outlook named SmartMesh among the world's top 10 blockchain technology solution providers for 2018.
Sarah Zhang 张佳辰
Founder of Points
Sarah Zhang is the founder of Points, the first truly scalable blockchain data collaboration protocol for better credit scoring and inclusive finance. Prior to Points, she was the ex-COO of Segway Robotics Inc., where she spearheaded the development of its developer community of more than 3000 participants including MIT, Intel and BMW. She was also formerly a Product Manager at Amazon. Her blockchain career began in 2013 when she was previously an early employee of Tim Draper's accelerator, Draper University. In addition to founding Points, Sarah is the chair of dCamp, a Beijing-based blockchain developer and investor community. She is also a guest lecturer at Tsinghua University Blockchain Course. She received her MBA from Harvard Business School and her Masters in Public Policy from the Harvard Kennedy School of Government.
Honggang Tang 唐虹刚
CIO of PlatON, Former Alibaba Investment Director
Honggang Tang is the CIO of PlatON, Former Alibaba Investment Director, System Architect. Baidu Mobile Systems Department Architect. Motorola System Architect. Tsinghua Tongfang department manager. In Alibaba, he invested in artificial intelligence unicorn companies such as Sensetime and Cambricon. He also has 20 Chinese and US granted technical utility patents.
Feng Han 韩峰
Founder of MIT Blockchain Pillar and Foundation
Feng Han is the founder of MIT Blockchain Pillar and Foundation, Lecturer and instructor of Tsinghua University's graduate course series 'Cyber Smart Economics and Block Chain', Secretary General of Asia Blockchain DACA (Distributed Autonomous Coalition of Asia) Association, Executive Council Member of Elastos, main author of 'Blockchain Quantum Wealth' and various other works. 韩锋,哥伦比亚大学访问研究员、清华大学iCenter导师、亚洲区块链DACA协会秘书长、亦来云基金会理事,主编了《区块链新经济蓝图及导读》,《区块链开发与实例》,《区块链—量子财富观》等专著,参与开发了清华大学研究生公共课《赛博智能经济和区块链》并任主讲之一。
Jie (Jay) Qin, CFA
Advisor to IDA Digital Asset Management
Jie Qin, CFA is an Advisor to IDA Digital Asset Management. He is a Vice President and Senior Investment Manager at one of the largest global investment firms, serving some of the world leading institutional clients. Jay has extensive institutional investment management experience in the areas of asset allocation, investment evaluation and portfolio construction. He is an early follower and practitioner in the blockchain industry. Jay, CFA, 是IDA国际数字资产管理荣誉顾问。他长期在全球投资公司担任副总裁和资深投资经理;其团队的客户包括大型机构投资者。他在全球资产管理方面有全面的实战经验,包括资产分配,投资分析和基金管理。他是较早进入区块链行业的关注者、实践者.
Victor Ji 纪沧海, CPA Executive partner of BitBlock Capital
Victor Ji is the executive partner of BitBlock Capital, partner of Crypto Vision and Vice President of FIAT Capital. Chair of Harvard Kennedy School Blockchain and Cryptocurrency Club. Graduate student of MPAID program at Harvard Kennedy School. MBA X-plan from Guanghua School of Management at Peking University. Working experience in Israel, Denmark, Mckinsey and Fosun.
Shuyao Kong 孔姝尧 ConsenSys's Global Strategic Initiative
Shuyao Kong (孔姝尧) is a member of ConsenSys's Global Strategic Initiative team, with extensive business development, consulting and advisory experiences in regions such as Middle East, Northern Africa, as well as the Greater China. Shuyao started her career with IBM in New York, while pursuing a dual degree in Psychology & Economics at Smith College in Massachusetts. Shortly after working in NYC, Shuyao moved to Lagos, Nigeria, where she managed IBM's Diversity program across Middle East & Africa and Turkey. In 2016, Shuyao moved to Dubai, working as a Strategy Consultant for IBM's Global Business Services (GBS) unit where she helped regional banks design and implement digital banking solutions. She researched heavily on Fintech startups, which led her to the world of Blockchain. In 2017, Shuyao transitioned to ConsenSys where she was part of the team that expanded the Dubai, Saudi Arabia and later on Hong Kong as well as mainland China. Shuyao's area of expertise resides in Blockchain advisory, digital solutions, UX/UI, and mobile development.
John Slyusarev
Managing Partner at SMC Capital
John is the Managing Partner at SMC Capital. Formerly the CMO and CBDO at ICORating, the world's leading blockchain rating agency. At ICORating, where he was responsible for marketing, business development and strategic partnerships. He and his team onboarded more than 50 investment funds, 10+ leading exchanges, and dozens of other strategic partners. Prior to his work at ICORating, He had his own consulting firm and was the CMO of a top-20 European travel company. He also work with leading media, such as Business Insider, Wall Street Journal, INC, Bitcoin.com and many others, as an expert.
Dr. Bin Zhao
Co-founder and CTO of CPChain
Dr. Zhao is the co-founder and CTO of CPChain. Dr. Zhao has more than 12 years research and develop experience on communication, Internet of Things and FinTech. Extended experience in management of R&D team. He has three patents on inventions in Internet of Things.
Jason Qiao
MatrixONE首席战略顾问/CSA
芝加哥大学金融数学硕士;曾就职于美国摩根大通私人银行总部任执行董事,量化策略和大类资产配置全球主管,投资委员会成员。在摩根大通工作12年,先后负责开发了私人银行全球资产管理系统,管理规模达3000亿美元资产;曾为顶级机构投资者研发大类资产配置模型,在全球顶级另类投资学术期刊上发表文章;曾在中国人民银行工作三年,任监管人员,熟悉金融监管政策,拥有丰富的国际金融从业经验。币币指数 (BBIndex) 创始人和组委会成员. 近几年积极推动金融科技和Quorum在资产管理的应用,尤其是区块链技术应用于去中心化的基金管理和加密货币资管平台。
Erick Pinos
President & CEO of BEN, the Blockchain Education Network
Erick is the President & CEO of BEN, the Blockchain Education Network, educating and empowering students to make an impact with blockchain. BEN is active in 10 countries across North America, Latin America, and Europe, and is now expanding to Asia. Previously, Erick was the President of the MIT Bitcoin Club and a researcher at the Digital Currency Initiative. As an undergrad, Erick studied management at MIT with focuses on entrepreneurship, computer science, education theory, and social impact.
Kevin April
Sports-media executive and CEO of SportsCastr.Live
Kevin April is a sports-media executive and CEO of SportsCastr.Live — a live streaming company based in New York City that allows users to be color commentators and enables viewers to select which sportscaster they wish to have call, recap or make predictions on a game.
As an Entrepreneur-in-Residence (EIR) at SGI Merchant Bank in New York, Kevin provides advice to high-growth startups navigating value creation options and lab-to-market paths, and consults with talented executives to help them bring their ideas to fruition. He has been featured in numerous business publications including Wired, Entrepreneur, Ozy and many more.
Neil Murata
President at Pendragon Inc.
Neil Murata is an old speech recognition aficionado and expert planner of mobile apps. (tablets, smart phones). His life work is to make speech based mobile user interface ubiquitous, especially for B2B and physically challenged people of the world.
---
Confirmed Roadshows (More are Under Evaluation)
EveriToken (https://www.everitoken.io/)
Registered in Zug Switzerland, everiToken is world's first token-customized public chain aiming to be the best infrastructure to tokenize everything and for token economy. After a successful mainnet launch on 2018/07/31, everiToken has achieved high TPS(5,000+), high security and high standardization. EveriToken invents Safe Contract to replace the traditional smart contract layer of a typical public chain structure. Both traditional applications(Apps) and decentralized Apps(DApps) could use everiToken's core functions by calling token-related APIs. Please visit it everiToken.io for more information.
IDA (http://www.ida.im/)
IDA (International Digital Asset Management) is a global leader in asset digitalization. It provides an enterprise asset digitization solution and functionality to build thriving ecosystem for exchanging qualified real assets. IDA ranked 3rd in the 2018 National Mobile Internet Innovation Contest. It had successful application on digitalization of 3 Billion RMB timber asset from Laos's virgin forest part of the Belt and Road Initiative.
CP Chainhttps: (https://cpchain.io/)
CPChain is a new distributed infrastructure for next generation IoT. CPChain intends to build a fundamental data platform for IoT system in combination with distributed storage, encryption computation and blockchain technologies, providing the whole process solution from data acquisition, storage, sharing to application.CPChain is a promising solution to a series of challenges of current "chimney architecture" of IoT systems, reducing connectivity cost of devices, protecting data privacy and maximizing the value of IoT data.
CoinZoom(https://www.coinzoom.com/)
CoinZoom is an institutional grade digital currency trading platform that uses the team's vast experience in providing superb trade quality and customer focused tools and technology to help our customers to become successful digital currency traders. CoinZoom will offer services in Buying, Selling and Trading Bitcoin, Ripple, Ethereum and other top digital currency pairs. Our decades of experience in financial technology security is equally important in safeguarding customer funds and customers digital currency positions.


Drone City (https://dca-sky.com/)
By collecting, analyzing, utilizing spatial information, and researching Blochchain technology, Sky Exchange aim to realize skysharing by combining drones with blockchain technology. By realizing skysharing, all people will be able to use information and content related to the sky in close proximity to each other, thereby promoting the richness of everyday life and business efficiency.
weTribe (www.wetribe.io)
Disruptive Content Service Dapp Building Platform for Real Token Economy ( A decentralized, self-branded, autonomous, content service creation platform ). weTribe provides a token-type cryptocurrency incentive, called WTX, using a blockchain based cryptocurrency. Content service creators / operators, content providers, and content consumers will all be rewarded for content creation and distribution, service launch and operation, content sales distribution, content creation collaboration, and interaction with other users. WTX platform especially makes content services more valuable to each service builder who make their own user network by allowing them to build and operate content services directly with the brand that the service creator wants.
MineBit (https://www.minebit.com/)
MineBit is Korea's first community shared digital asset exchange, which is founded by a professional and international team whose members have rich experiences in development and operation of both blockchain technology and financial products. The market scope of MineBit now covers Korea, Japan and Southeast Asia. With over 100,000 registered users in Korea, the daily trading volume of MineBit reaches up to 0.17 billion USD. MineBit owns the biggest and the most active community group with real name authenticated users, has earned high popularity and reputation among Korean users. MineBit是韩国首家社区共享型数字资产交易所,由国际专业的区块链技术研发及运营团队发起成立,团队成员拥有丰富的金融产品开发运营经验。目前公司业务覆盖韩国、日本、东南亚等国家和地区。在韩国已经有10万注册用户,日交易量达到1.7亿美元,拥有韩国新型交易所中用户群最多也最活跃的实名社群,在韩国拥有较高的口碑和知名度。MineBit愿景是打造全球一流的合规化交易所,支持各类区块链金融资产交易,已获得日本金融厅颁发的金融牌照。目前MineBit英文版上线,即将发力欧美等英语国家和地区。
---
Confirmed VC & Token Funds (More to Come)
Spark Digital Capital

Westlake VC Capital

Boston Angel Club

BitBlock Capital

Fiat Capital

Kosmos Capital
Ants Financial

Kaitai Capital

Mass Ave Capital

Collinstar Capital

SMC Capital

FBG Capital
JD Capital

Decent Capital

BK Fund

Danhua Capital

Block Capital

Roark Fund
---
【Organizers】
BCIC
Boston Chinese Investment Club (BCIC) is a Boston registered non-profit organization founded by TCFA (The Chinese Finance Association) Boston organizers in 2010. It serves as Boston centered platform for exchanging ideas, knowledge, and information in finance/investment and related areas between US and China. Main activities include annual venture summits, monthly roundtable discussions, and roadshows.
ICBA
International Collegiate Blockchain Association (ICBA) foundation is based in America and has abundant resources and branch offices in regions such as China, Japan, and Vietnam where Blockchain Technology is developing rapidly. The foundation provides professional consulting and complete PR package tailored to specific market and regulatory environment in each region for Blockchain projects across the globe.
【Partners】
Bitblock
BitBlock Group is a multinational blockchain investment, consulting and service corporation based in Beijing, Shanghai, Hangzhou and Boston. It is the holding company for BitBlock Capital, a token fund focusing on blockchain project and cryptocurrency investment, and BitWork Hub, an international consulting firm committed to serving blockchain projects. BitBlock Group has a solid foundation of intellectual capital and media resources, providing direct investments, professional services in the fields of business design, brand marketing, community operations, resource cooperation, technical services and regional roadshow.
MIT GCC
MIT Sloan Greater China Club (GCC) is a voluntary, non-profit organization with the mission to build a close-knit community for the growing number of Sloan students. We hold activities related to Greater China region in areas including professional development, social gathering and cross-cultural communication.
---
【Media Partners】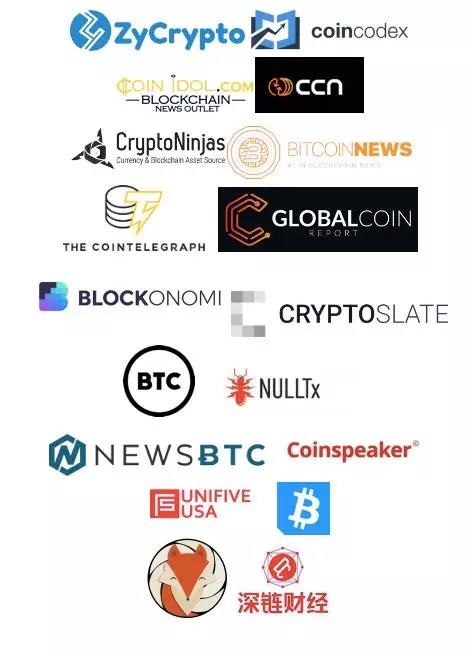 ---
【BCIC Sponsors】
BCIC Platinum Sponsor
E Fund Management Co., LTD. (http://www.efunds.com.cn)
Eastern Link Capital (http://www.easternlinkcapital.com)
Insigma Hengtian Software (http://www.hengtiansoft.com)
Mass Ave Capital
Yintech Investment Holdings (http://www.yintech.net)
Shanghai Zhangjiang Boston Enterprise Park (https://www.zjbostonpark.com/ )
---
【Collaboration】
If you are interested in collaborating with BCIC on event promotion and deal sourcing, please contact info@bcicglobal.org. You could also follow our Wechat:bcicglobal.