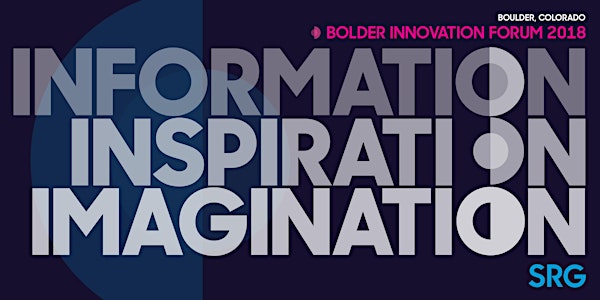 2018 Bolder Innovation Forum
When and where
Location
St. Julien Hotel & Spa 900 Walnut Street Boulder, CO 80302
Description
SRG is looking forward to hosting the 7th Bolder Innovation Forum in beautiful Boulder, Colorado from April 18-20. This will be an unforgettable event where people from all industries can talk about and discover new pathways to innovation to inspire game-changing company growth.
The SRG STREETDIVE kicks off the festivities on WEDNESDAY, APRIL 18, FROM 3-5:30 PM. Don't miss this curated tour of the Boulder food scene!
Thursday, April 19
8:00 a.m. - 5:00 p.m.: Day 1 of Bolder Innovation Forum
6:00 p.m. - 8:00 p.m.: Cocktail Party at Sterling-Rice Group
Friday, April 20
8:30 a.m. - Noon: Day 2 of Bolder Innovation Forum
For more information and a look at this year's speakers, please click here: http://bolderinnovation.com/.
We hope to see you there!
Cancellations made within 30 days of the event will not be granted a refund. Cancellations made prior to March 18th will be granted a full refund less than a $100.00 Eventbrite processing fee.