2018 Big Data, Opportunity Is Waiting in Kansas City
Description
Don't miss our great line up of speakers and topics!! Mayor Sly James will kick off the day sharing about Healthcare in Greater KC. This education event provides a platform for learning how Big Data is providing groundbreaking discoveries and opportunities in the Greater Kansas City Area and beyond. Participants will gain insight on tools, resources, data mining and big data analytics-related research results, practical design and development experiences. This event is designed to foster collaboration among academia, industry, and governmental organizations to help improve efficiency, product quality, and sustainability in and around Greater Kansas City.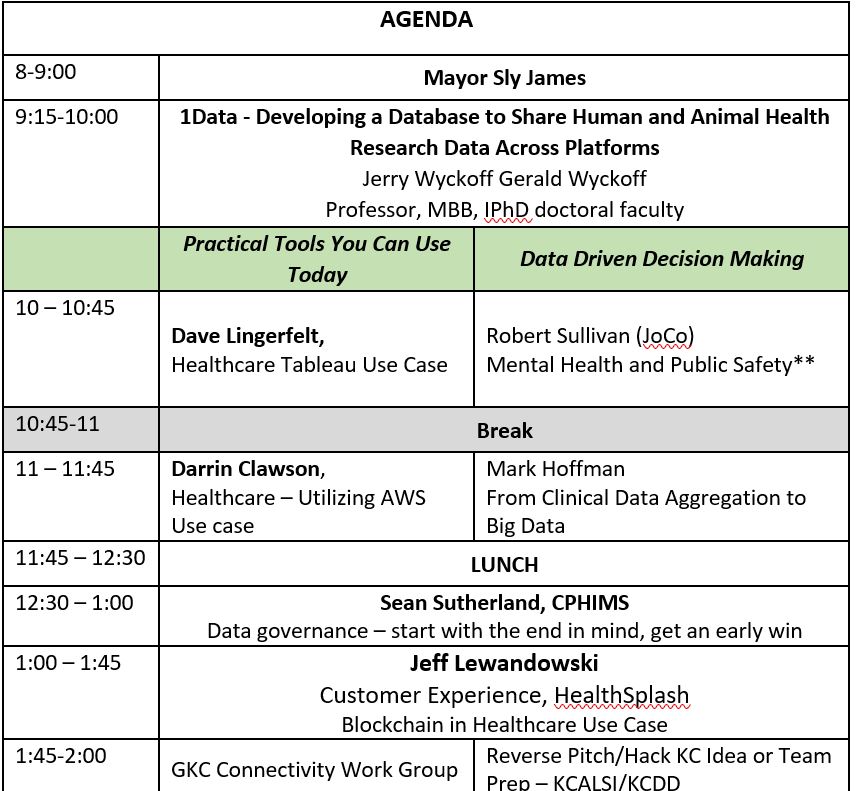 Four non-profit organizations dedicated to sharing, educating, and promoting collaboration among the industry have joined forces. Speakers include researchers and industry practitioners in Human and Animal Science, BioScience, information science, and data science disciplines. Join us to learn current breakthroughs and efforts in human and animal health that benefits citizens and the economy both within and external to our region.
Thank you to our Executive Sponsors:

Thank you to our Program Sponsors!!


BIO'S BELOW
---
Gerald J. Wyckoff, PhD, Professor, Molecular Biology and Biochemistry
University of Missouri – Kansas City
Founder, Zorilla Research, LLC

Professor Wyckoff's educational background is as a molecular evolutionary geneticist, finding faint signatures of positive selection in a sea of genomic noise. This led him to become involved with large scale genomic, and later proteomic, projects. At UMKC he has have developed collaborations with structural biology faculty, in part to extend his knowledge of how to apply large-scale screening techniques to structure-based problems. He has helped develop software applications for Mass Spec analysis relating to analysis of divergent peptides as well as cross-linking analysis. In addition he has helped create databases for large scale synthesis of chemical and biological data in species as diverse as fish and humans. All of these problems have as a common theme the development of tools to make sense out of large scale data where noise is high and signal is low. His recent work has led to the development of software that is being commercialized, and he continues to try and find ways to apply his evolutionary knowledge to the problems inherent in big data drug discovery.
---
Shawn Sutherland, CPHIMS
Information Builders
Shawn has spent his career in leadership positions for some of the most prestigious organizations in South. His range of experience varies from being the Director of Analytics in quality and performance at UT Southwestern Medical Center to heading up business intelligence, value based quality and EHR implementation teams at Baylor Health System. Shawn has given presentations at the national conferences for HIMSS and also for the Healthcare Data Analytics Association. He is an Advisory Board Member for the SMU Masters in Business Analytics degree, spent 3 years on National Quality Task Force, and his work at Baylor was recognized in 2010 with a CHIME Innovator of the Year Award. His team's predictive analytics methods for Transplant were recently featured in UTSW's 2017 Davies Award, the pinnacle of the HIMSS Value Recognition Program. With Shawn's 20 years of experience brings an understanding of data/analytics challenges health systems are likely facing and the keen ability to align the right technology to the challenge to solve real business problems. He is a new edition to the Information Builders healthcare team and his wealth of analytics, governance, and EHR knowledge with proven success is a testament to Information Builders' dedication to the healthcare industry.
Sean's presentation: Data governance – start with the end in mind, get an early win
Data governance - roles for executives, clinicians, business, and IT
Data governance - prioritization and important processes
Creating a culture that treats data as an asset
Enabling technologies - in healthcare, we have one of everything and 2 or 3 of some!
---
Robert Sullivan
Director, Johnson County Department of Corrections
Robert Sullivan has worked in the criminal justice system for nearly 20 years. He began his career in 1998 as a probation officer with the 5th Judicial District's Community Corrections Department in Lyon County, Kansas, becoming the director in 2005. During his tenure with the 5th Judicial District, Robert was commissioned as a reserve deputy sheriff with the Lyon County Sheriff's Office, and in 2013, received a silver award for exceptional police service from the Kansas Association Chiefs of Police. In January 2015, Robert left his position with community corrections to work for Johnson County, Kansas as their Criminal Justice Coordinator. In this role Robert regularly collaborated with federal, state and local criminal justice agencies to develop innovative solutions to reoccurring social problems to improve human outcomes, produce cost savings, and more effectively target resources. In January 2018, Robert was appointed to the position of director for the Johnson County Department of Corrections.
Robert will be sharing the proactive efforts that Johnson County is taking with two major efforts:
Brief Jail Mental Health Screen (BJMHS)

Early Intervention System triggering outreach before future interaction with Police
In 2016, Johnson County integrated an electronic version of the Brief Jail Mental Health Screen (BJMHS) into the jail's initial booking process. The BJMHS is a validated screen developed by Policy Research Associates to help jurisdictions identify individuals who might be in need of further mental health evaluation. It consists of only eight questions, takes about three to five minutes to complete, and does not require the person conducting the assessment to be a mental health professional. Robert will discuss how Johnson County leverages BJMHS data with other diverse datasets to make data-driven decisions. Robert will also discuss Johnson County Government's collaboration with the University of Chicago to develop a predictive analytics model called the Early Intervention System. The Early Intervention System helps identify individuals most likely to have a police encounter resulting in a jail booking so outreach efforts can begin before a future interaction with police occurs.
---
Dave Lingerfelt
Professor of Healthcare and Data Science at Rockhurst University

Dave started his professional career at the Cerner Corporation in 2002 as a Technical Support Engineer. He later moved on to manage the technical training division. Dave then managed the social business (Web 2.0) implementation team working to establish a social business presence for Cerner. In his last 2 years at Cerner he worked in the remote hosting division. He was responsible for implementing and supporting large-scale health systems as they adopted new technology and upgraded existing platforms. Dave holds a B.S. in Management Information Systems and Computer Science from Kansas State University. He earned his M.B.A with emphasis in Health Care Leadership from Park University. Dave currently works as faculty at Rockhurst University in the Helzberg School of Management as a Professor of Healthcare and Data Science. Dave is also the Co-Founder of ITdoc Consulting.
Presentation - Tableau Use Case:
Presentation to provide an overview of the journey taken by the Lawrence-Douglas County Health Department to leverage their internal data in order to optimize business practices and accelerate the decision making process.
---
Darrin Clawson, CEO
Engage Mobile
Before mobile was an integral part of our daily lives, Darrin was bringing together Cerner's first mobile-focused team and developing some of healthcare's earliest mobile apps. This was years before the first iPhone and as an early adopter, he has always had a passion for identifying futuristic technologies that can be applied to today's business problems.
Darrin established Engage Mobile more than eight years ago to continue developing apps, but this time with a focus on leveraging cloud technologies to enable enterprise scale and cost efficiency. As an AWS Certified Architect and a frequenter at AWS re:Invent, Darrin created Engage Mobile with a cloud mindset and the company has lived completely in the cloud since the beginning. Engage now has an incredible team developing mobile apps and cloud solutions that solve real business problems for health (and non-health) organizations.
An explicit cloud strategy can enable new workflows and user experiences that are ideal for mobile devices. The two capabilities go hand-in-hand and we're excited to explore the possibilities in how this can improve healthcare and the consumer experience. Engage Mobile is enabling numerous businesses to scale quickly and efficiently through the use of innovative cloud services such as serverless computing, machine learning and more.
---
Jeff Lewandowski
Customer Experience, HealthSplash
Jeff has more than 20 years of experience successfully helping Fortune 500 clients achieve business goals and financial results As a founding Partner and President at Andrew Reise Consulting, his focus is helping companies to define and execute upon corporate strategies and operations.
In 2011, he co-authored "The Customer Experience Fiasco", that highlights the challenges of creating and implementing a company-wide Customer Experience (CX) program. The book incorporates a proprietary methodology that has been implemented within more than 100 client engagements and is cited for delivering over $700 million in client financial benefits.
Jeff's expertise focuses on customer experience, call center operations, customer relationship management (CRM), customer strategy, segmentation strategy, program management, sales force effectiveness, operations analysis, revenue assurance, financial modeling, profitability improvement efforts, and large-scale system implementations.
He is extremely well respected in the analyst community working extensively with Forrester and Gartner and is frequently cited in their research papers and blogs. As an early enthusiast in blockchain technology, Jeff has been studying the space since 2011 and made his first active investments more than five years ago.
Jeff is heading up investor relations for HealthSplash, the first 360°platform for healthcare management, built on blockchain technology and smart contracts. The fast-growing company, already headed toward profitability, is integrating blockchain technology into its core processes and creating a healthcare ecosystem unlike anything that exists today.
Many people have heard of Bitcoin, but they do not understand it and are much less familiar with its underlying technology called blockchain. Blockchain can remove so much administrative cost from organizations that the figures are almost not believable. This session will cover a basic understanding of blockchain. This presentation will also feature a Kansas City company, HealthSplash, with their real world examples of how the company is reducing operational costs and improving customer experience by leveraging the technology in healthcare.
A primer of blockchain, platforms like etherium (public vs private), cryptographic keys, zero-trust transactions, proof of work/stake, and smart contracts will be covered.