Sales Have Ended
Ticket sales have ended
Sorry, we're sold out! Sign up for our mailing list at www.beyondacademia.org and follow us on Facebook and Twitter to be the first to hear of our events.
Sales Have Ended
Ticket sales have ended
Sorry, we're sold out! Sign up for our mailing list at www.beyondacademia.org and follow us on Facebook and Twitter to be the first to hear of our events.
Description
02/02/2018: Early Bird Tickets already sold out!
Hurry up and register for the few tickets left for the conference before it sells out! Regular tickets is for UC Berkeley and LBNL affiliated graduate students and postdocs only. Please use your Berkeley, LBNL or University (UCSF,...) email address during registration to be eligible.
Join us for the 6th annual Beyond Academia Conference, held in Berkeley at the Clark Kerr Conference Center on March 1st and 2nd, 2018! We are so excited to present another wonderful program at Beyond Academia 2018, including:
20 panels showcasing multiple career paths where PhDs have successfully transitioned!

12 professional development workshops to help you nail the job hunt process, acquire transferable skills and make your transition out of academia a success!

A networking lunch and reception each day, to allow you to network and make important connections with attendees and PhD professionals!

Morning coffee and pastries, lunch, and reception with food, wine and beer are included with each ticket!

Keynote addresses from Eric Schulze (PhD in Genetic, Molecular & Cell Biology) and Susan Basalla May (PhD in English)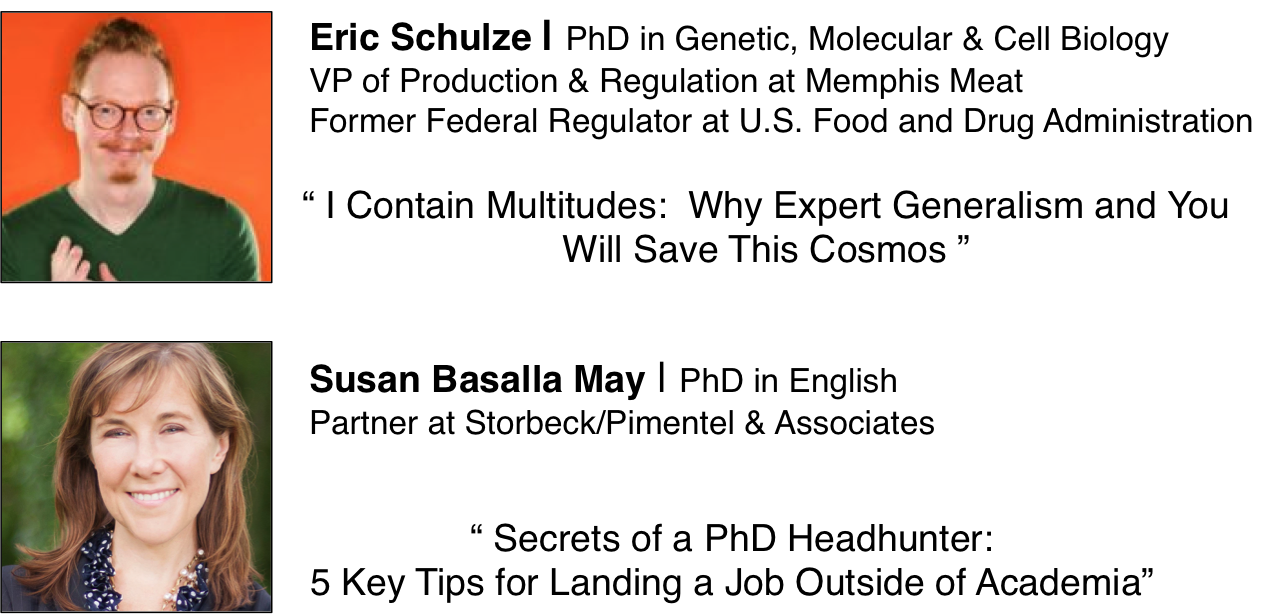 More info and schedule available at http://conf2018.beyondacademia.org/

New: Beyond Academia has gone green and has a free Whova app for the conference!
Please, after registration, follow instructions and download our app. Register with the same email address you used for the Eventbrite sign-up.
Volunteering: Interested in volunteering in exchange for reduced registration? Fill out the form (link is included in the registration process and in your confirmation email) and we will get back to you! Please note that this option is only available for those who purchase a two-day ticket.

FAQ

Why is attendance not free?
Beyond Academia is a non-profit organization run by UC Berkeley PhD students & postdocs. Unlike the other small events we plan through the year, the 2-day conference requires a significant part of our budget (venue, catering for breakfast/lunch/reception, workshop leader fees, out-of-town speaker accommodations). We offer a significantly subsidized ticket price. Please indicate during registration if the ticket cost causes you a significant financial hardship, and we'll get in touch with you.
I am a PhD professional – can I attend the conference?
Due to space limitation, we prioritize graduate students and postdocs. If you would like to be a panelist in the future, send us an email at info@beyondacademia.org!
I am a recruiter – can I attend the conference to recruit for my company?
Due to space limitations and logistical concerns, we cannot accommodate you at the conference. However, we're hosting a separate recruitment event on April 25th. For more info, please please contact us at info@beyondacademia.org.
This event is sponsored by the Graduate Assembly. The event is ADA accessible. For disability accommodation requests and information, please contact Disability Access Services by phone at 510.643.6456 (voice) or 510.642.6376 (TTY) or by email at accessibility@berkeley.edu