2018 BEST OF BUMP CLUB AND BEYOND: A DAY FILLED WITH THE BEST RESOURCES FOR...
Description
Join us on Saturday, April 14th for the 8th Annual Best of Bump Club and Beyond! Best of Bump Club and Beyond is designed to bring you the best resources and information from the best experts in the industry. Best of BCB will have seminars for expectant parents, new parents and parents with toddlers.
A DAY FILLED WITH THE BEST RESOURCES FOR ALL PARENTS AND PARENTS-TO-BE
Meet the BEST brands and check out all of their top gear for you and baby.
Diamond, Platinum, Gold and Bronze tickets have access to a Gearapalooza seminar with The BabyGuyNYC!
Two 60-minute seminars from Dr. Harvey Karp, author of The Happiest Baby on the Block and The Happiest Toddler on the Block.
Attend educational seminars from baby industry leaders and many of our Resident Experts on breastfeeding, the transition to parenthood, CPR and more!
Take home a gift bag FILLED with goodies from our sponsors and partners.
Many of our attendees will go home with THOUSANDS OF DOLLARS in big ticket items including strollers, high chairs, bedding, cribs and more!
All tickets include lunch, snacks and beverages throughout the day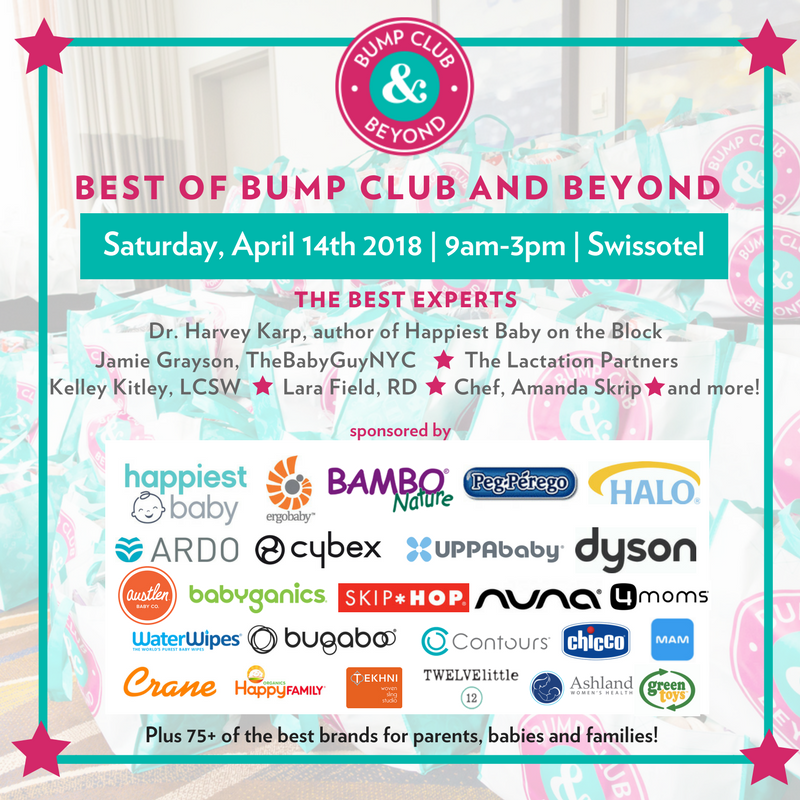 Stay tuned for the seminar schedule and more information...
ENTER TO WIN PRIZES ALL DAY LONG for the chance at $10,000+ IN GIVEAWAYS FROM OUR SPONSORS AND EXHIBITORS.
---
Please note...
*Babies are welcome at this event in either a carrier or a stroller as there is ample room. Toddlers are welcome, but there will not be activities at this event for them as this is NOT a BCB family event, but an educational one. Please use your discretion when bringing your toddlers to the educational seminars. Parents with disruptive children will be asked to quietly exit the room.
*VIP discounts and event credits cannot be combined. One discount code per order. Discount codes cannot be combined.
*April 12th is the MUST CANCEL BY DATE for this event.
*BCB VIPs: Please login to the VIP app for your discount code.
*Please email us with any questions: help@bumpclubandbeyond.com